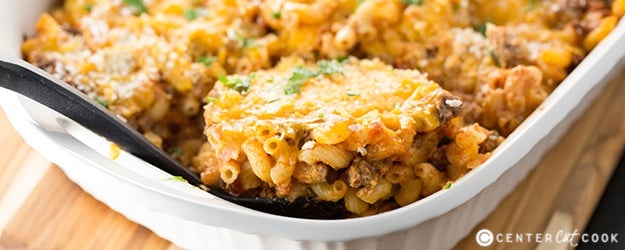 I am always looking for quick and easy casserole recipes that I can make with ground beef; casseroles that come together quickly for hectic weeknights. When I threw together this Cheesy Macaroni and Beef Casserole, I was simply trying to use up ingredients I already had in my fridge and pantry – ground beef, cheese, some whole beat elbow macaroni, and a can of crushed tomatoes. The final product? A cheesy, beefy casserole with a crunchy topping that heats up perfectly the next day for leftovers!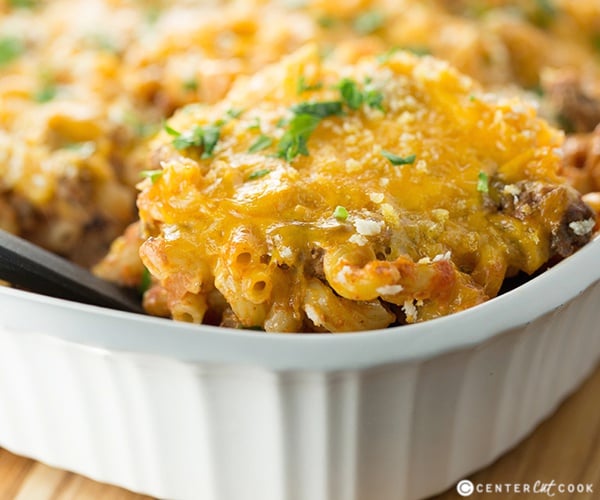 Do you cook with ground beef very often? I like to switch things up and sometimes in place of lean ground beef I'll sub in ground turkey or even ground chicken. You can use either of those meats in this recipe so use whatever you have on hand.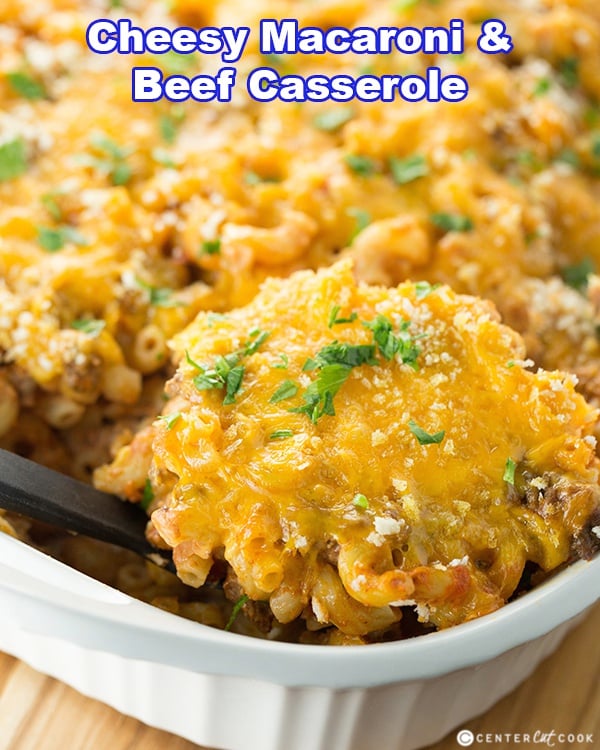 To add a little depth to an otherwise pretty simple casserole, I added in some crushed tomatoes and seasoned it all up with some onion, garlic, chili powder and paprika. Along with the cheese, I stirred in some sour cream for a hint of creaminess. Oh, and did I mention the crunchy topping yet? I sprinkled some panko bread crumbs on top to add a little crunch and it was just perfect! Panko bread crumbs can be found in the same aisle as the regular bread crumbs. They are considered Japanese-style and they work perfectly for this recipe.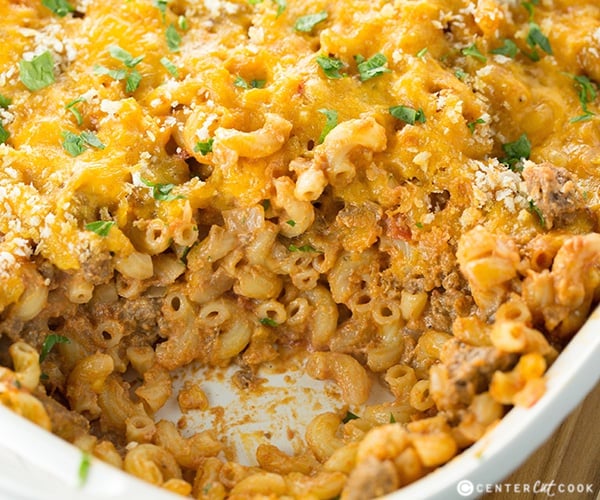 This Cheesy Macaroni and Beef Casserole is great for kids and for those hectic weeknights. Leftovers heat up well. While it's a simple casserole and one that I wouldn't necessarily entertain with if I was really trying to impress, we love this for something simple and easy. It's a great way to use up any leftover ground beef or ground turkey. Enjoy!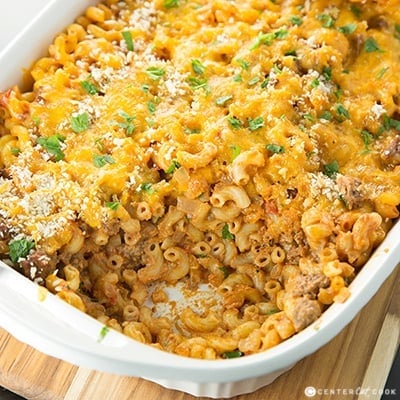 INGREDIENTS
1 pound elbow macaroni (I like to use whole wheat)
1 tablespoon olive oil
1 yellow onion, diced
2 cloves garlic, minced
1 pound ground beef
2 tablespoons all-purpose flour
15 ounce can crushed tomatoes
2 teaspoons chili powder
1 teaspoon salt
1/2 teaspoon black pepper
1 teaspoon paprika (smoked if you have it)
1/2 cup sour cream
2 tablespoons milk
3 cups grated sharp cheddar cheese, divided
1/2 cup panko bread crumbs
1/4 cup chopped fresh parsley for garnish
DIRECTIONS
Preheat the oven to 350F.
Cook the elbow macaroni according to package directions.
In a large non-stick skillet, heat 1 tablespoon olive oil over medium heat. Add the onion and cook for about 5 minutes, until tender. Add in the garlic and cook for a minute longer.
Stir in the ground beef, chili powder, salt and black pepper and cook until the meat has browned. Drain any excess fat from the pan.
Sprinkle 2 tablespoons flour over the meat and cook for a minute or two.
Add in the tomatoes and simmer on low. The sauce will start to thicken a bit as it cooks.
To the meat mixture add in the cooked and drained macaroni, 1/2 cup sour cream, 2 tablespoons milk and 2 cups shredded sharp cheddar cheese.
Pour the mixture into a large casserole dish. Top with remaining cheese and sprinkle 1/2 cup panko bread crumbs on top.
Bake for about 20-25 minutes, or until the cheese is melted and bubbly.
Sprinkle the casserole with chopped fresh parsley before serving. Enjoy!
Recipe from
CenterCutCook