If I'm gong to include the words "the-best" in the title of any recipe, you better believe that it deserves to be there. This is, by far, the best guacamole I've made at home to-date. I used to take the simplistic route with guacamole and throw in some chopped tomatoes and cilantro and I thought it was perfect. Then I tried this recipe and it blew the simplistic guac out of the water!
So what makes this guacamole special? It all comes down to the seasonings, in particular, the cumin, and a hint of cayenne pepper. This guac ends up being perfectly creamy with just a subtle hint of heat. The kind of heat that just about no one would be turned off by. Of course it has the traditional veggies that most guac's have including chopped tomato, purple onion, cilantro, and a little jalapeño. Actually, jalapeño's are considered fruit (assuming wikipedia is correct and all… ) if you wanted to be scientifically correct! Did you know that?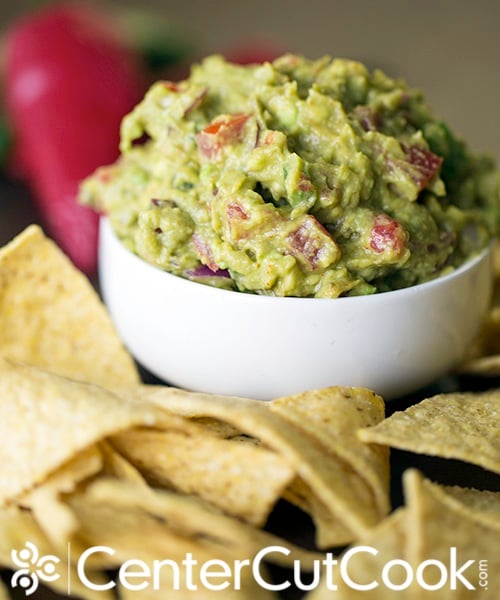 Anyhow, back to this guacamole. It is best if you let it sit for about an hour so that all of the flavors can hang out for a bit. It's definitely good fresh, but we noticed it tasted even better after about an hour or so! Make sure you store the guacamole in an air-tight container so that you get the longest possible life out of it. Avocados, like bananas and apples, brown when exposed to oxygen. The lime juice in this recipe helps with the oxidation, but an air-tight container is important.
Now go grab a bag of your favorite tortilla chips or a handful of veggies, and dig in!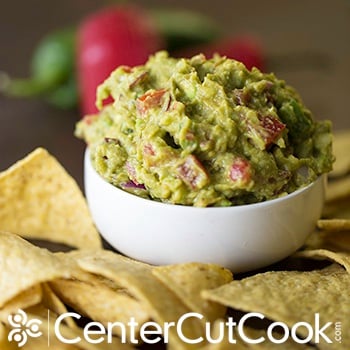 INGREDIENTS
3 ripe avocados, flesh removed and set aside
1 lime, juiced
1/2 teaspoon salt
1/2 teaspoon ground cumin
1/4 teaspoon cayenne pepper
1/2 tablespoon chopped fresh cilantro
1/4-1/2 of a small red onion, finely diced
2 roma tomatoes, seeds removed and finely diced
1 /2 of an average jalapeño, seeds and ribs removed, finely diced
1 clove garlic, minced
DIRECTIONS
In a large bowl, combine juice from 1 lime and the flesh from 3 avocados. Toss to coat. *Note: If you don't know how to cut an avocado, this video is a great resource.
Remove the avocados from the lime juice. Reserve one tablespoon lime juice.
Using a potato masher, mash the avocados until you've reached your desired consistency. Add reserved lime juice back in. Stir in salt, cumin, and cayenne pepper.
Fold in onion, tomatoes, jalapeño, cilantro, and garlic.
Allow to sit at room temperature for about an hour for the best results. Serve with tortilla chips or veggies of your choice. Make sure to store any leftovers in an air-tight container.
Recipe adapted from
Alton Brown