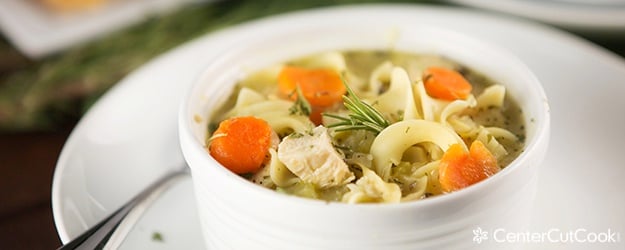 I am well aware of the fact that Chicken Noodle Soup is pretty much a classic (there is even a Chicken Noodle Soup Song, and dance I've recently discovered?!!? The lyrics go something like: "Chicken Noodle Soup, wit a soda on the side?), and that I *should* have made it at least 100 times by now. The truth is, I have never made homemade Chicken Noodle Soup. I know, I know… and I call myself a food blogger!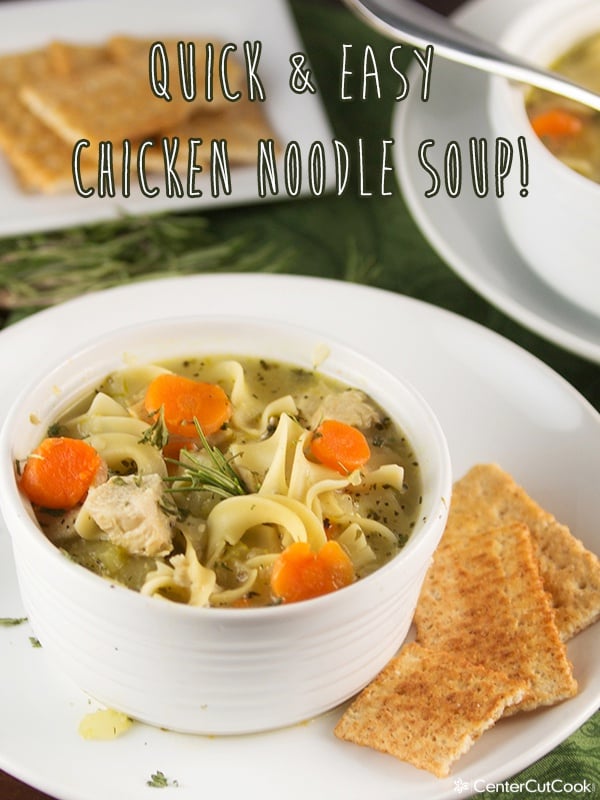 Of all days to be sick, Ryan came down with the stomach flu on Thanksgiving and spent the day after pretty darn sick! I was trying to think of something to make him that would be comforting for the soul and easy on his stomach when it occurred to me that I should try making him homemade chicken noodle soup! I really didn't want to run to the grocery store, so I was hoping I had everything on hand that I'd need, and I did.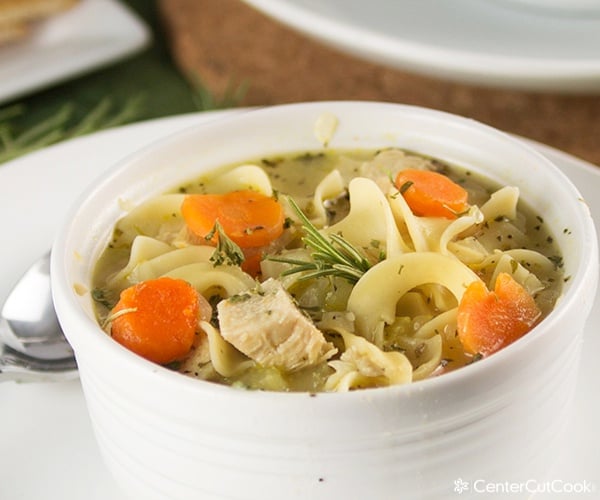 This Chicken Noodle Soup is made from simple ingredients that you likely already have on hand, and it can be made in the crock pot or on the stove top! The best part? It's easy. I thought of this last minute so the first time around I made it on the stove top in under an hour, and the second time around I tried it in the slow cooker and got perfect results both times. Whether you're making this for someone who is under the weather, or you've got a taste for classic chicken noodle soup, this recipe is a must-try. Enjoy!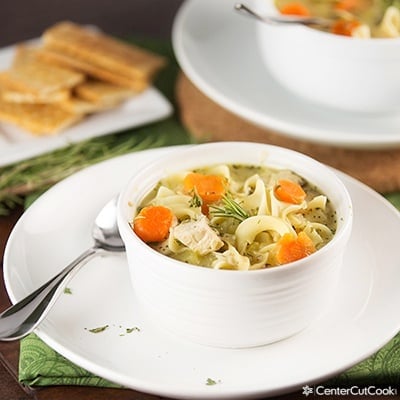 INGREDIENTS
1 medium yellow onion, chopped
3 carrots, cut into small rounds about 1/4 inch thick
2 ribs celery, chopped into 1/4" pieces
2 cloves garlic, minced
1 tablespoon olive oil (*oil not needed for slow cooker instructions)
2 boneless skinless chicken breasts
1 bay leaf
8 cups chicken broth (homemade or store bought, your choice. If I buy it from the store I like to buy the low sodium variety)
1 teaspoon dried parsley or 1 tablespoon fresh chopped parsley
1 teaspoon dried oregano
1 teaspoon dried basil
1/4 teaspoon dried thyme
1/2 teaspoon ground black pepper
1 teaspoon salt (more or less to taste)
3 cups uncooked wide egg noodles
SLOW COOKER DIRECTIONS
Add all ingredients to the slow cooker, except the chicken and noodles. Stir to combine.
Place chicken on top of the ingredients and cook on low for 8-10 hours or on high for 4-5. Discard the bay leaf and remove the chicken from the slow cooker.
Increase the heat on the slow cooker to high if you were cooking on low. Add the noodles and cook for about 20 minutes, or until tender.
Meanwhile, while the noodles cook, chop the chicken into bite sized pieces or use two forks to shred the chicken. Return the chicken to the slow cooker, and give it one last stir. Taste, and add more salt if you wish.
Serve immediately.
STOVE TOP DIRECTIONS
Heat 1 tablespoon olive oil in a large stock pot. Sauté onion, carrots, and celery for about 5 minutes, or until tender. Add in garlic and cook for a minute longer.
To the pot add in the chicken broth, raw chicken breasts, 1 bay leaf, oregano, basil and thyme. Bring to a boil.
Reduce the heat to medium low and cook for about 30 minutes, or until the chicken is cooked through.
Remove the chicken from the pot and increase the heat to high again. Add in the noodles and cook for about 20 minutes, or until the noodles are tender.
Meanwhile, as the noodles are cooking, chop the chicken into bite sized pieces or use two forks to shred the chicken.
Return the chicken to the pot and give it a stir. Remove the bay leaf.
Add in black pepper and parsley and season to taste with salt.
Serve immediately.
Recipe from
CenterCutCook