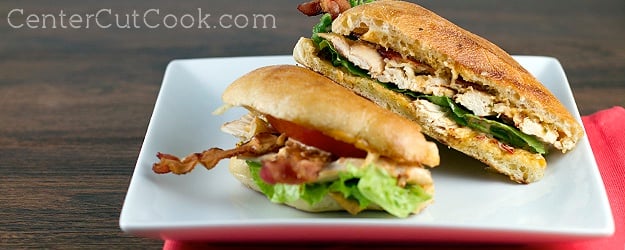 Can I let you in on a little secret? Just between you and I? Oh good, I knew I could trust you. :) Sometimes I cheat. Yes, I cheat. Sometimes, instead of cooking my own chicken, I buy a rotisserie chicken from the grocery store instead. This cheating usually only occurs after a trip to Costco, after I've walked by their display of fresh ginormous rotisserie chickens that smell amazing. Somehow a chicken always ends up in my cart! But that's okay, because there are a million bazillion things you can do with a rotisserie chicken…. like these Chipotle Chicken Club Sandwiches.
So what makes this sandwich a "chipotle" flavored sandwich? It's all in the mayo, my friends. I decided to whip up some homemade chipotle mayo which turned out just perfect. And it's quick. Just a few ingredients thrown in the blender and mixed for a few seconds yields tremendous flavor. The spicy chipotle mayo combined with rotisserie chicken, crisp bacon, leaf lettuce, and tomato, then grilled = one super-de-dooper sandwich, ideal for a quick meal!
One additional element that really helped make this a standout sandwich is the bread. I'm all about homemade bread, but sometimes there's just not time for that. For this sandwich you'll want to use a crusty type bread, one that stands up well to grilling. I found these amazing Torta rolls while I was at Costco and they were absolutely perfect for this sandwich! Crispy on the outside, chewy on the inside, like I said, perfect!
Let's talk for a minute about the chipotle mayo. To make this tasty sandwich spread, you'll need to purchase chipotle peppers in adobo sauce. It's a mouthful, but found quite easily in your grocery store, usually in the same aisle where they sell hispanic foods. They typically come in a small can. For this recipe, you just need one of the little peppers, maybe even less. I used one pepper and some of the sauce and it was just the perfect amount of heat for me, but I like heat! If you don't like things too spicy, I'd err on the side of caution, and use 1/2 of a pepper, taste it, and then add more if you'd like it a little spicier.
So what could possibly make these sandwiches better? Avocado slices would be a no-brainer addition to this sandwich, however, my grocery store didn't have any that were perfectly ripe and ready to eat. :( Next time I'm going to try making the chipotle sauce with greek yogurt, instead of mayo, to lighten things up. It's definitely beyond delicious as-is, but sometimes it's also fun to try and lighten up a recipe.
Enjoy!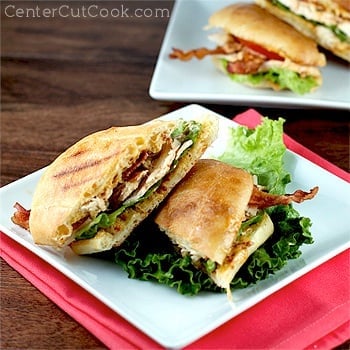 CHIPOTLE MAYO INGREDIENTS
1 chipotle pepper in adobo sauce (not the whole can- just 1 pepper from the can!)
1/2-1 tablespoon sauce from the can
1 tablespoon lime juice (about 1/2 lime)
1/2 cup mayonnaise
Dash of salt
Dash of pepper
SANDWICH INGREDIENTS
Rotisserie chicken
Leaf lettuce
Tomato slices
Chipotle Mayo
2 pieces of crisp, cooked bacon per sandwich
Crusty bread (I used Torta Rolls made by LaBrea Bakery and sold at Costco)
Pepper-jack cheese (optional)
Avocado slices (optional)
Sliced red onion (optional)
DIRECTIONS
Begin by making the chipotle mayo. In a food processor or blender (I used my blender) combine 1 chipotle pepper (less if you don't like things too spicy), and about 1/2-1 tablespoon of sauce from the can with 1/2 cup mayo, 1 tablespoon lime juice, and a dash each of salt and pepper. Blend until you have a smooth consistency.
Heat a griddle or grill pan to medium-high heat.
Spread about 1/2 tablespoon chipotle mayo on the top and bottom portion of the roll. Add as much chicken as you'd like, two slices of cooked bacon, and cheese (optional).
Place the sandwich on the heated griddle or grill pan and toast the sandwich for a few minutes on each side, or until the bread is toasted well.
Remove the sandwich from the grill pan and add fresh lettuce and tomato.
To make the sandwich look fancy, cut the sandwich in half on an angle and serve immediately.