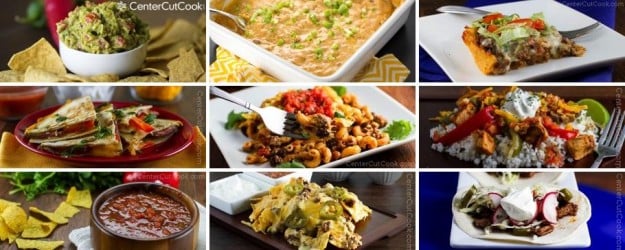 Cinco De Mayo is right around the corner which means it's time to whip up all of your favorite Cinco De Mayo recipes! Truth be told, I don't need a holiday for an excuse to make all of my favorite Mexican inspired recipes, but if you do, here's your excuse! I am a sucker for all things Mexican – from good authentic tacos, to the not-so authentic kind. And there's nothing I love more than homemade guacamole and salsa with warm tortilla chips!
Below you are going to find everything from dips and appetizers to a variety of taco ideas, and even a casserole to create a Mexican feast filled with something everyone will love! There are plenty of flavorful south of the border bites to try all week long! The only thing I'm missing is a Mexican inspired dessert, but don't you worry, that'll be coming up this week!
Here's what you'll find below: Cheesy Bean Dip, Taco Pie with Queso Blanco, Steak Quesadillas, Taco Pasta Bake, Chipotle Lime Chicken Burrito Bowls, Classic Salsa, Cheesy Macho Nachos, Queso Blanco, The Best Fajitas, Homemade Taco Seasoning, Oven Tacos, Mexican Pizzas, Queso Blanco Dip, and Taco Dip!
list;436,801,731,632,601,568,562,541,534,335,306,797,782,362,335,241
wide;436,801,731,632,601,568,562,541,534,335,306,797,782,362,335,241