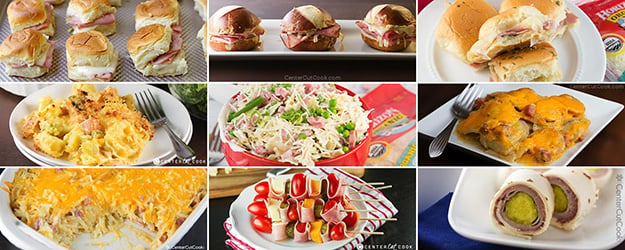 Looking for ways to use that leftover ham you made for Easter or Christmas? I've got some delicious suggestions. Ham is a versatile protein option that works so well on a variety of recipes.
Ham leftovers are perfect for sandwiches, pasta, pasta salads, soups, casseroles, roll-ups and wraps.
How Long is Leftover Ham Good For?
If you have leftover cooked ham, it will stay fresh in the refrigerator for up to 5 days. If you will not be eating it all within 5 days, you will want to freeze it. Leftover cooked ham can be frozen for 1-2 months per the USDA guidelines.
Easy Ham Ideas
Looking for easy ham ideas that don't require a recipe? Ham with scrambled eggs is one of the easiest options, along with grilled ham and cheese sandwiches. However, if you want to try something different, take a peak at the list below. There is something for everyone and you'll never wonder what to make with those ham leftovers again.!
My personal favorites include the hash brown casserole, and the ham sandwiches with swiss and gruyere cheese on mini pretzel rolls – they are so good!
Enjoy!
list;11549,909,11616,4380,11615,762,207,6133,1218,11197
wide;11549,909,11616,4380,11615,762,207,6133,1218,11197