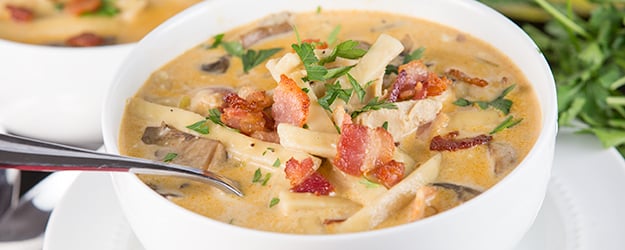 Fall has arrived and nothing says comfort quite like a bowl of warm comforting soup. This Creamy Chicken Bacon Noodle soup is versatile, with multiple options for changing it up to make it just how your family will like it. And best of all? It is sure to be a family favorite. With crispy bacon, chicken and those delicious egg noodles everyone loves, you cannot go wrong serving this soup. Leftovers are even better!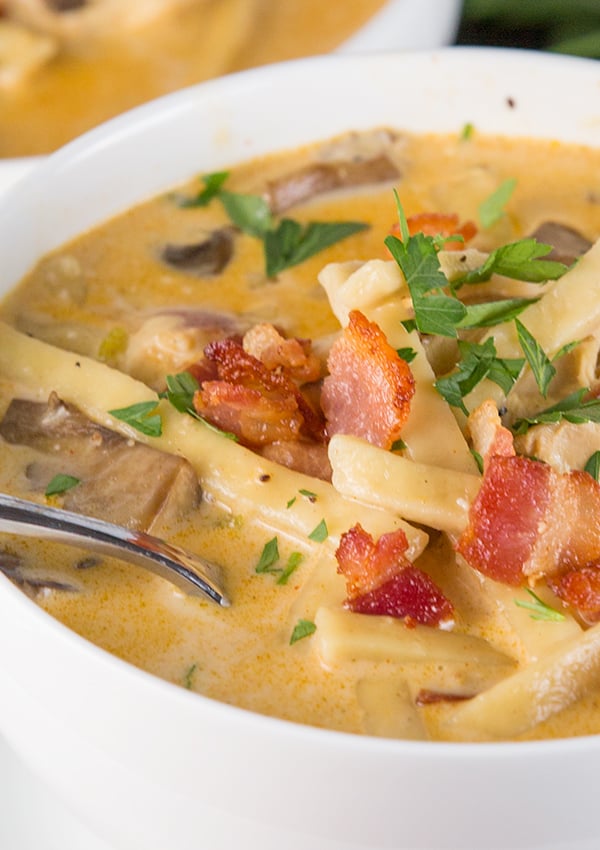 Mushrooms are included in this recipe because we're a fan of mushrooms in this house, even the 3 year old, but if mushrooms aren't your thing, feel free to leave them out. I also used chicken, but another great protein option would be leftover turkey from Thanksgiving dinner. I don't think anything screams fall quite like the duo consisting of soup and turkey. It's that time of year and I don't know about you but I am always looking for delicious, satisfying ways to make use of leftover turkey.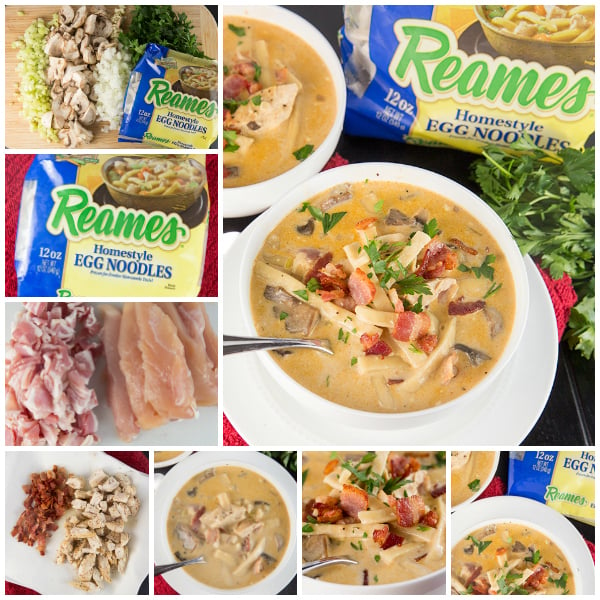 One ingredient in this Creamy Chicken Bacon Noodle Soup that you may not be familiar with is Reames Frozen Egg Noodles. They are found in the frozen food section of your grocery store and I am obsessed with the entire concept. Gone are the days of thin dried noodles. Because Reames noodles are frozen, they're made with simple natural ingredients (flour, water, eggs) as if you were making them at home from scratch. They hold up really well in soups and casseroles and the taste and texture tops dry egg noodles without question.
Homemade soup is such a comforting fall essential, especially in my house. My little guy loves to dip just about anything into tasty soups — sandwiches, crackers, you name it. And anything with noodles is especially going to win him over. He LOVED this Creamy Chicken Bacon Noodle soup, and I'm sure you will too. Enjoy!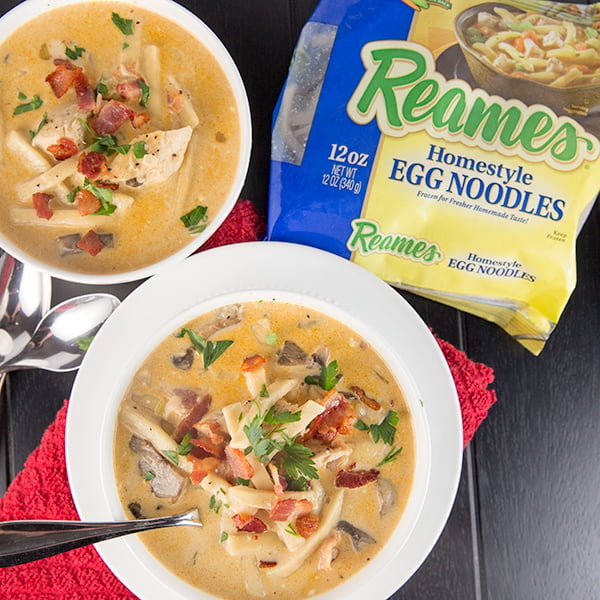 INGREDIENTS
6 slices bacon, cut into small pieces.
1 pound chicken breast tenders
1 tablespoon butter
3 ribs celery, diced
6 ounces mushrooms, sliced
1 small onion, chopped
2 cloves garlic, minced
1 teaspoon salt
1 teaspoon black pepper
1 teaspoon garlic powder
1/2 teaspoon dried thyme
1/2 teaspoon smoked paprika
4 cups chicken stock
12 ounces Reames Homestyle Egg Noodles
8 ounces cream cheese, cubed
1 cup heavy cream
Green onion or chopped parsley for garnish
DIRECTIONS
In a large stock pot heated over medium-high heat, cook the bacon until crisp. Remove from pan and crumble, leaving bacon drippings in the pan.
Season chicken breast tenders with salt, black pepper and garlic powder. If using chicken breasts, cut in half length-wise so that they will cook quicker. *If using leftover turkey, or pre-cooked chicken, skip this step and add it back to the pan in step #8.
To the bacon drippings, add chicken breast tenders and sear for about 3 minutes on each side. Chicken may not be fully cooked at this point and that's ok. Remove chicken from pan and cut into pieces. It will continue cooking when you return it to the pan in step #8.
If there's minimal bacon drippings remaining, add 1 tablespoon butter to the pan.
To the pan add in diced shallot, celery, mushrooms and onion. Saute' until vegetables are tender. Add in garlic and cook for about 30 seconds longer.
Add in seasonings: salt, black pepper and garlic powder, dried thyme, smoked paprika
Stir in 4 cups chicken stock then bring to a boil.
Reduce heat and add in a 12 ounce package Reames Homestyle Egg Noodles. Return chicken and bacon to the pot.
Simmer for 15 minutes.
Stir in 8 ounces cream cheese, cubed, and 1 cup heavy cream.
When the cream cheese and cream are well combined, about five minutes, garnish with green onion or chopped parsley.
Servings: 6
This is a sponsored conversation written by me on behalf of Reames®. The opinions and text are all mine.