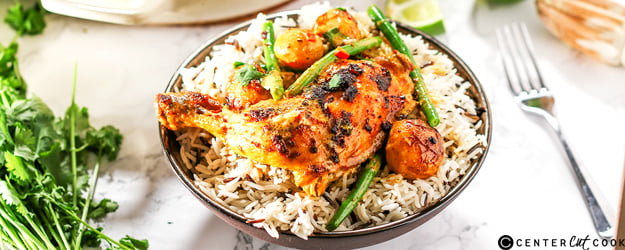 This curry is absolutely packed with flavour.
Plenty of spice, mellowed out with creamy coconut milk plus chicken and potatoes that have been roasted together until golden brown.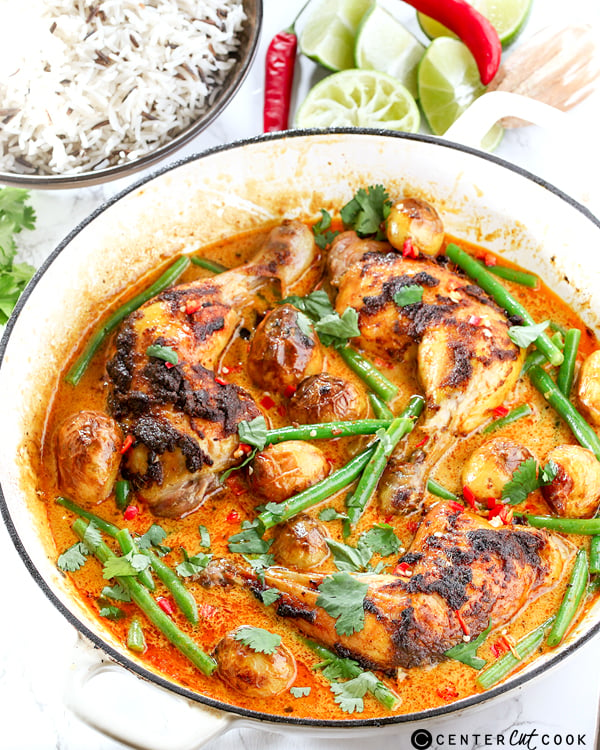 I make this quite often for my family (although I leave out the chilies when the kids are having it). It's one of their favourite curries, and a brilliant way to get the kids to eat all of their green beans. I sometimes throw in snow peas or broccoli too and it always gets eaten!
It might sound like a lot of carbs to have potatoes as well as rice, but it really does taste amazing – the potatoes soak up the flavors of the roast chicken and spices from the curry paste as they're cooking
I use ready-made Tikka masala paste for this, but you can use a hotter paste – such as madras – if you prefer.
A delicious, warming dinner that's perfect for Winter!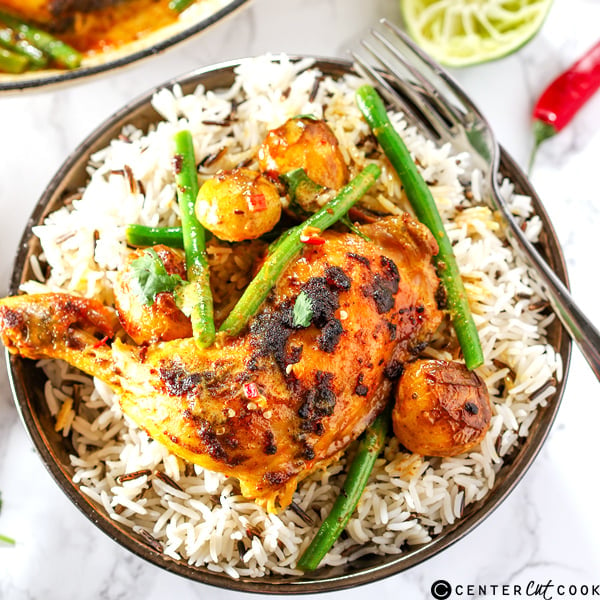 INGREDIENTS
3 chicken legs
4 tbsp tikka masala curry paste
1 tsp olive oil
Pinch salt and pepper
1 thumb-sized piece of ginger, peeled and minced
1 tsp lemongrass paste (optional)
1 clove garlic, peeled and minced
1 red chilli, finely chopped (optional)
7oz baby new potatoes
14 oz can coconut milk
1 tsp brown sugar, any type
2 cups green beans, trimmed
Juice of 1 lime
1 tsp fish sauce
Fresh coriander
Basmati and wild rice, to serve
DIRECTIONS
Preheat the oven to 400F.
Place the chicken legs into a large oven-proof skillet.
Mix half the curry paste with the oil, salt and pepper and spread over the skin of the chicken legs (just on top of the chicken). Place a lid on the pan and put in the oven for 15 minutes.
After 15 minutes, take the pan out of the oven and add in the ginger, lemongrass paste, garlic, red chilli and the rest of the curry paste. Mix it around in the bottom of the pan and stir in the potatoes – so they're coated in the mixture.
Place back in the oven with the lid on and cook for 15 minutes, the take the lid off, stir the potatoes and cook for a further 25 minutes without the lid.
Take the pan out of the oven and place the chicken on a plate. Put the pan on the stove on a medium heat. Add in the coconut milk, sugar, green beans, lime juice and fish sauce. Stir and bring to a gentle bubble. Simmer for 5-6 minutes until the green beans are just cooked but still a little crunchy. Add the chicken back in, then turn off the heat. Sprinkle with cilantro before serving up with rice.
Servings: 3