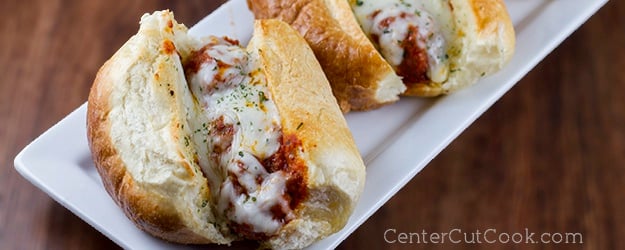 You've heard of three truths and a lie, right? The game where I tell you four different statements and three are true but one is a lie? Let's play it real quick! I'm about to tell you four different things about jobs I've had in the past and you need to identify which one is a lie.
Subway was my first job when I turned 16, but I only worked there for a few days because it just wasn't for me.
After the gig at Subway, I became an ice cream scooper and my favorite thing to make was a banana split!
During college, I was a waitress at Red Lobster and ate way too many Cheddar Bay Biscuits for my own good.
My favorite part of my first teaching job was teaching 5th grade math!
If you guessed that 1, 3, or 4, was a lie,you're wrong. Those are all true! If you guessed number 2, you are correct! I never had a gig at an ice cream shop, although I was a server at a restaurant called Steak n' Shake and made way more than my fair share of milk shakes!
And speaking of Subway… it's true. I worked there for a few days before I quit. It was my official first real job, aside from babysitting. But, I remember they wanted me to close the store by myself, and my loving, protective Dad said no-way! During my short gig at Subway, there was one sub that I was just disgusted to make….. the Meatball Sub! I don't know if it's because I was just weening myself off a vegetarian diet, or what, but my mouth NEVER salivated thinking about that Meatball Sub. I thought it was DIIISGUSTING!
It's been nearly 15 years since my few shorts days at Subway, and I finally decided to give the Meatball Sub a try. But I didn't want it to be a boring ole' sandwich that ya'll would yawn at so I hemmed and hawed and finally came up with…. Garlic Bread meets the Meatball Sub! I started by slooooow cooking the meatballs all day long. Then, I sliced open some french bread rolls that I had bought at the store (about 4 inches each) and prepped them like I was making garlic bread by slathering a garlic butter mixture all over. Then, I baked the bread for about 6 minutes so that the bread was warm, but still soft. Finally, I added some meatballs and sauce, topped with cheese, and broiled for a few minutes until the cheese melted.
Let me tell you, these sandwiches were out of this world delicious. I love garlic bread, so it was sort of a no-brainer that I LOVED these meatball subs! And to boot, these are perfect for a party because it makes a lot. I was able to get about 12 subs out of the meatballs. If you weren't planning to feed a crowd with these, and you didn't want to eat a bunch as leftovers, you could simply freeze half of the meatballs for a later use. You'd just freeze the already cooked meatballs and when you were ready to eat, you'd thaw them completely and heat them in a sauce pan.
We really enjoyed these subs, and I hope you do too! Aside from the subs, these meatballs are also fantastic with pasta, or even served solo. But man, you can't go wrong with Garlic Bread meets the Meatball sub! Enjoy!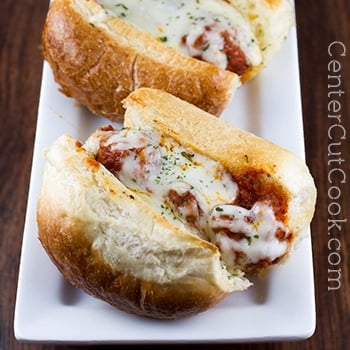 MEATBALL INGREDIENTS
1 1/2 pounds ground chuck
1 egg, beaten
1 1/4 cups bread crumbs (Italian seasoned)
2 tablespoons chopped fresh parsley
3 cloves garlic, finely minced
1/2 of a small yellow onion, finely chopped
28 ounce jar marinara
28ounce can crushed tomatoes
1 teaspoon dried basil
1 teaspoon dried oregano
1/4 teaspoon red pepper flake
1/2 teaspoon garlic powder
SUB INGREDIENTS
12 of the 4 inch french bread rolls, sliced open
2 sticks butter
2 teaspoons garlic powder
1 teaspoon dried parsley
2 cups shredded mozzarella cheese
Chopped parsley for garnish
DIRECTIONS
In your slow cooker, combine marinara, crushed tomatoes, basil, oregano, red pepper flake, and garlic powder.
In a large bowl, use your hands to mix together ground chuck, egg, bread crumbs, fresh parsley, garlic, and yellow onion. Combine well.
Divide the meat mixture into 30-36 meatballs. I used a heaping tablespoon of meat mixture for each meatball.
Place the meatballs in the sauce mixture and cook on low for 6 to 8 hours, or on high for about 4 hours.
Pre-heat oven to 425 degrees.
In the microwave, melt two sticks of butter (about 1 minute will do) in a bowl. To the melted butter, add 2 teaspoons garlic powder and dried parsley.
Brush melted butter liberally over all 10-12 rolls. Bake the rolls in the oven for about 6-7 minutes, then remove from the oven and turn the broiler on.
Place about three meatballs on each sub, and spoon some of the sauce over the meatballs. Top with mozzarella cheese, and parsley, if you'd like, for garnish. Broil for 3-4 minutes or until the cheese is completely melted. Cool for a minute or two and serve immediately.Keep an eye on the subs so that the bread doesn't burn!
Recipe from
CenterCutCook