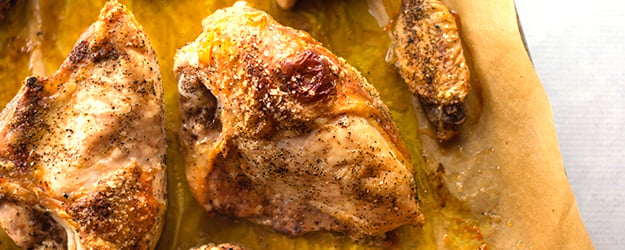 I'm always surprised at how easy it is to bake an entire chicken. It sounds like it'd be a difficult task that would take forever, but it's totally the opposite.
First off, you hardly need any ingredients (just the chicken, olive oil, salt, and pepper) and a little bit of time. In fact, when you break down a chicken from a whole roasting chicken into its basic pieces/cuts (breasts, thighs, wings, etc.), it makes the process even faster.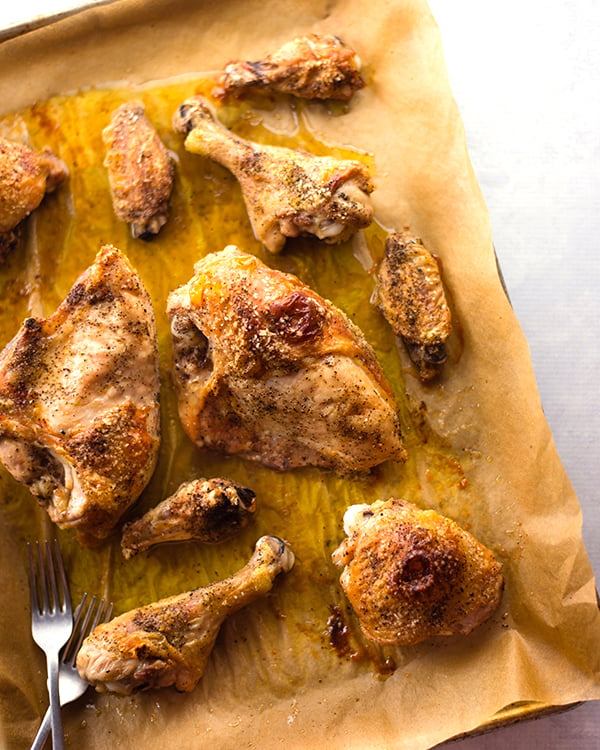 If you're not sure how to break down a chicken on your own, there are a lot of tutorials online to teach you or you can ask your butcher to do it for you. If you have a good butcher, they should be happy to do it for you. Or, you can buy the "best of the fryer" packs if they happen to be sold at your grocery store.
You can also choose to add in additional herbs and/or spices when baking chicken to add in extra flavors. I prefer to use dried herbs (dried basil, dried rosemary, dried thyme, and dried tarragon) when baking chicken so the fresh herbs don't burn. Then, when serving the chicken, I'll add fresh herbs as a garnish if I'd like for a little extra flavor and color.
Baked chicken goes well with all sorts of sides, from more country-style green beans and mashed potatoes, to sautéed spinach to even noodles. Baked chicken goes with most anything and makes a great lean protein for a well-balanced meal.
INGREDIENTS
DIRECTIONS
Preheat oven to 400 degrees F.
Drizzle the chicken with olive oil.
Generously sprinkle all sides of the chicken with the salt and pepper and lay on a rimmed baking sheet lined with parchment paper, arranging them so the largest pieces (the breasts) are in the center of the pan. Try to allow some room in between the pieces, if possible.
Place in the oven and bake for 30 minutes (this higher temperature will help to brown the chicken). Then, lower the heat to 350 F and bake for and additional 20-30 minutes until the juices run clear (not pink) when pierced with a sharp knife or the internal temperature of the chicken breasts is 165 F and of the thighs is 170 F.
To get the skin on top extra crispy and brown, you can place under the broiler for the last 5-8 minutes of cooking.
Remove from oven and let rest for 5 to 10 minutes before serving.
Servings: 6