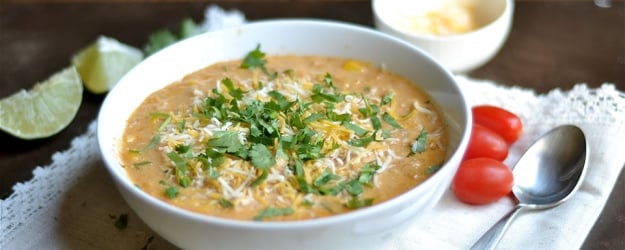 Forget the preparation of enchiladas for dinner, choose this soup instead! Similar ingredients, and all the flavor of creamy, delicious, enchiladas without the work! I absolutely love this soup, especially during this time of year. It's basically the kitchen sink soup with my favorite enchilada sauce. The Instant Pot convenience makes this an absolute winner, winner, chicken dinner. And in case you were wondering, the Instant Pot does mean a 1 pot dinner. No extra clean-up! Easy peasy dinner that is super yummy, and one the whole family will love.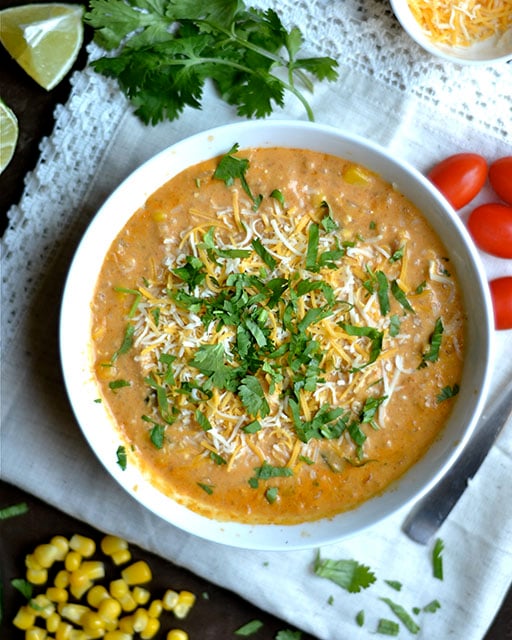 Besides the convenience and fast timing of this soup, I love the fact that I usually have the ingredients on hand, or just adjust to whatever is in my pantry. I used two different enchilada sauces for this recipe (1 jar of red sauce, one jar of tomatillo green enchilada sauce). The combination of the two flavors taste delicious together! Also, sometimes I add in a can of black beans. I didn't have any for this variation, but instead threw in some frozen brown rice (also a great option). The creamy part of this soup is made with cream cheese that melts in the very end. Another bonus, you can use raw chicken, or leftover cooked chicken. Even turkey if you have any leftovers from Thanksgiving!
Finally, I do add in some peppers. Both a poblano and a jalapeño. Remove the seeds from the jalapeño, and it won't be spicy! You can also replace the poblano pepper with a red bell pepper. To make this soup creamy, I use cream cheese. This will happen at the very end. After you release the pressure from your instant pot, toss in some cream cheese and let it melt to blend into the soup. It's the perfect addition. Top with your favorite toppings: sour cream, crushed chips or tortilla strips, cilantro, and green onion. My family loves to enjoy the soup with a side of cornbread.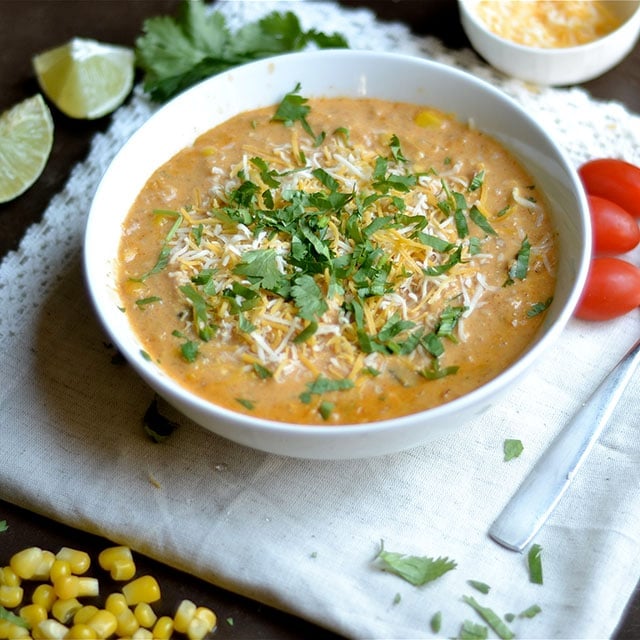 INGREDIENTS
2 tbsp olive oil
1 small yellow onion, chopped
1 clove garlic, minced
1 jalapeno, seeds removed and diced
1 large poblano pepper (or bell pepper), chopped
2 cups frozen corn
1 lb chicken breast, cut into chunks
1 12 oz jar red enchilada sauce (about 1.5 cups)
1 12 oz jar/can green enchilada sauce (about 1.5 cups)
1 14 oz can black beans, drained and rinsed (or use 2 cups frozen cooked rice)
32 oz chicken stock
8 oz cream cheese, softened
1/2 cup sour cream (for garnish)
Chopped green onion (for garnish)
DIRECTIONS
Select the saute function of your instant pot. Coat the bottom of your pot with olive oil. Once hot, add onion and saute for 2-3 mins. Add in minced garlic, jalapeño, poblano pepper, and corn. Saute for another 2 minutes.
Mix in cut chicken, both enchilada sauces, black beans, and chicken broth. Secure the lid and select manual. Cook on high pressure for 8 minutes.
Use a quick release and remove the lid. Keep the instant pot on, add in cream cheese. Stir for another 3-4 minutes, or until the cream cheese melts.
Serve hot, and garnish with sour cream and/or green onion.
Servings: 6