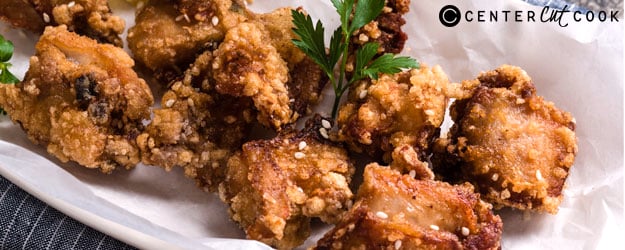 When I dine at a Japanese restaurant, I order chicken karaage every single time. Japanese style fried chicken uses cuts of chicken thigh to create the juiciest texture. It also has a very special coating that is quite thin, crunchy, and crispy.
The key to making the most flavorful and tender chicken is to marinate the thighs with tons of herbs and a soy-sauce-based liquid. The ginger in the marinade will help tenderize the chicken and give it extra juiciness.
If you are considering cooking this recipe with chicken breast, I have a suggestion. Don't do it. Although the results may be delicious, you will miss out on the silky texture that can only come from dark meat.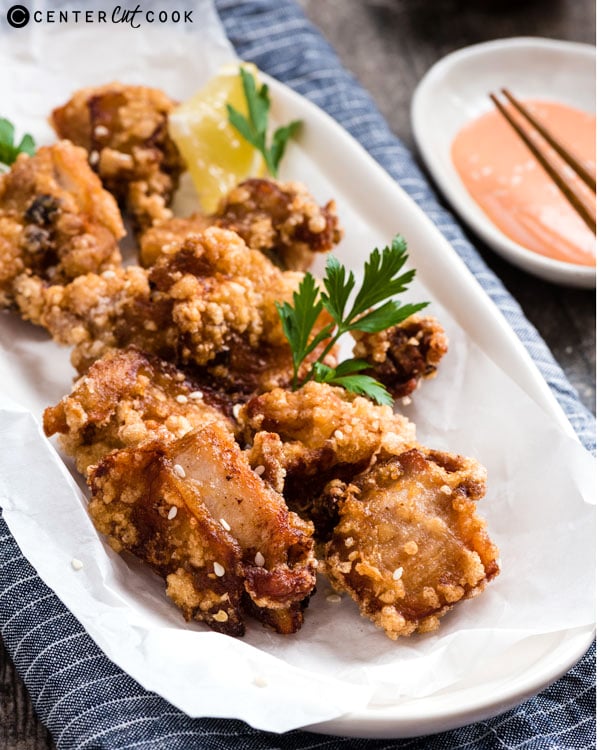 I used skin-on boneless thighs to make this dish, to achieve the most authentic flavor. The fried skin will be so crispy that you can even break it apart by hand. I had to spend a little extra time deboning the thighs, but it was totally worth it. Of course, if this is too much trouble for you, use skinless boneless thigh instead.
The other key to creating perfect fried chicken is to fry in small batches so the oil temperature doesn't drop too much. This will ensure a crispy coating without overcooking the meat. The frying process will take a bit of time, but let me tell you how to make it easier. Open a cold bottle of beer and play your favorite show during cooking. And of course, snack on some freshly cooked chicken. ;)
Happy cooking!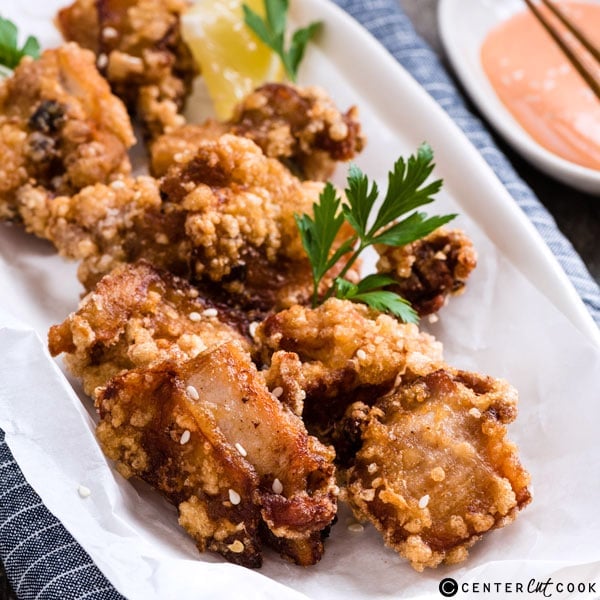 INGREDIENTS
1 pound boneless skinless chicken thigh meat (or boneless, skin-on thigh)
1/3 cup potato starch
Oil for deep frying
4 lemon wedges
(Optional) Sriracha mayo sauce
MARINADE INGREDIENTS
1 tablespoon grated ginger
4 cloves garlic
2 tablespoons Japanese sake
2 tablespoons soy sauce
1 teaspoon sugar
1/8 teaspoon ground black pepper
DIRECTIONS
Combine all the ingredients for the marinade in a small bowl. Mix well.
Cut chicken into even, bite sized pieces and transfer them to a large Ziplock bag. Pour in the marinade. Massage the bag so that all the chicken pieces are well coated with marinade. Squeeze out as much air as possible and seal the bag.
Let marinate in fridge for at least 4 hours or at room temperature for 1 hour.
Add oil to a deep pan (I used a flat bottom wok) and heat over medium high heat until oil reaches 360 degrees F.
Meanwhile, transfer the chicken to a large bowl and add potato starch. Toss to coat all the chicken pieces with the potato starch.
Fry chicken in small batches, 5 to 6 pieces at a time. Otherwise the oil temperature will drop too quickly and the chicken won't be as crispy. Fry until the surface turns golden brown. Flip once during frying, so that both sides are browned evenly. Transfer to a large metal strainer stacked on top of a large bowl to drain any extra oil. Once the chicken has cooled a bit, transfer those pieces from the strainer to a large plate lined with baking parchment.
Serve warm with lemon wedges. You can also serve the chicken with sriracha mayo sauce (2 parts mayo to 1 part sriracha).
Recipe adapted from
Just One Cookbook