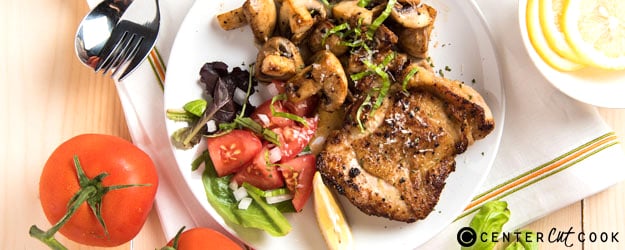 There are dozens of lemon pepper chicken recipes on the internet, but this one is different. It teaches you how to cook the dish in 5 minutes.
But how?
The traditional approach marinates the chicken and then bakes it in the oven. This recipe skips the marinating and cooks the chicken on the stove top to shorten the whole process.
You can use all sorts of cuts, including chicken breast, to cook this recipe. However, I strongly recommend you use skin-on boneless thighs. The thigh is more juicy and tender after cooking. It also absorbs flavor better. Plus, the crispy skin makes the dish tastes even better.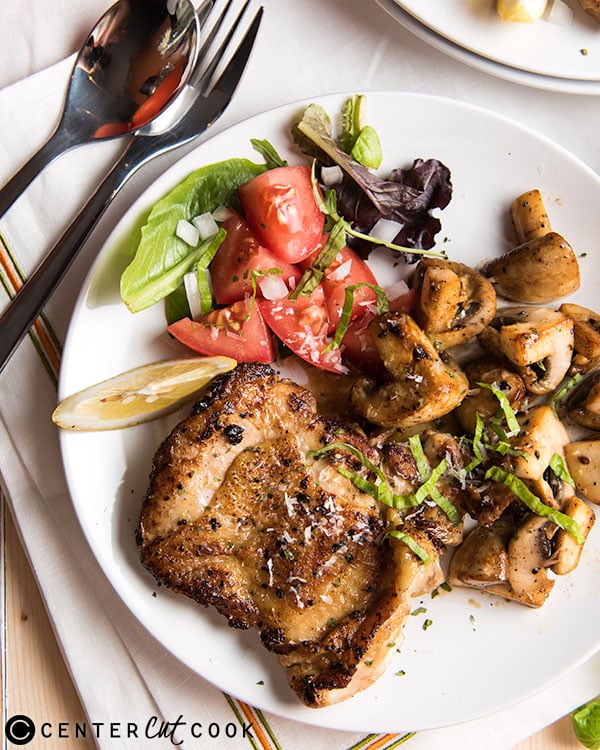 To successfully cook this dish, you'll need to:
Score the thick part of the chicken and pound it thin, so it will be cooked through in a few minutes. This helps the chicken to absorb extra flavor, too.
Season the chicken with a generous amount of salt, pepper, and lemon juice. Because the chicken is pounded thin (increased surface area), the meat will be very flavorful, even without marinating.
Use medium high heat to create perfectly charred and crispy skin.
Cover the skillet with an oil splatter screen when cooking. The screen will hold in some heat and speed up the cooking process without turning the skin soggy.
To create a quick side dish to serve with the lemon pepper chicken, use some veggies to do a simple stir-fry right after cooking the chicken. Since the skillet will still be hot and have plenty of garlicky chicken grease left, you can throw the veggies into the skillet and simply season them with salt and pepper. I cooked some mushrooms like this last time. The lunch turned out wonderfully.
Can you believe you can get such a delicious and healthy lunch ready in 30 minutes? You can even shorten it to 20 minutes if you use pre-cut veggies!
Try cooking this dish once and you'll see how fast it is!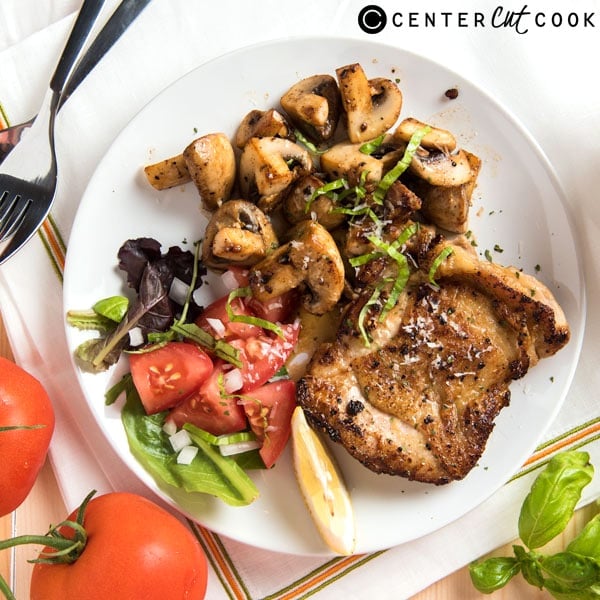 INGREDIENTS
2 pieces skin-on boneless chicken thigh (or 1 chicken breast, or 2 skinless boneless thighs)
1 lemon (or 2 tablespoons lemon juice)
Salt and pepper
2 big cloves garlic (or 1/2 teaspoon garlic powder), made into paste with a garlic press or minced finely
1 tablespoon butter
(Optional) Grated parmesan and chopped basil for garnish
DIRECTIONS
Score the thick part of the chicken thigh with a knife. Pound the chicken into a thin piece (1/4 inch thick). If using chicken breast, cut into two thin pieces (like butterflying, but cut it all the way through). Gently pound the two pieces without breaking them apart.
Drizzle plenty of lemon juice on both sides of each piece.
Generously season both sides with salt and pepper.
Place chicken skin side down. Press one clove's worth of garlic paste (or minced garlic or half the powder) on each thigh. Rub to spread the paste so the thigh is covered evenly with garlic.
Heat butter in a large skillet over medium high heat until melted.
Place chicken into the skillet, skin side down. Press a few times with spatula, so the skin will be charred evenly. Place an oil splatter screen on top.
Cook the skin side for 2 minutes. Then flip the chicken every 1 to 2 minutes, until the skin is nicely crisped and the thigh is cooked through, 5 to 6 minutes.
If the chicken is not cooked through when both sides are well charred, turn to low heat and cover the skillet. Cook for another 1 minute or until the chicken is cooked through.
Transfer the chicken to a serving plate. Let rest for 5 minutes and serve warm.