Pasta is a staple in my house. We eat pasta most days of the week, if I am being perfectly honest. It's such a simple and delicious meal that even the pickiest of eaters loves. One of our favorites is a simple margherita pasta bake that always impresses everyone even though it couldn't be simpler to put together.
The trick is cooking the diced tomatoes down into a very simple sauce, then adding the grape tomatoes in just before baking. This creates a simple sauce that lightly coats the pasta, plus a bright freshness that is so welcoming after a long day of activities.
We love a lot of cheese in our pasta. This margherita pasta bake happens to be pretty heavy on the cheese. You can omit some of the cheese if you'd like, or experiment with different types of cheese. In a pinch, I love to grab the bags of pre-shredded Italian four cheese blends.
You can use this margherita pasta bake as a blank canvas and add more to it as you want. If you are looking for something a little heartier, you can add cooked shredded chicken or chopped cooked Italian sausage. Usually, if I need to make the pasta go further when there are unexpected (but always welcome) guests, I will serve it along with grilled chicken on the side and a nice salad.
There are some days when I will prep the pasta bake in the morning to bake later in the day. If you decide to do that, you will have to bake your pasta for about 20 – 25 minutes longer and adding the aluminum foil about 20 minutes before the pasta is finished baking.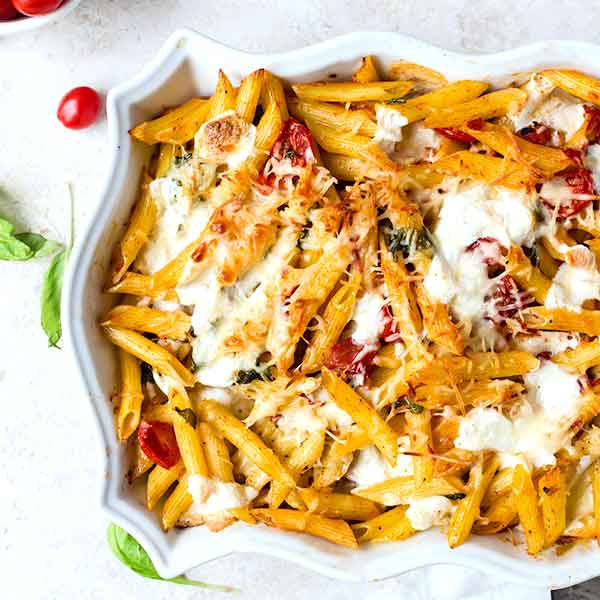 INGREDIENTS
1 lbs penne pasta
1 shallot
2 – 3 garlic cloves
1 tablespoon tomato paste (optional)
1 teaspoon Italian seasoning
Salt, to taste
Pepper, to taste
1 pint sliced grape tomatoes
1/3 cup chopped fresh basil
9 oz mozzarella
1 cup grated Parmesan
DIRECTIONS
Preheat the oven to 375 degrees F.
Bring a large pot of salted water to a boil and add the pasta and cook for about 8 – 10 minutes, or until al dente.
While the pasta is cooking, heat a large skillet on medium high and add extra virgin olive oil. Finely dice the shallow and garlic and add to the hot skillet. Add in the tomato paste if using. Cook until fragrant while stirring on occasion.
Add the diced tomatoes, Italian seasoning, and salt and pepper to taste, into the skillet and cook until the juices are slightly reduced.
When the pasta is cooked, drain the pasta water, but reserve 1/3 cup, and briefly rinse the pasta. Add to the skillet along with the grape tomatoes and basil. Stir in pasta and pasta water then season again with salt and pepper to taste.
Add a layer of pasta into an 9 x 13 baking dish, then add some mozzarella and Parmesan. Repeat the layers ending with a layer of the cheese.
Bake for about 35 – 46 minutes, adding aluminum foil for the last 10 minutes to prevent the cheese from getting too brown.
Servings: 5