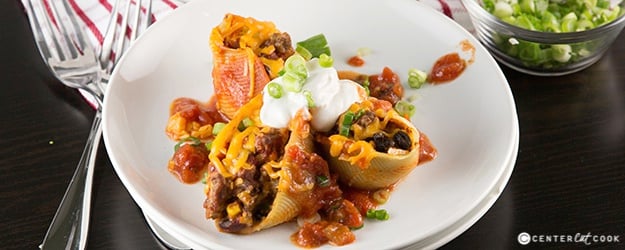 If I had to pinpoint one of the meals we have and enjoy most often in this house, without hesitation, it'd be tacos and anything Mexican. I'm sure you have a few go-to meals that your family enjoys the most too, right? Because we are crazy about tacos, I am always looking for different ways to infuse the flavor of tacos into some of our other favorite recipes. A few years ago, on a whim, I decided to infuse the flavors of tacos into stuffed shells and the result was this recipe for Mexican Stuffed Shells that we instantly fell in love with!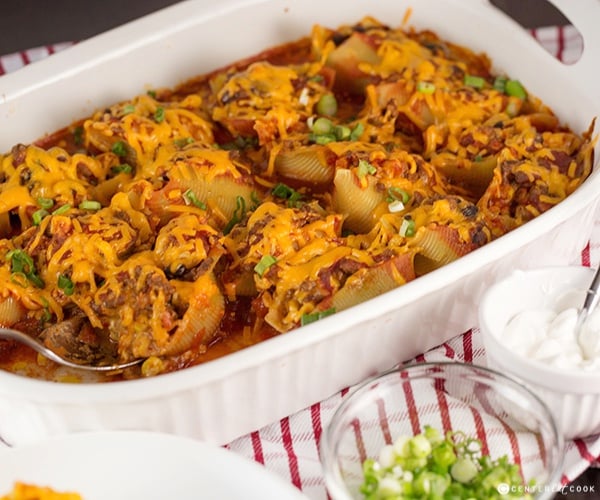 I know that stuffed shells are more of an Italian dish, but trust me when I tell you that Mexican Stuffed Shells are going to quickly become a new favorite with your family like they have become with mine! I always start by making taco meat that I've perfectly seasoned with McCormick's Taco Seasoning Mix. Along with the taco meat you'll need cheddar cheese and cream cheese to add some creaminess. I love to add in black beans and corn to make the mixture a little more hearty! After you've made the mixture, you'll stuff it into shells, top them with some more cheddar cheese and bake them until the cheese is all melty, gooey, and delicious! Is there anything better than a satisfying homemade meal?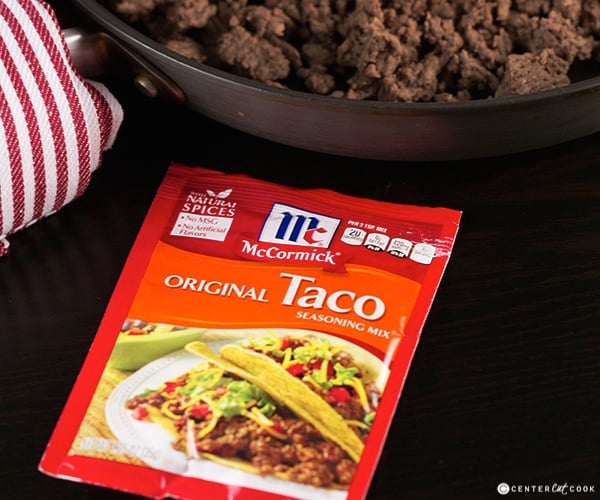 Mexican Stuffed Shells is one of those recipes that I originally just threw together with ingredients that I already had on hand, yet to this day, it is one of our favorite go-to suppers that I know I can make and everyone will enjoy it whether I'm making this for just my family, or if I'm entertaining with it. The leftovers heat up wonderfully as well!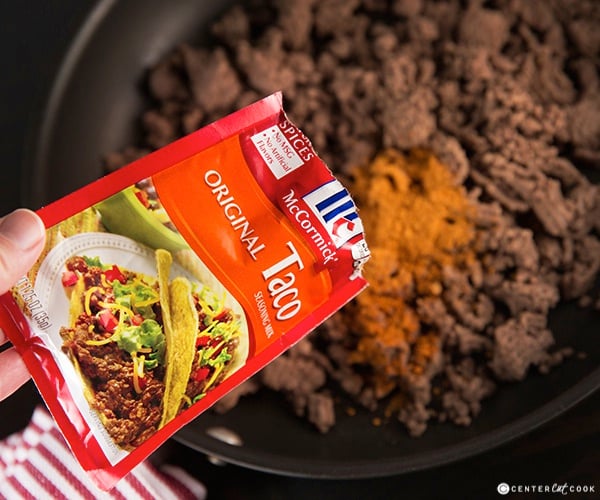 Growing up, my mom usually made classic recipes because she knew the whole family would enjoy them. What I love about this recipe is that it takes a classic recipe I grew up with (tacos) and combines it with another classic recipe that we enjoyed so often as a family (stuffed shells). The McCormick Taco Seasoning definitely makes a difference!
Just look at these beauties! I like to serve them garnished with sour cream and chopped green onions, but you can get creative and garnish them with any toppings that you'd like. I'm sure black olives would be a great addition!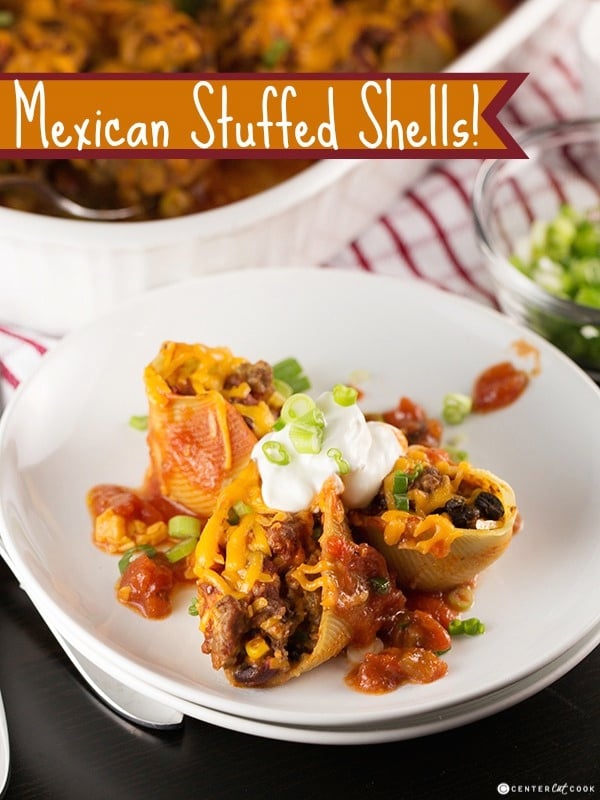 I've teamed up with McCormick and their McCormick's American Homemade Program to share this recipe with you today, so I'd love to hear about a homemade meal or recipe that you make that your family just loves! For us, it's these Mexican Stuffed Shells. What's that one recipe for your family? Food is one of those things that can bring everyone together, and so often, the recipes we make for our families have a story behind them. In the comments below, I'd love for you to tell me about a recipe that your family just can't get enough of!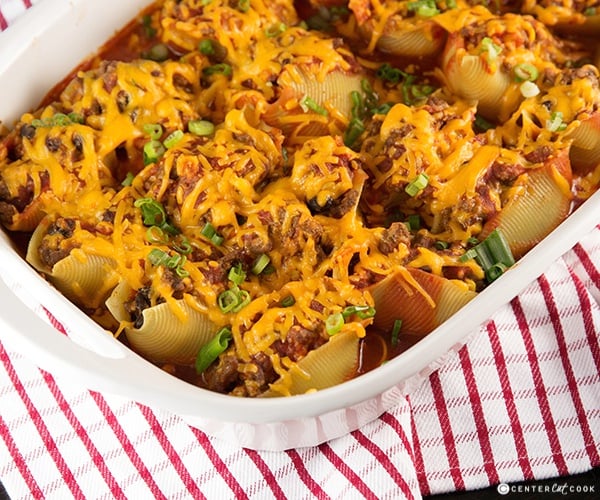 One of my favorite features on the McCormick website is their FlavorPrint Profile which you can create here. I created one for myself, and I'd encourage you to do the same. It's a handy tool that will provide you with recipes and recipe ideas based upon the flavors that you enjoy. The more you use FlavorPrint, the better it will understand your palate so that it can provide you with recipe suggestions. I love the classic recipes, but just like with these Mexican Stuffed Shells, I'm always looking for new recipes and different ways to put a twist on the classics, and the FlavorPrint profile really helps with that.
I don't know about you, but I am hungry. Let's grab a fork, and enjoy these Mexican Stuffed Shells!
I am excited to have partnered with McCormick's American Homemade program to bring you this post. As always, all opinions are my own. Thank you for supporting the companies and brands that make CenterCutCook possible!
INGREDIENTS
1 pound ground beef
1 package McCormick taco seasoning
20-25 jumbo shells, cooked according to package directions
2 cups cheddar cheese, divided
4 ounces cream cheese, softened
1 cup black beans, rinsed and drained
1 cup corn
2 cups salsa + additional for garnish
1/3 cup taco sauce
Crushed corn chips or tortilla chips for garnish
2 green onions, diced for garnish
Sour cream for garnish
DIRECTIONS
Pre-heat oven to 350 degrees.
Cook jumbo shells according to package directions
In a large non-stick skillet, brown the ground beef. Drain any excess fat. Return the meat to the pan. Add the taco seasoning and cook according to package directions.
When the taco meat is done, add in 1 cup shredded cheddar cheese, 4 ounces of softened cream cheese, 1 cup black beans, and 1 cup corn. Stir to combine.
Spread 2 cups salsa on the bottom of a 9 x 13 inch baking dish.
Fill each stuffed shell with a heaping tablespoon full of mixture, enough to fill it.
Drizzle taco sauce or enchilada sauce over the shells, then top with remaining one cup of cheddar cheese.
Bake for 30-35 minutes, until the cheese is warm and bubbly.
Top with green onion for garnish, crushed fritos and sour cream.
Enjoy!
Recipe from
CenterCutCook