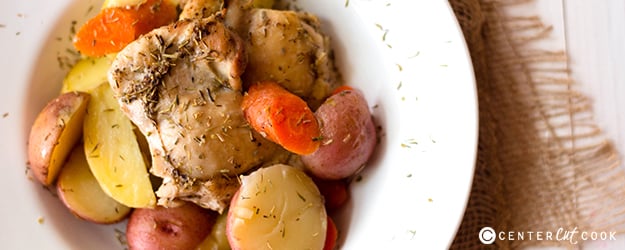 Hooray, it's finally Fall! That means pumpkins and boots and scarves and…roasting in the oven again!
One of the best things about the Fall is the weather starts to become cooler which means you actually want to use your oven again. I have always felt your oven makes your whole home smell delicious from roasting your food and really makes a house feel like a home.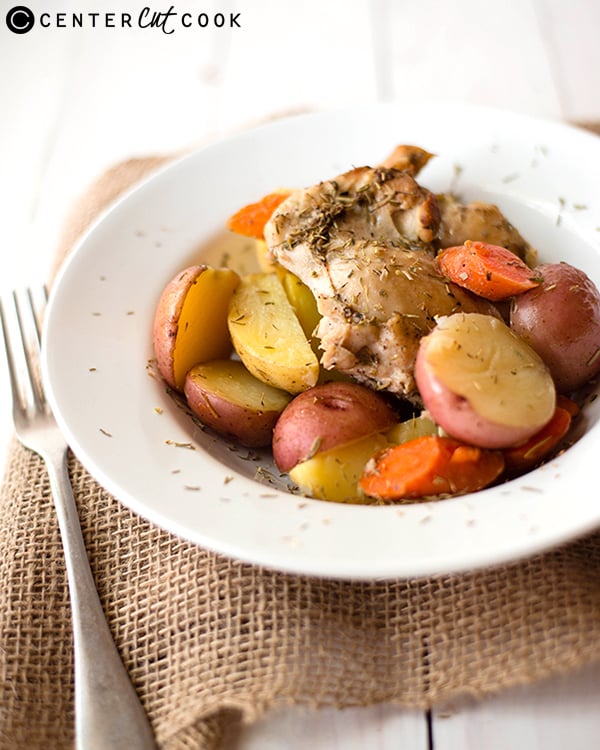 I also love roasting food because it adds so much depth of flavor to the food, is ridiculously easy and fast, and doesn't require a ton of oil or other techniques. Just season, brown, and roast and you're all set to have a delicious, healthy meal in just about 30 minutes.
This roasted rosemary chicken and carrots is just one of those meals that is super easy, not fussy at all, and full of flavor. We always seem to have extra potatoes and carrots on hand as well as chicken thighs so this is the perfect Fall weeknight meal.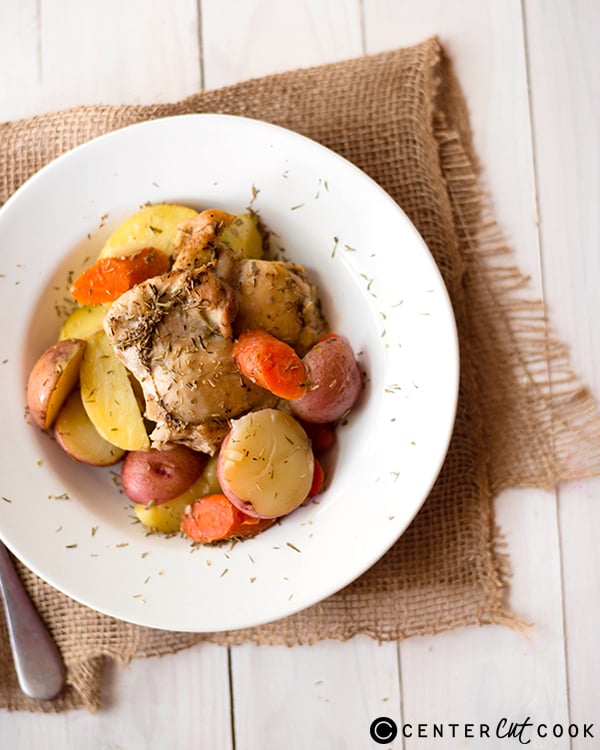 You can also use chicken breast to keep it a bit healthier, but the thighs stay juicier and more flavorful when roasting. Sometimes, I use a combination of thighs and breasts to mix it up and that works well, too. I also choose a combination of yukon and red potatoes for added flavor and texture, but either one will do for this recipe.
While you could always toss the one pan straight into the oven without browning the chicken first, I highly recommend taking the few extra minutes to brown all sides of the chicken. Not only will this make the chicken roast faster in the oven, but it will intensify the flavor of the entire meal and makes a huge difference.
Here's to the fall weather and easy, one pan chicken dinners!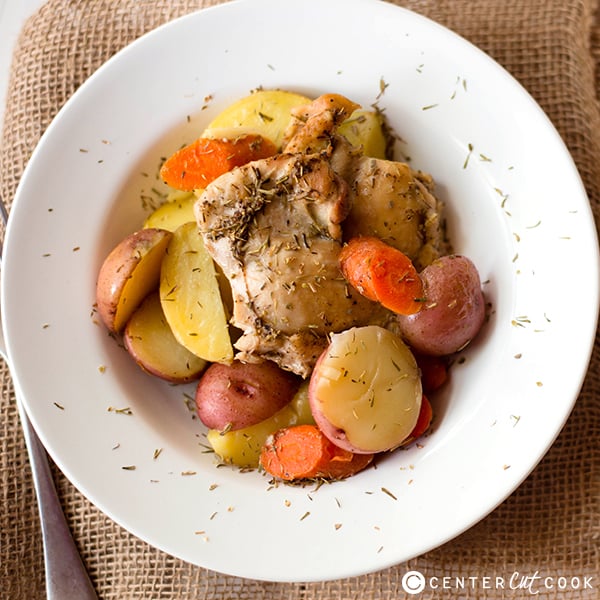 INGREDIENTS
4 chicken thighs, boneless and skinless
1 tbsp. olive oil
5 baby yukon potatoes, sliced in half
5 small red potatoes, sliced in half
3 carrots, sliced into diagonal chunks
1 tsp. kosher salt
1/2 tsp. ground black pepper
1 tsp. dried rosemary
DIRECTIONS
Preheat oven to 425 degrees.
In a large mixing bowl, combine the chicken thighs, olive oil, baby yukon potatoes, baby red potatoes, carrots, salt, pepper, and dried rosemary. Toss to coat evenly.
Heat a large, oven-safe skillet over high heat.
Once heated, add the chicken-potato mixture hot pan. Cook on high until chicken is browned (seared) on both sides.
Transfer pan to the oven and cook until the chicken is cooked through and the potatoes and carrots are tender, about 20 minutes.
Carefully remove from the oven and serve.
Servings: 4