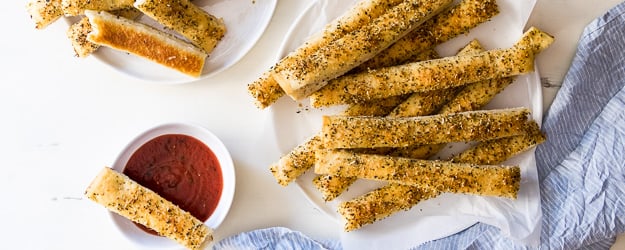 Have you ever wanted to recreate the magic of the classic Pizza Hut breadsticks in your own kitchen? Or maybe wanted to make your own version of them using your favorite blend of herbs, spices, and cheeses? Or perhaps you're looking to whip up a batch of piping hot breadsticks just in time for a party? If so, this recipe is for you! It is a straightforward, reliable, and flexible way to fulfill your breadstick fantasy.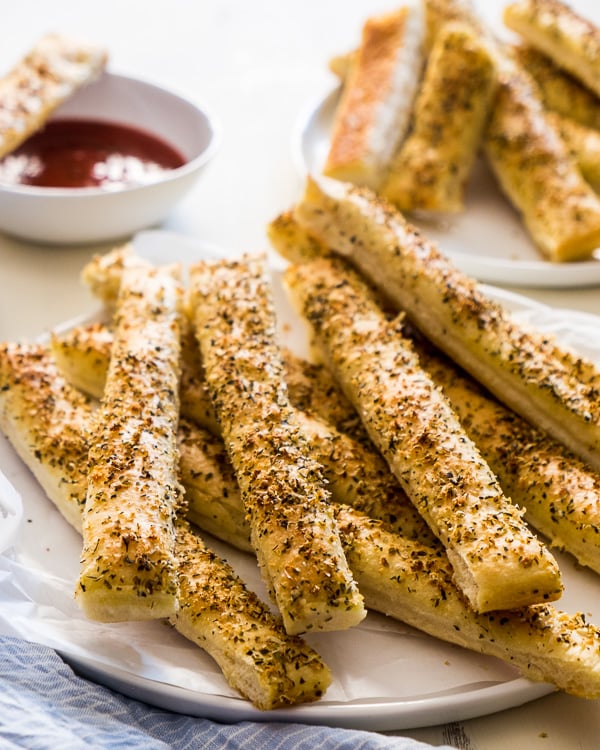 You'll just need a few ingredients – flour, yeast, salt, herbs, spices, and cheese (plus a little bit of attitude) – and a few minutes in the kitchen and you'll be impressing your family and guests before you know it. Of course you'll also need some awesome sauce to dip them in – I've got you covered! Included is the gold standard tomato-herb sauce. The breadsticks also go great with ranch dressing and meaty red spaghetti sauce.
What are you waiting for? It's breadstick time!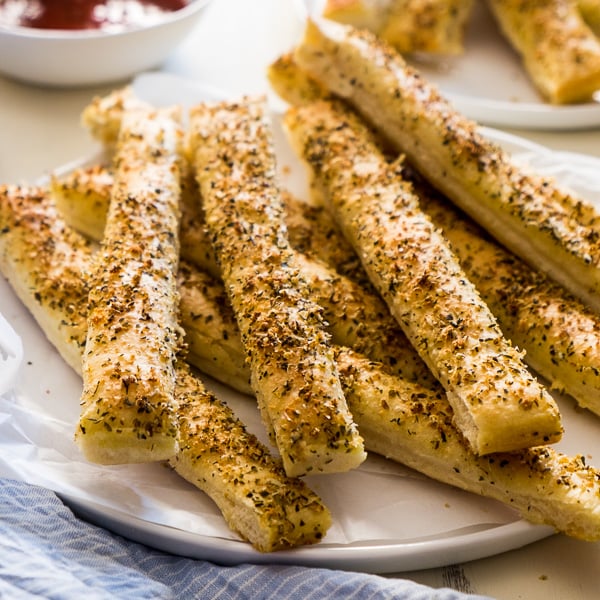 DOUGH INGREDIENTS
4 cups (480 grams) bread flour
2 tablespoons dry milk powder
1 tablespoon granulated sugar
1 tablespoon instant yeast
1/2 teaspoon salt
1 and 1/3 cups warm water
3 tablespoons olive oil
DIPPING SAUCE INGREDIENTS
1 (15-ounce) can tomato sauce
1 teaspoon dried oregano
1/2 teaspoon dried basil
1/2 teaspoon garlic powder
BREADSTICK TOPPING INGREDIENTS
2 tablespoons Parmesan cheese powder (or 1/4 grated Parmesan cheese)
1 tablespoon onion powder
1 tablespoon dried oregano
2 teaspoons garlic powder
1 teaspoons dried basil
3/4 teaspoon salt
DIRECTIONS
Add bread flour, dry milk powder, sugar, yeast, and salt in the bowl of a stand mixer. Mix with a spatula to combine all the dry ingredients.
Attach the dough hook. Turn on the mixer to lowest speed. Add water. Continue mixing until a dough begins to form. Increase the speed to medium-low. Mix until a soft dough forms and the surface is almost smooth.
Coat a large baking sheet (about 12 x 17 inch) with 2 tablespoons olive oil. Transfer the dough onto the baking sheet. Roll the dough into a 1/4-inch thick rectangle the same size as the baking sheet. If you have trouble rolling the dough into the corners, use your hands to stretch the dough, so it will form a rectangle. Seal the tray with plastic wrap. Let sit until the size doubles, about 1 hour.
While resting the dough, prepare the dipping sauce. Combine tomato sauce, oregano, basil, and garlic powder. Set aside.
For the bread stick topping, combine parmesan cheese, onion powder, oregano, garlic powder, basil, and salt in a small bowl. Stir to mix well.
Preheat the oven to 500 degrees F.
Once the dough is ready, slice into 20 equal-sized breadsticks using a pizza cutter. Gently brush the remaining 2 tablespoons olive oil on top. Try not to disturb the dough, so it won't shrink too much. Sprinkle with the cheese mixture topping.
Bake until golden, 10 to 15 minutes.
Let the bread sticks rest for 5 minutes. Break apart with hands or a knife.
Serve warm or at room temperature with the dipping sauce.
Recipe adapted from
Brown Eyed Baker