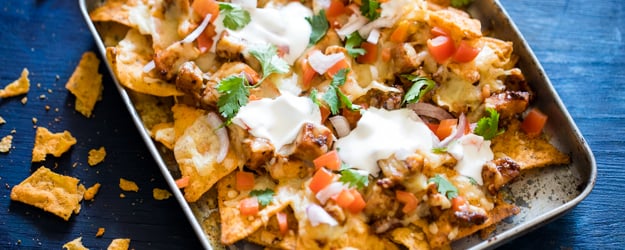 These baked BBQ chicken nachos are cheesy, loaded with flavour and can be made on the sheet pan. They are the perfect party appetizer for a crowd!
If you are looking for the perfect appetiser that feeds a crowd, these loaded baked BBQ chicken nachos are exactly what you need!
Nachos are one of those crown pleasing snacks that nobody can ever say no to. We usually have nachos at every party we host in some form or the other. This time we hosted a dinner for friends to watch the Saturday night game and these baked BBQ chicken nachos disappeared in minutes. I almost wished I had made two sheet pan full of them because I had no idea they would be such a crowd favourite.
Everyone asked for a recipe and they were amazed at how easy these are. I actually made the chicken from scratch but you can easily use leftover chicken or rotisserie chicken which can be shredded and tossed in barbecue sauce. But if you have a little more time to cook the chicken (takes only 20 minutes!) you just need to follow the recipe I have for you today.
Is there a favourite BBQ sauce that you have? I usually have two-three varieties of barbecue sauce lying around and the smoky kind is my favourite.
Lets not forget the toppings because toppings make everything better. Go wild with them I say. The more the better because these nachos are truly loaded! I highly recommend fresh tomatoes, red onions, cilantro and lots of sour cream. Don't skimp on the sour cream. A dash of lemon juice also works really well. But we also top it with avocados, black beans, and even olives sometimes. And some extra cheese. Always some extra cheese.
These baked BBQ chicken nachos actually took me all of 40 minutes from start to finish which is perfect isn't it? I get everything ready in advance, assemble it and bake the sheet pan ten minutes before I'm ready to serve. they are fresh and piping hot for everyone to dig in!
CHICKEN INGREDIENTS
2 Chicken Breasts
1 tablespoon Oil
1 tablespoon Paprika Powder
1 teaspoon Cumin Powder
1 teaspoon Garlic Powder
1 teaspoon Onion Powder
1 teaspoon Oregano
Salt to taste
1/4 cup Barbecue sauce
NACHOS INGREDIENTS
1 standard pack Nacho Chips
Barbecue Chicken
1 1/2 cups Shredded Cheddar Cheese
1/2 cup diced Tomatoes
1/2 cup diced Onions
1/2 cup Sour Cream
1/4 cup fresh Cilantro, roughly chopped
DIRECTIONS
To make the chicken, rub the chicken breast with paprika, cumin, garlic, onion, oregano and salt.
Heat oil in a pan and slide in the chicken breast. Sear on both sides for 2 minutes. Reduce the flame and cook for 15-18 minutes till the chicken is cooked through.
While the chicken is cooking, pre-heat the oven to 400 degrees.
Take the chicken out of the pan and chop roughly into small pieces. Toss the chicken in the barbecue sauce and set aside.
In a sheet pan, spread the chips, top with barbecue chicken and cheese. Bake for 8-10 minutes till the cheese melts.
Top with tomatoes, onions, cilantro and sour cream and serve immediately.
Servings: 6-8