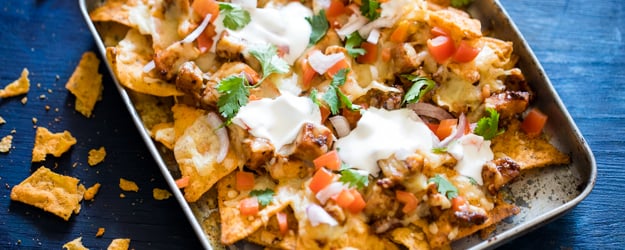 Baked BBQ Chicken Nachos with shredded chicken, melty cheese, red onions and sour cream atop crunchy tortilla chips! This sheet pan bbq chicken nachos recipe is an easy dinner idea that the whole family will love, even the picky eaters!
BBQ Chicken Nachos have a deliciously satisfying combination of bbq chicken and cheese on top of tortilla chips. And once you add your favorite toppings on top of the nachos like red onions, sour cream, and black beans with lots of melty cheese like cheddar cheese and Monterey Jack cheese, these easy chicken nachos will easily become the best part of your day.
BBQ Chicken Nacho Ingredient Notes:
To start off these nachos, let's talk about the ingredients that you'll need starting with the chicken!
Chicken: While our instructions include directions for making shredded chicken, you can always use a rotisserie chicken from the grocery store to make this an ultra easy dinner idea. Otherwise you'll need two average sized chicken breasts that you'll season with paprika, cumin, garlic powder, onion powder, oregano, and salt to taste. This is also a great use for leftover BBQ chicken. You can substitute chicken thighs if you prefer.
BBQ Sauce: Choose your favorite, whatever brand that may be, or make your own BBQ sauce. Here's our recipe for homemade barbecue sauce.
Tortilla chips: Everybody has a favorite brand of tortilla chips. You'll need a big bag! Choose a sturdy chip that will hold up well with all of the toppings.
Cheese: Use whatever types of cheese you like and enjoy. We used shredded cheddar cheese and Monterey Jack cheese. You could also use something extra melty like Velveeta.
Toppings: get all of your favorite toppings! Whenever I think of the combination of BBQ and Chicken, my mind always thinks of my favorite BBQ chicken pizza that always has red onions on it. I love red onions on these nachos along with diced tomatoes, sour cream and cilantro. You could also add black beans or pinto beans, green onion, or black olives! And if candied jalapeños or fresh jalapeños are your thing, add those along with my favorite recipe for The Best Guacamole.
Barbecue Chicken Nachos Instructions
Let's make nachos! The instructions are super simple. If you aren't using a rotisserie chicken from the grocery store, you'll begin by making the chicken. To do this, you'll first season the chicken with paprika, cumin, garlic, onion, oregano, chili powder, and salt. Heat olive oil in a large skillet over medium high heat. Add the chicken and sear for two minutes on both sides. Reduce the heat and cook for 15-18 minutes, or until the chicken is cooked through. Cut the chicken into cubes or shred the chicken with two forks.
BBQ Chicken in the Slow Cooker: Alternatively, you could make the BBQ chicken in the slow cooker. Season the chicken and add it to the slow cooker with BBQ sauce and cook on low for 6-7 hours or on high for 3-4 hours.
To assemble the nachos, you'll need to preheat your oven to 400 degrees F then get out a large rimmed baking sheet. Line it with parchment paper if you wish. Add a layer of crispy tortilla chips then top with cheese. Top with your cooked BBQ chicken and bake for 8-10 minutes or until the cheese melts.
Top with all of your favorite toppings and an extra drizzle of BBQ sauce if you wish.
How to reheat nachos
So you're wondering how to reheat nachos? Here's the thing about nachos… they are best eaten fresh, right after you take them out of the oven. The tortilla chips tend to get soggy after sitting with all of the toppings on top of them. If you anticipate that you will have leftovers, we recommend keeping all of the ingredients separate and assembling only the amount of nachos that you will be able to eat in one sitting. Then you can store any leftover ingredients separately and assemble a fresh plate of nachos.
If you happen to have a leftover to-go box of nachos from your favorite restaurant, you can always try reheating them in the oven at 250 degrees F for about 10-15 minutes. You could also reheat nachos in the air fryer at 350 degrees F for 5-7 minutes.
More BBQ Chicken Recipes
Looking for more BBQ Chicken recipes? Try our recipe for Slow Cooker Italian BBQ Chicken Sandwiches!
Whether you are making these BBQ Chicken Nachos for game day, dinner, or a midnight snack, they are sure to be a hit! She pan chicken nachos are always a 10/10. Enjoy!
CHICKEN INGREDIENTS
NACHOS INGREDIENTS
Tortilla Chips of Choice
Barbecue Chicken cubed or shredded
1 ½ cups shredded cheddar cheese
1 ½ cups shredded monterey jack cheese
½ cup diced Tomatoes
½ cup diced red onions
½ cup Sour Cream
¼ cup fresh Cilantro, roughly chopped
Any additional toppings like olives, guacamole, jalapeños, etc.
DIRECTIONS
To make the chicken, rub the chicken breasts with paprika, cumin, garlic, onion, oregano, chili powder and salt.
Heat oil in large skillet and add the chicken breasts to the pan. Sear on both sides for 2 minutes. Reduce the heat and cook for 15-18 minutes or until the chicken is cooked through. Shred or cube the cooked chicken then toss with BBQ sauce.
While the chicken is cooking, pre-heat the oven to 400 degrees.
In a sheet pan, spread out a layer of tortilla chips. Top with cheese and BBQ chicken and bake for 8-10 minutes or until the cheese has melted.
Top with all of your favorite toppings like tomatoes, red onions, cilantro and sour cream and serve immediately.
Servings: 6-8