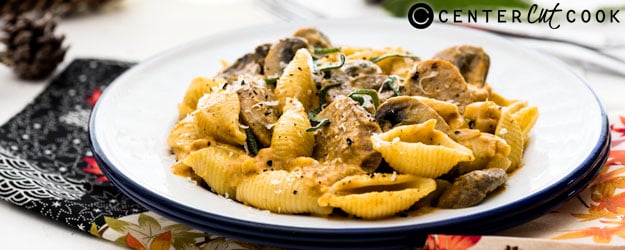 I like all sorts of pasta dishes, but I LOVE creamy pasta! Today I'm sharing one of my favorite creamy pasta dishes with you – pumpkin pasta with sausage.
Cooking a delicious pumpkin pasta is really easy. If you can get fresh sage, it'll be perfect. I find that fresh sage leaves add an even better flavor to the dish than dried ones. The other thing to note, is that you should make sure you choose a dry white wine to use in this dish. Otherwise the dish might end up with a hint of sour flavor. Sometimes I replace white wine with Japanese sake. It adds a more delicate taste with a hint of sweetness.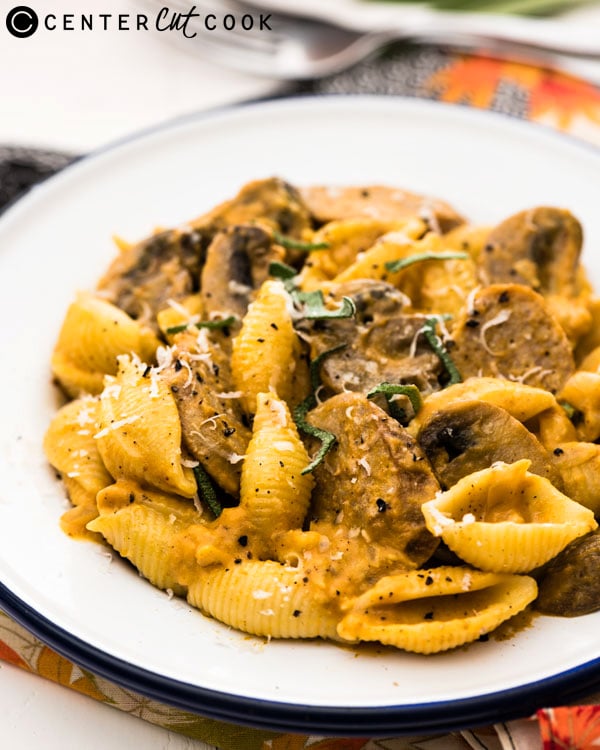 Adding sausage to this dish makes the creamy sauce even more irresistible. To make the dish more festive, I used turkey sausage, simply browning it on the stove and adding it into the sauce. Using turkey also cuts calories and fat, making the dish healthier. On the other hand, if you want to cut the cooking time, go with pre-cooked beef or pork sausage. The dish will turn out just as wonderful!
Don't have pumpkin spice at home? No worries! Check out this recipe to make your own pumpkin spice with only four ingredients.
The recipe below is enough to serve four people. But even if you're cooking for two, I suggest you make more. The sauce freezes and reheats very well. You can store the sauce in the fridge for up to three days or in the freezer for up to a month. Believe it or not, the leftover sauce even tastes better!
The easiest way to reheat leftover pasta sauce is in the microwave. However, to get a better texture and flavor, transfer the sauce to a small pot, add a few tablespoons of hot, starchy pasta-boiling water, and reheat the sauce on the stovetop. The sauce will reheat more evenly this way and won't dry out.
Happy cooking and I hope you enjoy!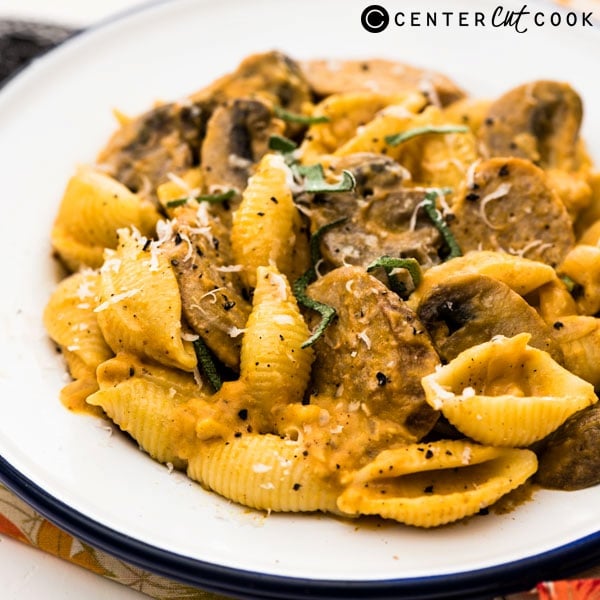 INGREDIENTS
2 tablespoons olive oil
1 pound turkey sausage (or pork, or beef sausage)
6 cloves garlic
1 small onion, finely chopped
1 cup dry white wine
2 sprigs sage, thinly sliced (or 1/2 teaspoon dried sage)
1 cup chicken stock
1 cup canned pumpkin puree
1/2 teaspoon pumpkin spice
1/2 cup heavy cream
Sea salt and black pepper to taste
1 pound pasta of your preferred shape
1/2 cup freshly grated parmesan cheese and more to garnish
DIRECTIONS
Heat 1 tablespoon olive oil in a large skillet over medium heat until hot. Add turkey sausage and cook until cooked through and evenly browned. Transfer sausage to a plate to cool.
Heat a big pot of water and cook pasta according to instructions. Drain and set aside.
Add the remaining 1 tablespoon oil, garlic, and onion into the same skillet. Cook and stir over medium heat until onion turns soft, about 5 minutes.
Chop sausage into bite sized pieces once it's cooled.
Add white wine and sage leaves. Cook until the wine is reduced by half, about 2 minutes. Add chicken stock and pumpkin puree. Stir and cook until bringing to a boil. Return sausage to the skillet. Add pumpkin spice. Mix well and turn to medium low heat.
Add heavy cream and stir to mix well. Add sea salt and black pepper.
Simmer the sauce until it reaches the desired thickness, 5 to 10 minutes. Stir in parmesan cheese and mix well again.
Return pasta to the skillet with the sauce. Toss with spatula.
Serve warm. Grate more parmesan cheese on top if desired.
Recipe adapted from
Food.com