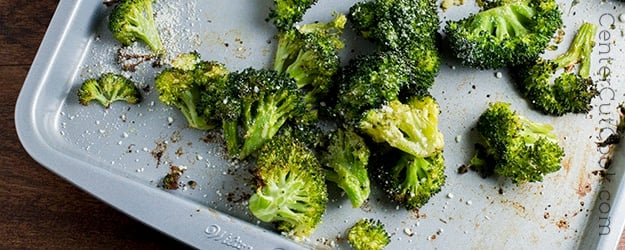 Hi guuuuys! Before we get to Roasted Garlic Parmesan Broccoli (it's a mouthful, but a tasty mouthful), first a little housekeeping! We'll start with an apology to all you Internet Explorer 7 users out there. We didn't realize that there were some layout issues that made some aspects of CenterCutCook look all mangled. It should be fixed now! Yahoo! Thanks for your patience….
Secondly, posting has been a little weak as of late. I usually try to post at least 3-4 recipes a week for you guys but this week it's a pathetic two! I wish I had a great excuse, but it's sort of pathetic. I started this whole new carb cycling diet program where I eat low carb one day, and "high" carb the next. Chris Powell, the guy who does those amazing transformations on Extreme Makeover Weightloss Edition is the author of the Choose to Lose Program and after I read the book, it seemed like a generally healthy way to drop the 30 or so pounds I'd love to never see again! Exercise, drink lots of water, and eat lots of veggies! I'm 11 days in and down 8 pounds so it must be working! Okay, so what does that have to do with this here blog? I've discovered that I'm having a hard time getting creative with this program. Consider it one of my weaknesses. In my effort to stick to the program, I haven't really varied up what I'm eating from one day to the next. My goal for next week is to force myself to get creative and share lots of healthful, tasty recipes with you that are perfect for trying to live a healthy lifestyle.
Alright, now on to this Roasted Garlic Parmesan Broccoli! This was the only new recipe I tried this week when usually I'm making something new just about every single day! Thankfully it wasn't a flop like some of the recipes we try. It was actually quite a hit! The broccoli was tender, and the garlic and parmesan perfectly complimented it. Prep time was only about 5 minutes and the rest of the work was done by the oven. That's my kind of side! In my efforts to get a healthy dose of veggies one evening for dinner, I served this broccoli with Bang Bang Chicken Kabobs where I also grilled up some red bell peppers and onions. You can never eat too many veggies, right?
Tips: Use fresh broccoli, and fresh garlic over garlic powder or garlic salt. If you don't have fresh parmesan on hand, but you've got the shaker kind (in a can, ya know? like this one…), go ahead and use that which is what I did. Lastly, it's normal for the broccoli to char just a bit. The tips will turn brown from roasting and that's the way that it's supposed to be Enjoy!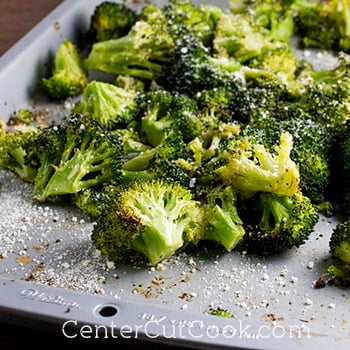 INGREDIENTS
DIRECTIONS
Pre-heat your oven to 425 degrees.
Wash the broccoli and cut it into bite sized pieces. Place the broccoli on a large rimmed baking sheet.
Mince the garlic and toss it in with the broccoli.
Drizzle 3 tablespoons extra virgin olive oil over the broccoli, then season with coarse black pepper and kosher salt.
Bake in the oven for 20-25 minutes until the broccoli is tender.
Toss in lemon juice, parmesan cheese, and 1 tablespoon olive oil and serve immediately.
Recipe adapted from
Barefoot Contessa