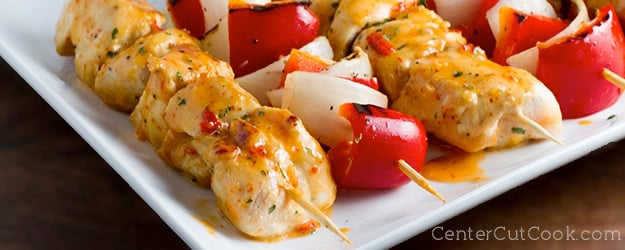 Ahhhhh…. Bang Bang Chicken Kabobs. I think I am in love! I am always, I mean ALWAYS on the lookout for new ways to prepare chicken. It's the protein I make most often, and the great thing is that it's versatile, but the bad thing is that …. it's versatile. Sometimes when something is as versatile as chicken, I have a hard time pinpointing how I want to prepare it! I think it's the indecisiveness in me…..
This time around I took inspiration from my favorite recipe for Bang Bang Shrimp, have you tried it yet? So delicious, and so addicting. As I was thinking about how I was going to prepare the chicken thawing in my fridge, I was craving Bang Bang Shrimp. But since I didn't have any shrimp on hand, and I didn't feel like venturing out to the store, I thought, why not try marrying Bang Bang Shrimp with chicken? It was a match made in heaven!
I started by soaking some wood skewers in water so that they wouldn't char on the grill. Then I chopped up some red peppers, yellow onions, and chicken. Both the veggies and the chicken got a healthy drizzle of olive oil and a sprinkling of sea salt and black pepper. Next I skewered the veggies, then the chicken. Do it separately because cooking times vary for the chicken and the veggies. If you skewer them all together, something will always end up undercooked or overcooked. Not cool. Once the kabobs were on the grill (or in my case, a grill pan), I whipped up some Bang Bang sauce for the chicken! Once the chicken was just about done, I slathered the creamy/spicy sauce all over the chicken. And then I devoured more than I'd care to admit. Ahhhh sooooo good!
Now for the important stuff…. this recipe calls for Thai Sweet Chile Sauce. This is NOT the same thing as Heinz's Chili Sauce so do not buy it! Thai Sweet Chile Sauce can be found in the international foods aisle at your grocery store. I buy the Mae Ploy brand Sweet Chile Sauce. Secondly, you may not have heard of Sriracha Hot Sauce, also called for in this recipe. Again, it can be found in the International Foods aisle of your grocery store. Please do not substitute any other hot sauce, it does make a difference! So what if you don't like things spicy? You can cut back on the heat by adjusting how much Sriracha Hot Sauce you add.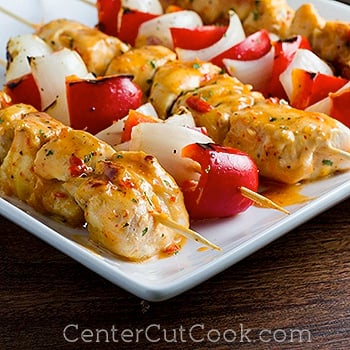 INGREDIENTS
3-4 boneless skinless chicken breasts cut into 1 inch chunks
1 red bell pepper cut into 1 inch chunks
1 medium yellow onion cut into 1 inch chunks
Bamboo wood skewers
Olive oil, salt, black pepper
1/4 cup mayo
1/4 cup Thai Sweet Chili Sauce
5-6+ drops of Sriracha Hot Sauce – Use this to taste- if you like things spicy, add more. If you don't – add a few drops, then taste
1/4 teaspoon dried parsley
DIRECTIONS
Soak your bamboo wood skewers in water for about 15 minutes so that they don't burn on the grill.
Season the chicken and veggies with salt and pepper to taste, then drizzle with about 1 tablespoon olive oil. Skewer the chicken, then skewer the red peppers and onions.
Pre-heat your grill or grill pan to medium high heat then add the chicken and veggies to the pan. Rotate the meat and veggies every couple of minutes so that everything cooks evenly. When the veggies are tender, remove them from the grill.
While the chicken is cooking, in a small bowl combine mayo with Thai Sweet Chili Sauce and Sriracha Hot Sauce. Whisk it together until smooth.
When the chicken is almost completely cooked through (after about 10-12 minutes), use a brush to spread the sauce over the chicken. Rotate the chicken and brush the other side with the sauce. Remove from grill and allow to rest for a few minutes before serving.
Recipe adapted from
Bang Bang Shrimp