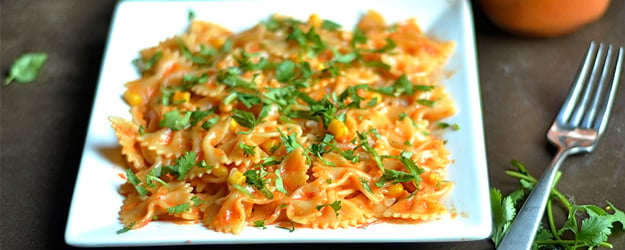 Roasted red peppers is another creative way I get my kids to eat plenty of vegetables. One of my kids is not crazy about red peppers, but she is absolutely crazy about this meal! Little does she know it contains blended bell pepper. I recently was inspired to make a roasted red pepper vinaigrette after dining out at my favorite local restaurant. I went home to make my own variation, and since then have been enjoying it over everything! Salad, pasta, as a dip for veggies, and even as a sauce to my grilled meat. A jar of this sauce will now be a permanent fixture in our fridge.
While scrambling around for a last minute dinner idea last week, I noticed I had a jar of my new magic sauce and some bow tie pasta. I quickly threw the meal together, and tossed it in our pool bag to enjoy a night relaxing with friends by the neighborhood pool. It was perfect! Easy to make, packed with nutrients, and the whole family was happy. What I loved about this recipe was that it is so versatile. It can be easily packed up and served as a side dish for a potluck or picnic, or as a compliment to grilled meat during these warm months. It can also be served hot, at room temperature, or even chilled. How easy is that?!?!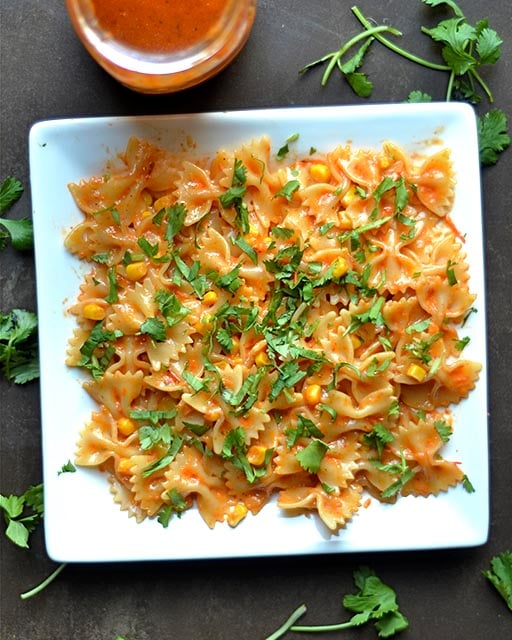 To make this dish, you will need to roast or grill at least 2 bell peppers. I've pretty much decided that from here on out, I'll be doubling the sauce recipe so I can use on many different things. I might even have to freeze a batch so I can enjoy it in the colder months when bell peppers aren't in season. Just toss in the peppers, olive oil, red wine vinegar, honey, shallots, and some dijon mustard into your blender. For a thicker variation, follow the recipe below. If you'd like a thinner dressing to use for a green salad, add some water or stock.
I tossed this pasta salad with some organic corn, fresh chopped cilantro, and some arugula. Feel free to adapt to any other veggies you like (cucumbers, carrots, basil, or even avocado would work well here!). Enjoy!!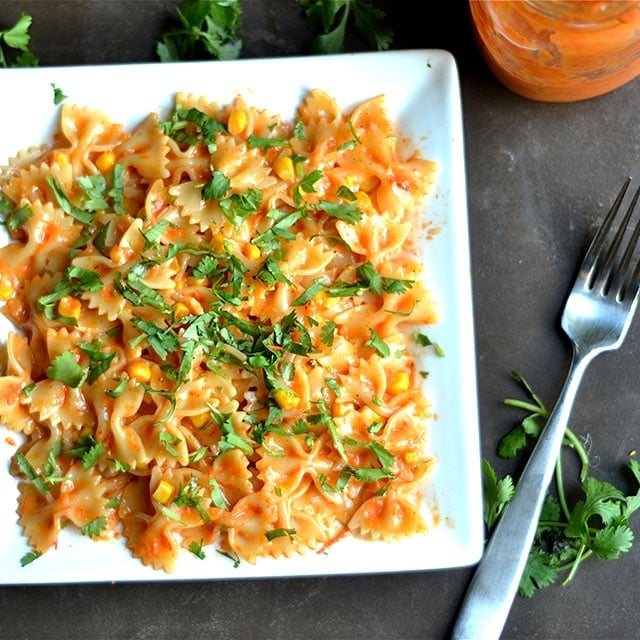 RED PEPPER SAUCE INGREDIENTS
2 large red bell peppers
1 tbsp olive oil + 1 cup
1 shallot, minced (about 2 tbsp)
1/3 cup red wine vinegar
2 tbsp dijon mustard
2 tbsp honey
Salt and pepper to taste
PASTA SALAD INGREDIENTS
16 oz bow tie pasta
1.5 cups corn (cut from the cob, canned and drained, or frozen and thawed)
1/3 cup chopped fresh cilantro
DIRECTIONS
Preheat your oven to 450 degrees, or prepare grill for cooking.
Slice peppers in half, de-seed, remove stem, and brush with olive oil.
Roast the peppers either on the grill or in the oven (about 25 mins in the oven, 10-15 mins on the grill). The skins should be completely wrinkled and charred.
Transfer peppers to a bowl, cover, and let steam 10 minutes. Peel off skin, reserving juices.
In a high powered blender or food processor, place bell pepper, shallots, vinegar, dijon and a little salt and pepper. Puree until smooth.
With the machine running, add in oil and honey. Thin if needed with water or vegetable stock.
Meanwhile, make your pasta according to package directions.
Toss with red pepper dressing (you might be able to reserve some dressing) and corn. Garnish with cilantro.
Salad can be enjoyed warm, chilled, or at room temperature.
Extra dressing can be stored for up to 10 days in the fridge.
Servings: 6 servings