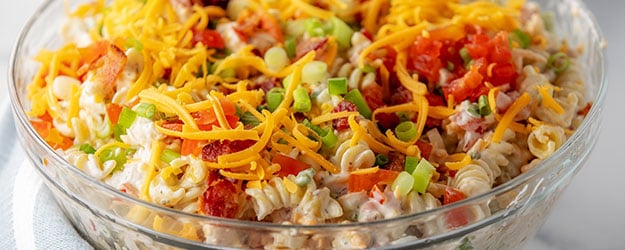 Yum! I'd like to introduce you to your new summer bestie … this Chicken Bacon Ranch Pasta Salad! I love a good Chicken Bacon Ranch Sandwich, but I also love a good pasta salad which is why I am obsessed with this one. Chicken, Bacon and Ranch are quite the iconic trio of ingredients, aren't they? Whether you're making a sandwich, these Chicken Bacon Ranch Pinwheels or my Baked Ranch Chicken, you can't go wrong when those three ingredients are involved.
Let's talk about the ingredients that you'll need to make this outstanding Chicken Bacon Ranch Pasta Salad, shall we?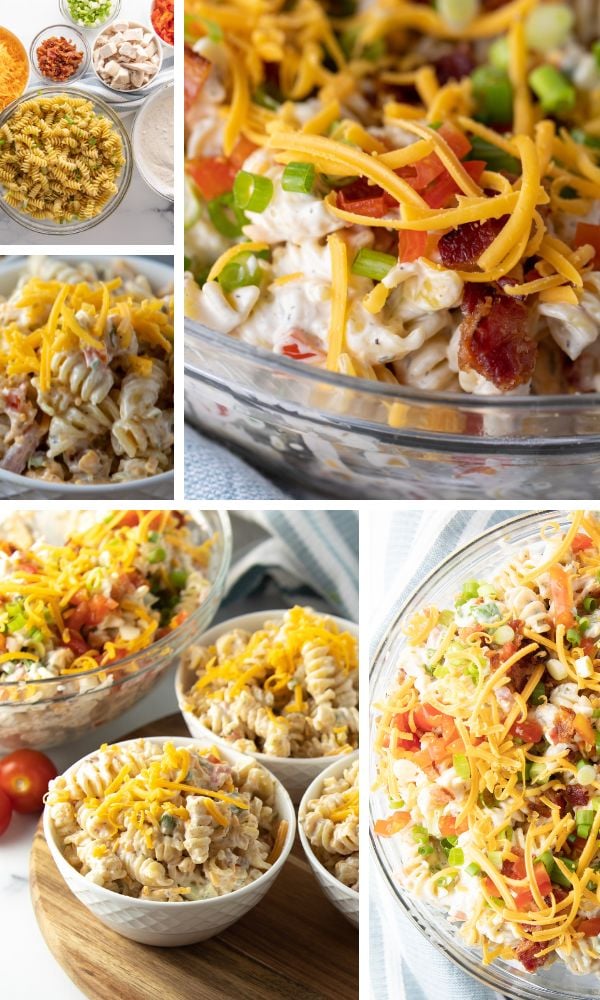 Chicken Bacon Ranch Pasta Salad Ingredient Notes:
Pasta – you will need a full pound of pasta of your choice. I used rotini, but you can use penne, or even bow ties or mini shells. Be sure to salt your pasta water after it comes to a boil, and right before adding in the pasta. This is your only opportunity to season the pasta itself. I use about 1 tablespoon of salt per 1 pound of pasta.
Chicken – grilled chicken would be delicious! Another great option is to buy a rotisserie chicken from the grocery store which is what I did. I used about 1 and 1/2 cups – 2 cups of diced chicken. Feel free to alter how much chicken you add whether you want more or less, or omit the chicken altogether.
Bacon – You will need about 5-6 slices of bacon. Whenever I'm including bacon in a recipe, I refer to my guide on How to Bake Bacon. It is SO easy and hassle free to bake bacon in the oven.
Green onions, grape or cherry tomatoes – chop up those onions and tomatoes, making sure to reserve some of the green onions for garnish. I chopped up about 5 green onions – both the green and white parts, and quartered 8 ounces of cherry tomatoes.
Cheese – sharp cheddar cheese is delicious in this recipe! Feel free to swap out cheddar for any cheese of your choosing. I like to shred my own cheese. You could also cut the cheese into small bite-sized cubes.
Apple Cider Vinegar – if you do not have apple cider vinegar, distilled plain vinegar is also fine. You'll only need about 1.5 Tablespoons of Apple Cider Vinegar.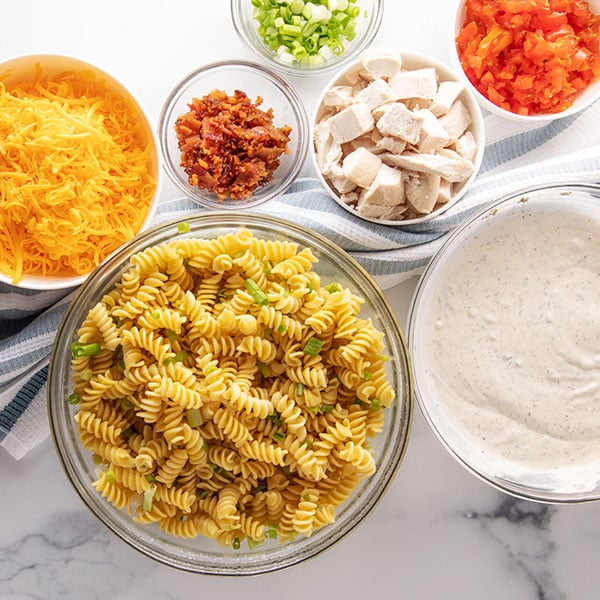 How to make the ranch dressing for the pasta salad:
The homemade ranch dressing for this pasta salad is *perfection.* You'll need:
Mayo – about 2.5 cups. I like to use Hellman's Mayo. You could also use Best Foods Mayonnaise. Any time I am making pasta salad, I like to make the dressing with mayo and not Miracle Whip. It's a personal preference, feel free to use whatever brand of Mayo or Miracle Whip that you prefer.
Buttermilk – You'll need about 1/3 cup of buttermilk. Feel free to use regular milk if you do not have buttermilk
Seasoning – you'll need sugar, salt, black pepper, parsley, garlic powder, and dried dill to season up this pasta salad dressing
Chicken Bacon Ranch Pasta Salad Tips and Tricks
While the pasta cooks is a great time to chop up your veggies and make the dressing.
After the pasta has cooked according to package directions, you're going to place the cooked pasta in a large bowl. At this point the pasta is still hot. To the bowl you're going to stir in 1.5 Tablespoons of apple cider vinegar, along with half of the diced green onions. Stir to combine, then cover and place the bowl with the pasta, apple cider vinegar and green onions in the refrigerator for 20 minutes to cool. Then stir in the dressing, and remaining green onions and chopped tomatoes.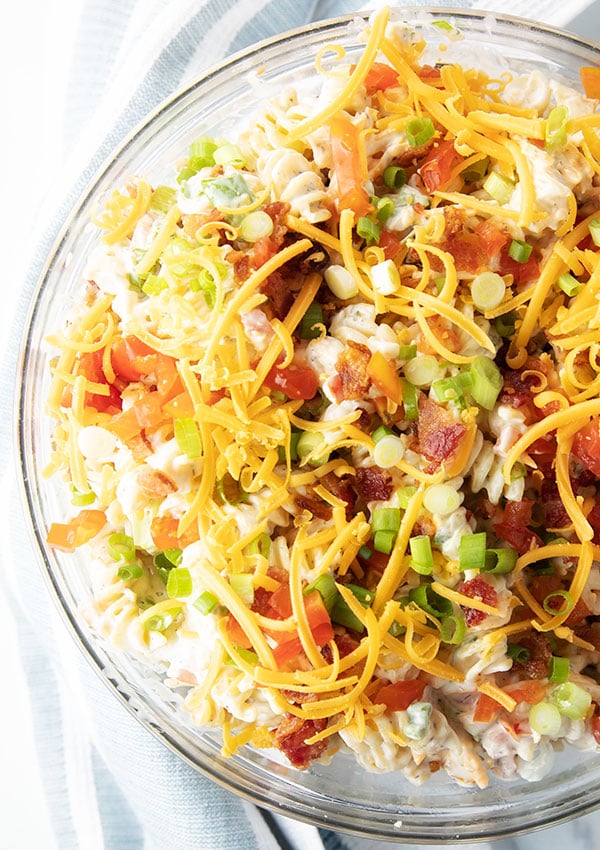 Can I use bottled ranch dressing like Hidden Valley? I do not recommend substituting bottled ranch dressing for this recipe. The magic of this creamy, dreamy pasta salad is truly in the dressing and is absolutely best homemade.
Can I make this ranch pasta salad with peas? Absolutely! If you could add peas in addition to the green onions and tomatoes, or omit the tomatoes and onions and have just peas, cheddar cheese, and bacon.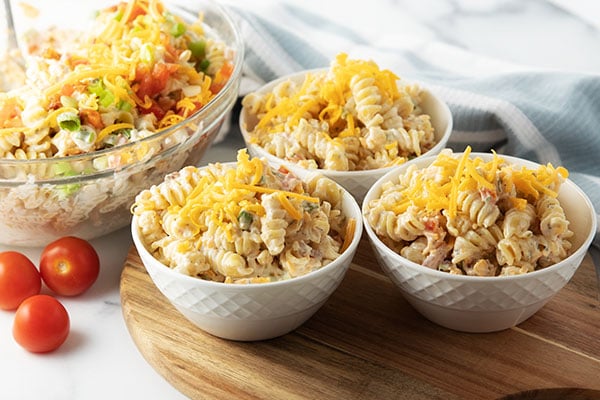 More Ranch Pasta Salad Recipes…
If you are thinking to yourself that you've had ranch pasta salad from CenterCutCook before, you absolutely have! This is just one more to add to the list of creamy, satisfying pasta salads like this Easy Ranch Pasta Salad and this Bacon Cheddar Ranch Pasta Salad. Ranch and Pasta salad just belong together, don't they? I love the addition of chicken to this recipe to make it a satisfying pasta salad that is balanced and filling enough to work as a main course.
I hope you enjoy this recipe for Chicken Bacon Ranch Pasta Salad. The creamy homemade ranch dressing is so perfect for pasta salad, and the combination of ingredients is absolute perfection. Ranch pasta salads are always so good! If you try this recipe, and I hope you do, please come back and leave a comment or tag us on social media to let us know what you thought.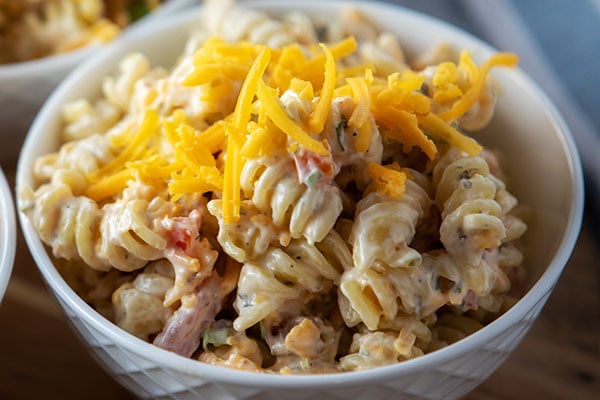 Enjoy!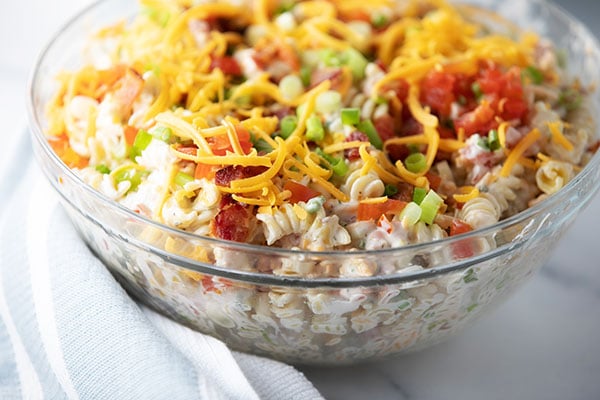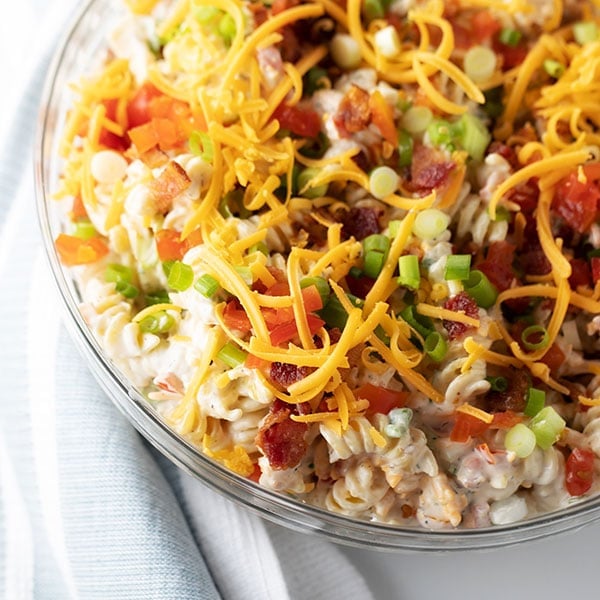 PASTA SALAD INGREDIENTS
1 pound rotini or pasta of choice
1.5 tablespoons apple cider vinegar
8 ounces cheddar cheese, shredded
5 green onions, chopped
8 ounces grape or cherry tomatoes diced or quartered
5-6 slices bacon, cooked and crumbled
1.5-2 cups cooked, diced chicken
RANCH DRESSING INGREDIENTS
2.5 cups mayonnaise
1/3 cup buttermilk (or milk)
1 tablespoon sugar
2 teaspoons dried parsley
1.5 teaspoons garlic powder
3/4 teaspoon dried dill
1.5 teaspoons dried chives
1 teaspoon black pepper
DIRECTIONS
Cook pasta according to package directions, making sure to salt the water after it comes to a boil and before adding the pasta. When the pasta is done cooking, drain well then place in a large bowl.
While the pasta cooks, make the dressing. In a large bowl combine mayo, buttermilk, sugar, dried parsley, garlic powder, dried dill, dried chives, and black pepper. Stir to combine.
Toss the cooked, warm pasta with 1/2 of the chopped green onions and 1.5 tablespoons apple cider vinegar. Place in the refrigerator to cool for 20 minutes.
After 20 minutes, remove the pasta from the refrigerator. Stir in dressing, shredded cheddar cheese, remaining green onions, tomatoes, bacon, and toss in diced chicken. Stir until well combined.
Refrigerate for at least 1 hour, but ideally 4 hours before serving.
Servings: 6