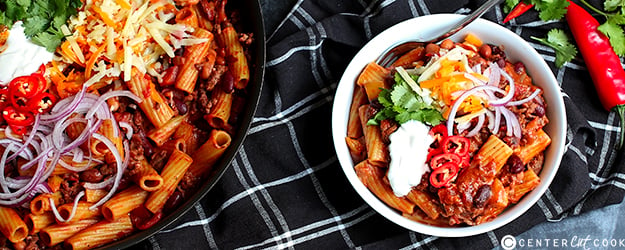 Before you make this chili Mac n cheese, it's worth asking yourself – do I want more of a meaty chili dish or more of a pasta dish?
This particular recipe is more on the meaty chili side. Lots of spiced beef, peppers and beans and enough pasta to easily feed 4 hungry people.
If you want to stretch this meal out further – or you simply love your pasta – then add another 4 oz of pasta and another cup of stock and it will feed 5-6 people no problem.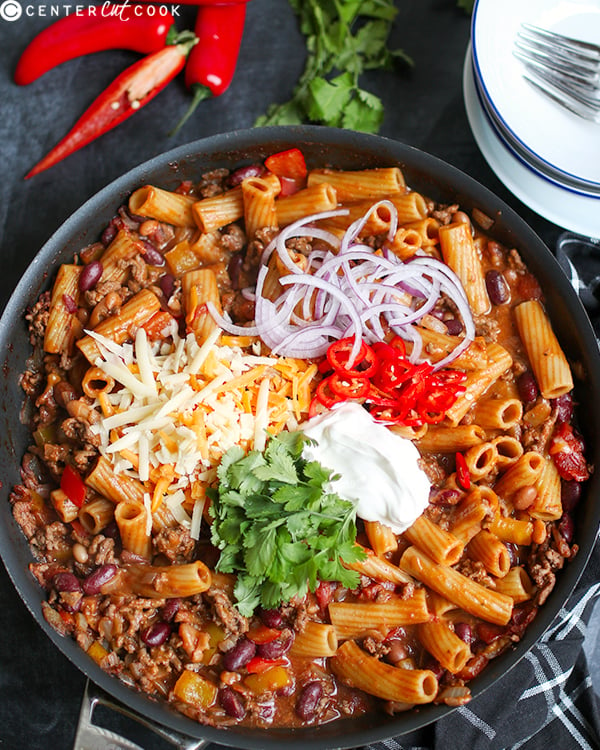 Although a lot of skillet chili mac n' cheese recipes are finished off with a layer of melted cheese, I wanted to add some bright crunchy freshness. So for that I topped with cilantro, fresh chilies and red onion slices, plus a lovely dollop of soured cream and a good handful of cheese for sprinkling.
You can go down the melted cheese route if you prefer, but I'd thoroughly recommend the crunchy toppings! Those red onion slices taste amazing!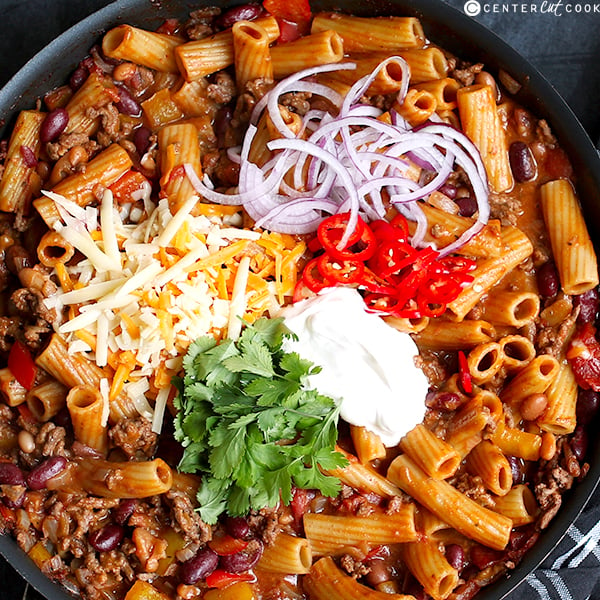 INGREDIENTS
1 tbsp olive oil
1 onion, peeled and chopped
3 cloves garlic peeled and minced
1 pound ground beef
1/2 cup red wine (optional)
1 red bell pepper, deseeded and chopped
1 yellow bell pepper, deseeded and chopped
2 tbsp tomato puree
1 tsp brown sugar
1 tbsp hot chili powder
2 tsp cumin
1 tbsp ground cilantro
1/2 tsp dried oregano
Large pinch salt and pepper
3 cups beef or vegetable stock (water plus 2 stock cubes is fine)
14 oz can chopped tomatoes
10 oz can mixed beans, drained and rinsed
14 oz can kidney beans, drained and rinsed
8 oz dried pasta (such a rigatoni or large elbow macaroni)
1 packed cup shredded Mexican cheese (or use a mix of white and orange cheddar)
TO SERVE
1/2 cup sour cream
Small bunch cilantro, roughly torn
1 cup shredded Mexican cheese
2 red chilies, sliced
1/2 red onion, peeled and finely sliced
DIRECTIONS
Heat the olive oil in a large skillet. Add in the onion and cook on a low-to-medium heat for 5-6 minutes – until the onion softens. Add in the garlic and ground beef, turn the heat up to high and fry – stirring regularly to break up the beef – until the beef is browned.
Add in the red wine and allow to bubble until almost completed evaporated (about 3-4 minutes).
Add in the peppers and cook for 2-3 minutes, then add in the tomato puree, sugar, chili powder, cumin, ground cilantro, oregano, salt and pepper. Stir everything together, then add in the stock, chopped tomatoes, mixed beans and kidney beans. Stir and bring to the boil, then add in the pasta. Push the pasta down so it's covered in the liquid and bring to the boil. Turn down the heat to a low simmer, cover (using a lid or some foil) and cook for 10-12 minutes until the pasta is cooked.
Take the lid off and stir through the cheese until melted.
Serve with sour cream, fresh cilantro, extra cheese, sliced fresh chillies and sliced red onion.
Servings: 4-5