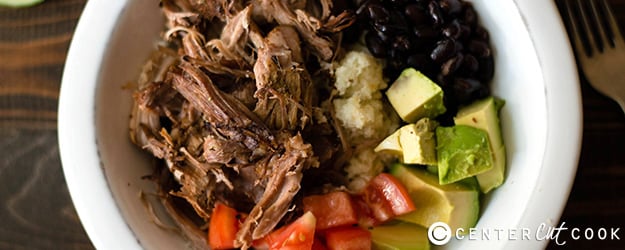 I love burritos. Sadly, though, tortillas aren't good for you. Like…at all. I know, I'm bummed about this, too. That's what makes burrito bowls so amazing – not only are they super delicious, but you get all the good stuff from a burrito without any of the guilt.
That being said, I took the health factor even one step further and replaced the rice with cauliflower rice. If you've never made cauliflower rice, it's even easier (and faster!) to make than regular rice. All you have to do is grate fresh cauliflower and then briefly sauté it. Like regular rice, cauliflower rice lacks a lot of flavor on its own so I add freshly squeezed lime and chopped cilantro to give the whole dish a delicious and vibrant base.
For the slow cooker carnitas, you can use them straight out of the slow cooker. But, if you have an extra 10-15 minutes, there is one little step that you could do that will make a big difference in the flavor and texture.
And, ultimately, yumminess.
That step is to quickly broil the pork in the oven. This technique will really add a lot of depth to the flavor to the pork and will also crispen up some of it which will be really tasty in the bowl.
To keep it as healthy as possible, try replacing your usual sour cream with a dollop of plain greek yogurt. It tastes very similar and is way higher in protein and goodness.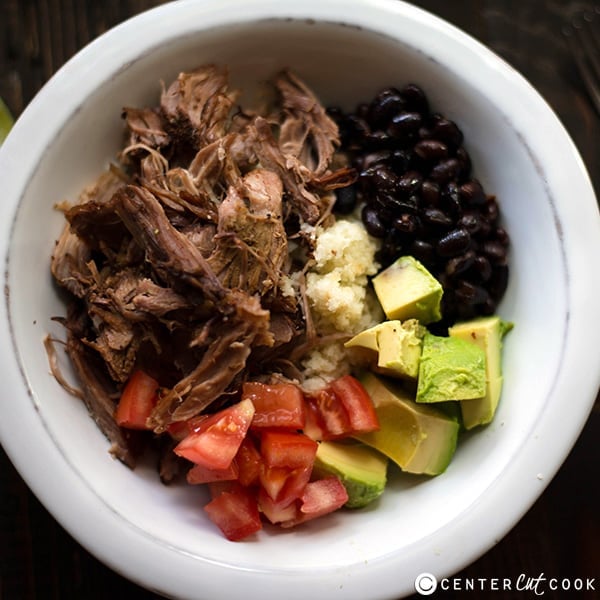 INGREDIENTS
1 tbsp. chili powder
2 tsp. ground cumin
2 tsp. dried oregano
2 1/2 tsp. kosher salt
1/2 tsp. kosher salt
1 1/2 tsp. ground black pepper
3 1/2 lb. pork shoulder (butt) roast
4 cloves garlic, smashed
2 yellow onion, quartered
2 orange(s), juiced
2 limes, juiced
1/2 lime(s), juiced (zest)
1 large head cauliflower
1/4 cup fresh cilantro, finely chopped
1 avocado(s), diced (for topping)
sour cream or plain greek yogurt (for topping)
vine-ripened tomatoes, diced (for topping)
1 can black beans, drained (for topping)
DIRECTIONS
In a small bowl, combine the chili powder, cumin, oregano, 2 1/2 tsp. salt and 1 1/2 tsp. pepper. Season the pork with the spice mixture, rubbing thoroughly on all sides.
Place the seasoned pork shoulder into a slow cooker, followed by the garlic, onions, orange juice, and lime juice (from 2 limes, reserving the last 1/2 lime).
Cover and cook on low heat for 7-8 hours or on high for 4-5 hours, until the meat is tender and can be easily pulled apart with a fork.
Remove the pork shoulder from the slow cooker and shred the meat using two forks or your fingers (if allowed to cool) before returning to the pot with the juices. Season with salt and pepper, to taste, if needed.
Cover and keep warm while you prepare the cauliflower rice.

There are two ways to turn the cauliflower into rice-size pieces: (1) using a kitchen grater on the larger holes or (2) in a food processor. (The food processor makes this way quick and easy so I recommend it if you have one). If using a grater, keep the cauliflower whole and grate as you would cheese. If using a processor, break the cauliflower into florets – it may be necessary to do this in 2-3 batches.
Heat the olive oil in a large pan over medium-high heat.
Add the cauliflower "rice"and cook, stirring occasionally, until the cauliflower rice is tender and just slightly golden brown, about 7-10 minutes.
Mix the remaining salt and lime juice, lime zest and cilantro into the cauliflower rice and stir to combine. Turn the oven to broil. (This is optional to get the carnitas crispy, but is super delicious).
Place the carnitas onto a baking sheet lined with tin foil and broil until crispy and crusted, about 3-4 minutes.
To serve, add the cauliflower rice to a bowl, followed by the carnitas. Top with additional desired toppings, such as diced avocado, sour cream, diced tomatoes, black beans (which are really good if allowed to cook in some of the carnitas juices from the slow cooker), shredded cheese, salsa, guacamole, etc.