Smoothies are usually my go-to breakfast in the mornings. I typically love a really healthy smoothie filled with a ton of fruit, greens, and protein. You know – a smoothie that allows me to still feel great about my choices so far even though I just had two huge glasses. Sometimes, however, I like to get a little creative and add a bit of indulgence to my smoothies. This smoothie is the perfect way to indulge in the morning without feeling too badly about what you are having. At least, it's better than having an actual cheesecake for breakfast (although I really wish I could!)
This smoothie tastes exactly like a strawberry cheesecake, with a bit of a raspberry twist which is perfect for those times I really want to face plant right into an actual cheesecake, which let's face it, is pretty often. The secret is allowing yourself that bit of cream cheese in the smoothie. I know there are tricks where you use cottage cheese as a substitute, but trust me; it is just not the same. For me, that just makes the smoothie taste a bit salty and wholly unsatisfying. To keep things from being too indulgent, I opt for reduced fat cream cheese or Neufchatel. It still gives that creamy tang that you get with real cream cheese, but with less fat.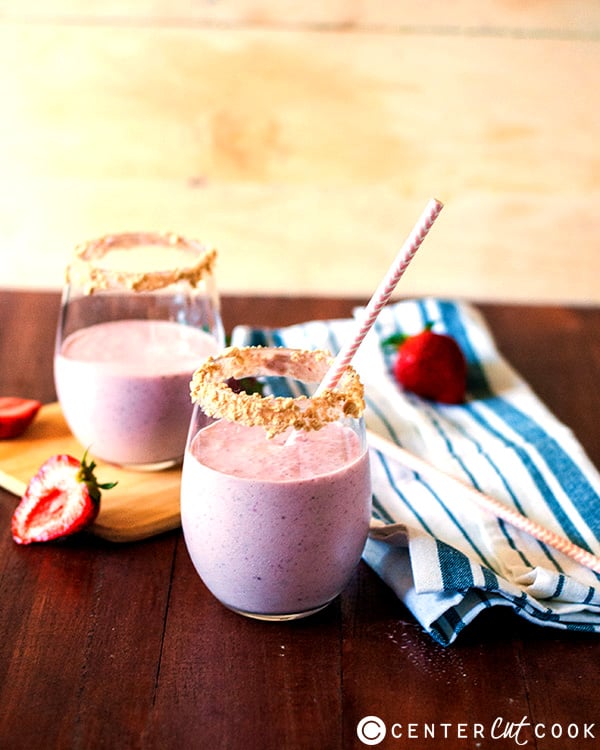 I use frozen strawberries in this recipe because they are flash frozen at the peak of freshness which means they are usually more nutrient-dense than fresh strawberries. They also add to the thickness of the smoothie. I love my smoothies to be extra thick. You can definitely use fresh if that is all you have around, or if you prefer a less-thick smoothie. I also find that unlike some homemade smoothies, you don't really need to add any more sweetness because the jam takes care of that.
So go ahead and treat yourself!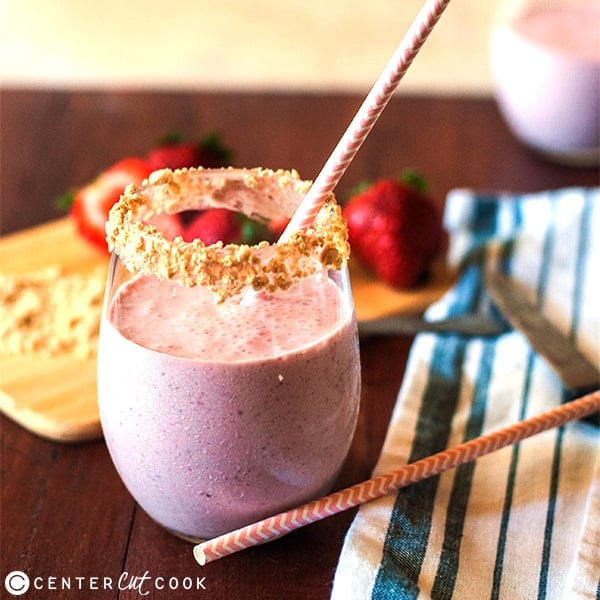 INGREDIENTS
1/2 medium sliced & frozen banana (optional)
4 oz frozen strawberries
1 oz reduced fat cream cheese
2 tablespoons raspberry jam
1/2 cup Greek nonfat yogurt
1 1/2 cups milk (any unsweetened milk will work here)
2 tablespoons graham cracker or cereal crumbs
DIRECTIONS
Add the banana if using, strawberries, cream cheese, jam, and milk together and blend on low until the strawberries are broken up. Slowly increase the speed to medium high and blend for 2 – 3 minutes longer until the mixture is smooth and creamy.
Gently insert the mouth of your cup into the smoothie mixture just enough that the rim has a thin ring of smoothie around it. Place the crumbs on a small plate and dip the cups in the crumbs so the crumbs stick to the ring of smoothie.
Pour the smoothie into the glass and enjoy!
Serves: 2