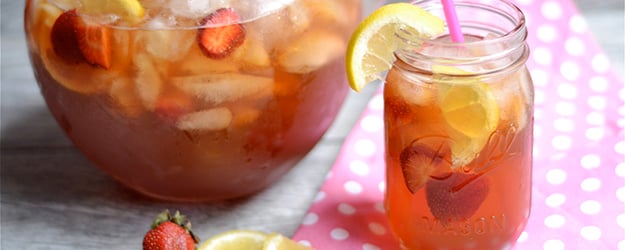 With summer just around the corner, and strawberry season in full effect, this sweet tea is calling your name. You don't have to be from the south to enjoy this one!
Now that the weather has finally warmed up, I am always looking for an excuse to make my favorite sweet tea. This Strawberry Lemonade Sweet Tea will be your new favorite summer drink! It's perfect for a night on the patio, deck, pool, or neighborhood potluck. I also love it as a brunch option when I'm entertaining! It makes an elegant, yet so easy, drink for any baby or bridal shower. Both of my kids with summer birthdays always ask for this to be served at their parties!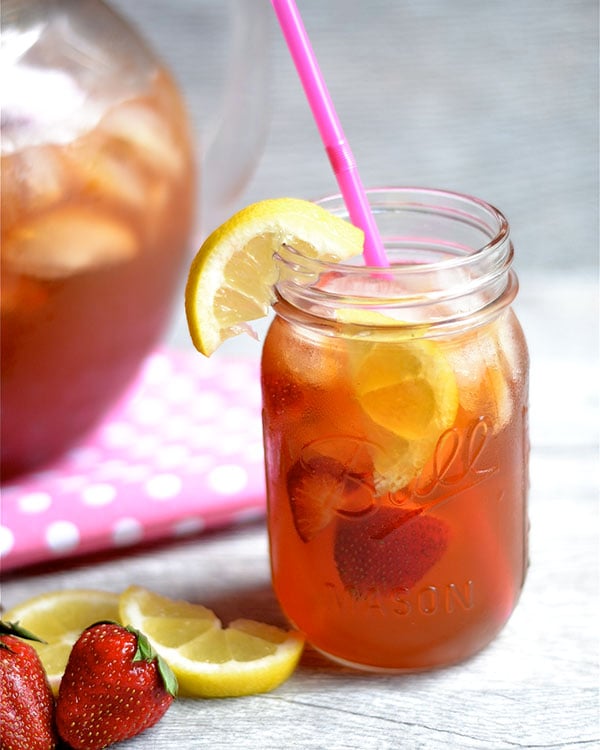 A few notes about this recipe: I have made several variations over the years when it comes to the type of tea to brew. One of my favorites is brewing a mint tea and adding mint leaves to the strawberries and lemons. You can also brew your favorite fruit or berry tea, a green tea, or any breakfast black tea. This tea can also last in the fridge for a few days, so feel free to make a batch for just your family. Finally, for an adult beverage, add some rum or bourbon for a fun summer cocktail.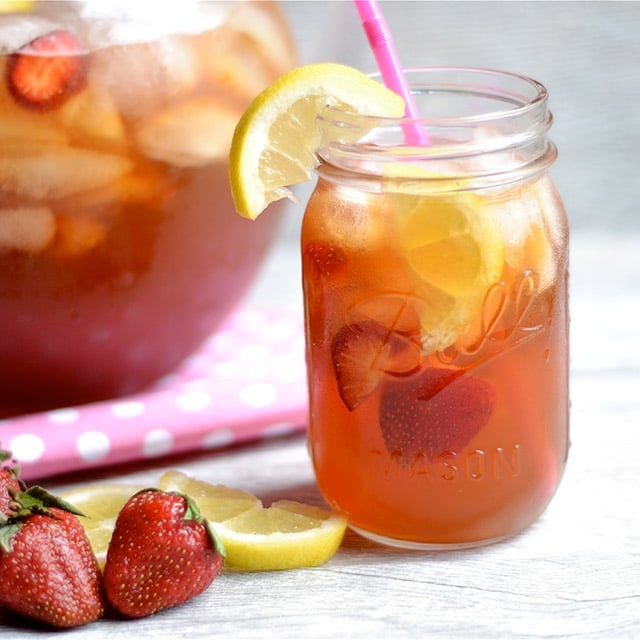 INGREDIENTS
8 tea bags (I use a black tea, but feel free to use a green or mint tea)
8 cups water + 4 cups water
1 8 oz can frozen lemonade concentrate
1 8 oz can frozen strawberry concentrate or strawberry daiquiri
6 cups ice
2 cups fresh strawberries, chopped
1 lemon, sliced
DIRECTIONS
Begin by brewing the tea. Boil 8 cups water, remove from heat. Add tea bags and let steep according to directions (usually around 3-5 minutes). Remove tea bags, and add both lemonade and strawberry concentrate. Stir until "melted" and well incorporated.
Once concentrate is melted, add 4 cups water and 6 cups ice. Taste tea, you may want to add more water to adjust sweetness, but note that the ice will also water down the drink. Pour into a large pitcher or drink dispenser. Refrigerate until ready to serve.
Garnish with fresh strawberries and lemons.
Servings: 20 cups