Spring has arrived in the Midwest and instead of embracing it and making all of my favorite spring recipes, apparently I'm already dreaming of summer! I couldn't help myself recently when I thought about this tasty Frozen Strawberry Lemonade and knew I had to make it immediately. Even though the heat has kicked on numerous times in the last few days, reminding me that it is still spring, I made this refreshing frozen beverage anyways!
Here's what I love about this recipe. First and foremost, it's versatile! I used strawberries this time around, but you could so easily swap out any berries you'd like. I've got a big bag of mixed berries in my freezer that I keep on hand for smoothies, and I'm tempted to mix those in next time I make this lemonade. Another aspect I love about this recipe is that it is such a crowd pleaser, and truthfully, it doesn't matter what time of year it is, people love it. Lastly, I love that it simply requires 2 ingredients from the store. How simple is that?
This frozen strawberry lemonade is both tangy and sweet and it sort of reminds me of a slushee! If you find the lemonade is a little too tangy for you, just add a little more water to dilute it a bit. It doesn't matter whether it is spring or summer, this Frozen Strawberry Lemonade is the perfect frozen beverage for any occasion.
Note: I used frozen strawberries in this recipe. You can also use fresh, but you'll want to add ice cubes to compensate for the lack of frozen strawberries.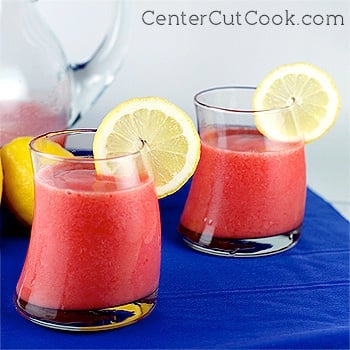 INGREDIENTS
1- 6oz can frozen lemonade concentrate
1 can water
3 cups FROZEN strawberries
1 lemon for garnish
DIRECTIONS
In your blender, blend together frozen lemonade concentrate, water, and frozen strawberries. Blend on the highest setting until everything is incorporated.
Cut lemons into thin slices for garnish on each glass and serve immediately.
Serves 4-6