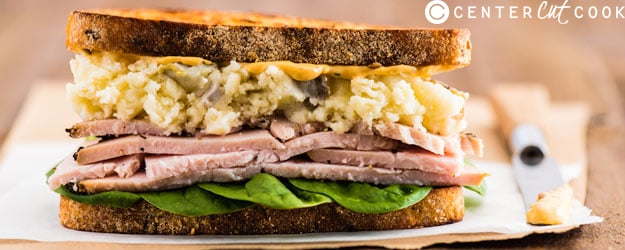 Using Thanksgiving leftovers to create a delicious club sandwich is super fast and easy. All you need is some leftover turkey, mashed potatoes, a few green leaves, and a delicious dressing. Today, we will try something different from your usual mayo dressing.
When I was getting my salad dressing at Walmart the other day, I found the magic ingredient for my sandwich – the Hidden Valley Smokehouse Cheddar & Bacon Cold Dip & Appetizer Mix. It's a dip mix, but I found that it works wonderfully in a sandwich. I simply mixed it with some mayo and sour cream, then spread on toasted bread. And wow, the smoky flavor works perfectly with the turkey and potatoes! I LOVE the bacon bits in the mix. This saved me the trouble of cooking and adding bacon to my sandwich, to enjoy the great flavor.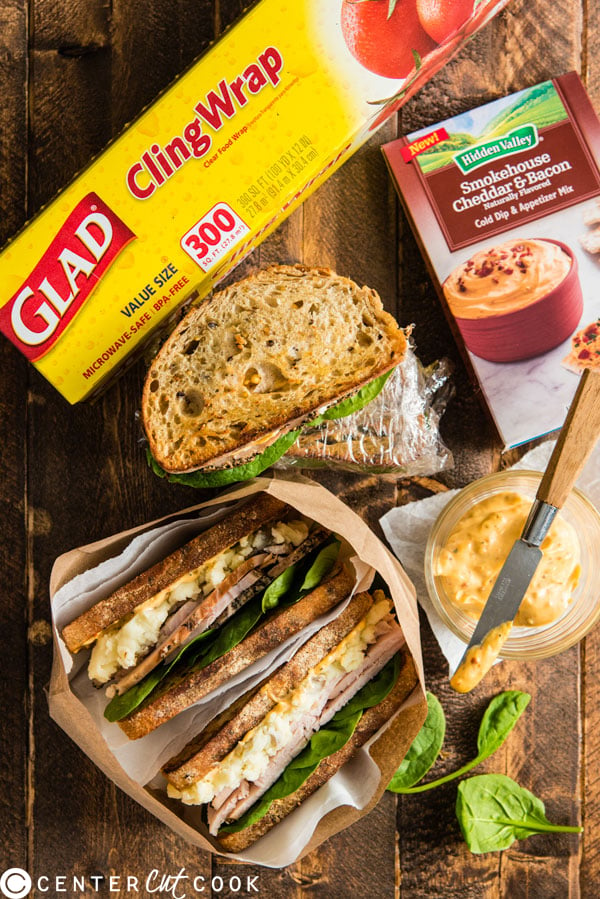 This turkey club sandwich is a perfect lunch item. It takes no time to put together, holds its shape and flavor very well, and tastes great warm or cold. To make it extra delicious, I toasted the bread with a few drops of olive oil to give it a bit more flavor and texture, then assembled the sandwich.
My favorite way to get my lunch ready is to use Glad ClingWrap Plastic Wrap to wrap and seal the whole sandwich. It store the sandwich nice and tight. The wrap is not too sticky, so you'll have no trouble unwrapping the sandwich when you're ready to eat. The creamy smoky bacon adds the right amount of moisture, but doesn't turn the bread soggy at all.
Next time you're shopping for holiday entertainment and gifts at Walmart, don't forget to grab some smoky bacon mix and plastic wrap so you can turn your Thanksgiving leftovers into a wonderful meal and pack lunch for your whole family, completely effortlessly!
This is a sponsored conversation written by me on behalf of Glad & Hidden Valley Ranch. The opinions and text are all mine.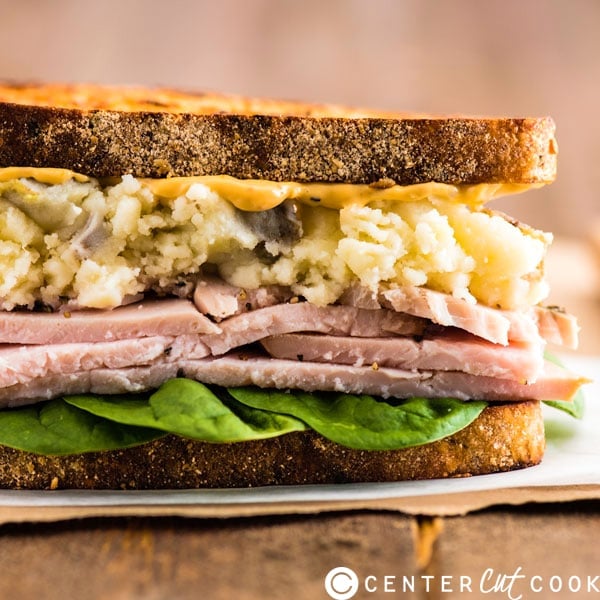 INGREDIENTS
1/2 cup mayonnaise
1/4 cup sour cream
8 slices sandwich bread
(Optional) olive oil to toast the bread
8 slices roast turkey
1 cup mashed potato
1 cup spinach leaves (or mixed green of your choice)
DIRECTIONS
Combine the Cheddar & Bacon Cold Dip & Appetizer Mix, mayonnaise, and sour cream in a bowl. Mix well until evenly blended.
(Optional) Toast the sandwich bread with olive oil in a skillet until both sides are browned (or use the toaster).
Place a piece of bread on your working surface, add spinach leaves, a layer of turkey, and a layer of mashed potato. Spread a generous amount of smoky bacon cream on the other piece of bread and place it on top of the mashed potato layer to assemble the sandwich.
Serve warm or cold.