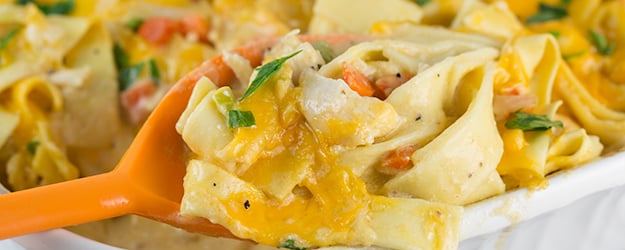 What is the appropriate reaction to the fact that ready or not, the holidays are here? Is it a big smile because this is your favorite time of year? Is it a sigh because sometimes the holidays can be a wee bit stressful? I'm here to give you a big high five and tell you not to stress because one thing you will not have to worry about is getting a delicious, easy holiday recipe on the table for your family that the kids will love.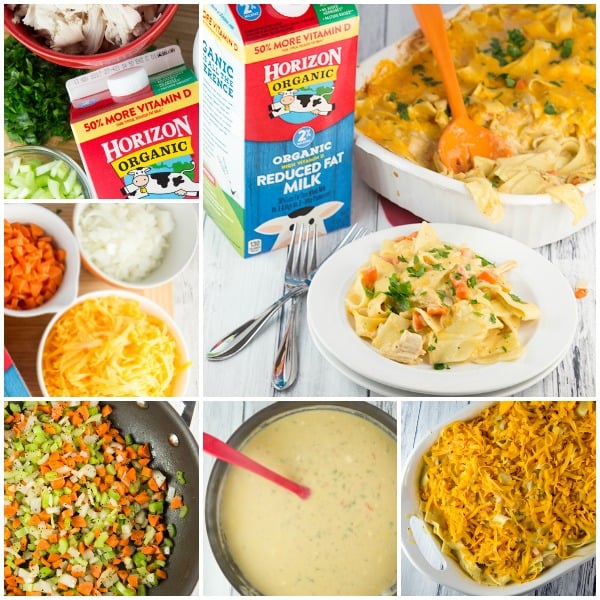 These days, if my three year old hears that dinner involves cheese and noodles, without question, he will eat it. There's something about cheesy noodles that he loves which is reason #1 & #2 that this recipe is a go-to, ESPECIALLY during the holidays when there are people to see and things to do. Even better is when said three year old gets to help make dinner. He loves getting his little hands in there to help in any way that I'll let him!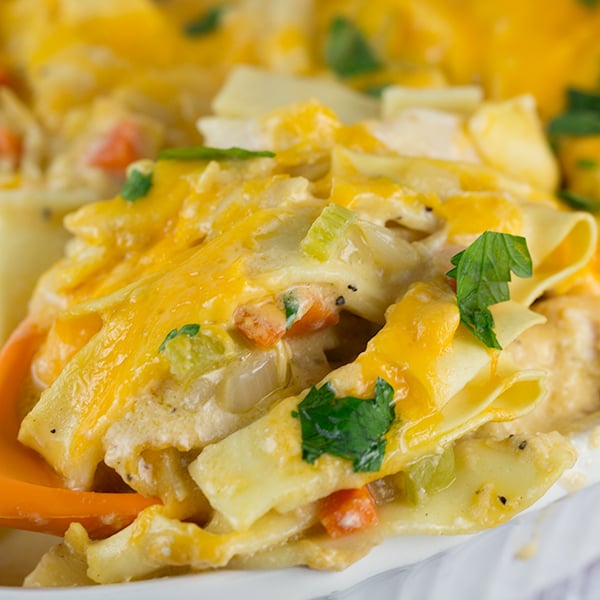 This is the time of year that it's quite common to have leftover turkey on hand. In our family, we usually make a turkey far bigger than what we need on Thanksgiving so that everyone can leave with leftovers. This recipe for Cheesy Turkey Noodle Casserole makes perfect use of all of that leftover turkey. Even better is that it is equally good with chicken so that it can be made year round.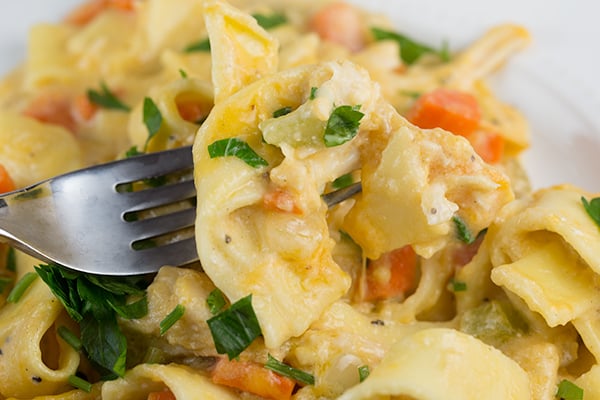 The concept is simple. You'll start by cooking a 12-16 ounce bag of egg noodles. Follow the package directions with the exception that you'll drain the noodles about 2 minutes sooner than suggested. This is because the egg noodles will continue to cook as the casserole bakes in the oven.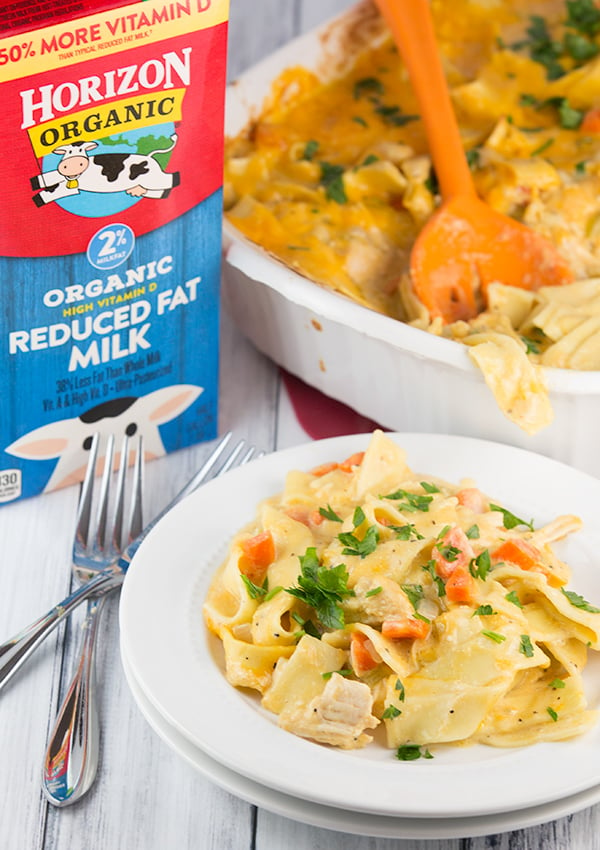 While the egg noodles are cooking you'll make the sauce for the casserole. It is SO easy for my little guy to get a serving of veggies when it's mixed in with his favorites, cheese and noodles! A small yellow onion, carrots and celery all chopped up and sautéed are an easy way to add depth of flavor to this recipe.
The creamy delicious sauce (and the reason this Cheesy Turkey Noodle Casserole is going to win over your family) comes together quickly with chicken broth, Horizon Organic Milk, a little bit of sour cream and cheddar cheese. It's all seasoned with what I consider the holy trinity of seasonings, salt, black pepper and garlic powder, along with some dried thyme. Fresh parsley for garnish brightens up the dish perfectly.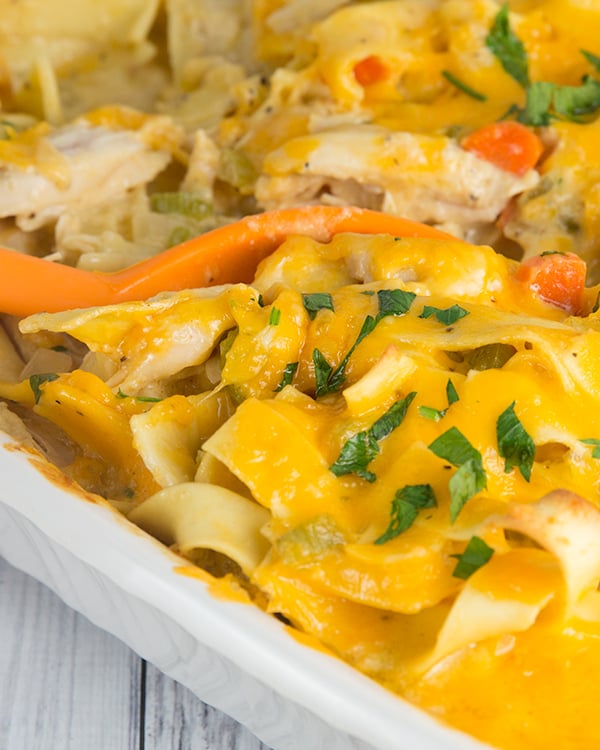 Cheesy Turkey Noodle Casserole is absolutely adored by my little guy and he even loves the leftovers for lunch throughout the week. The ingredients are simple. There's no canned soup found in this recipe! No siree! It's amazing what kind of homemade delicious sauce can be made with the simple combination of broth, Horizon Organic Milk, sour cream and cheese.
This simple, yet delicious casserole will be enjoyed by all this season. Happy Holidays!
This is a sponsored conversation written by me on behalf of Horizon. The opinions and text are all mine.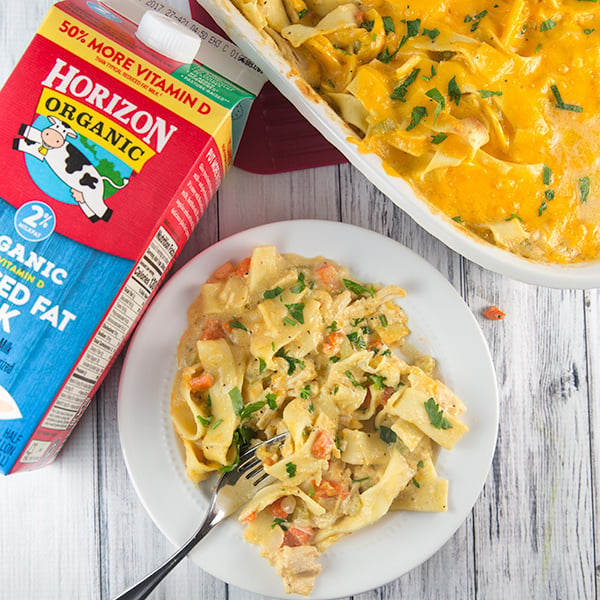 INGREDIENTS
12-16 ounce package egg noodles cooked for two minutes less than package directions.
2 tablespoons butter
1 small yellow onion, diced
1 cup chopped celery
1 cup chopped carrots
1 teaspoon salt
1 teaspoon black pepper
1/2 teaspoon garlic powder
1/2 teaspoon dried thyme
6 tablespoons flour
3 cups chicken broth
1 cup Horizon Organic Milk (2% or Whole)
1 cup Horizon Organic sour cream
3 cups Horizon Organic shredded cheddar cheese, divided
2 cups chopped cooked turkey (leftover Thanksgiving turkey works well. You can also use chicken. A rotisserie chicken pulled apart is another great option).
Parsley for garnish
DIRECTIONS
Preheat oven to 350F.
Begin by cooking the egg noodles for about 2 minutes less than package directions. They will continue to cook in the oven. Drain and set aside.
Melt 2 tablespoons butter in a large skillet. Saute' onions, celery and carrots until tender. About 7-10 minutes.
Season vegetables with salt, black pepper, garlic powder and thyme.
Sprinkle six tablespoons flour over the cooked vegetables, stir to combine and cook for an additional 2-3 minutes.
Slowly whisk in 3 cups chicken broth and 1 cup Horizon Organic Milk.
Simmer over medium heat until the mixture is bubbly and slightly thickened.
Remove from heat and stir in sour cream and half of the shredded cheddar cheese (about 1 and 1/2 cups) and stir until well combined.
Combine cooked chopped turkey (or chicken), cooked noodles, and vegetable/sauce.
Pour into a lightly greased 9 x 13 inch casserole pan.
Sprinkle with remaining 1 and 1/2 cups shredded cheddar cheese.
Bake for 30 minutes until cheese is bubbly.
Servings: 6-8