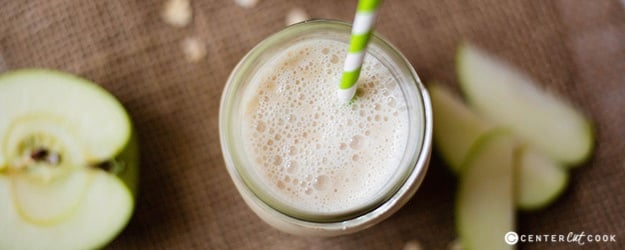 I'm really excited to share this delicious and healthy Apple Pie Smoothie recipe with you as part of KitchenAid's #KitchenAidContest.
One of the best things about eating healthy is that there's always a new way to try out an old classic and make it healthy. By simply changing out some processed sugars for raw coconut sugar or greek yogurt for mayonnaise, for example, you can dramatically impact the healthfulness of a recipe without sacrificing the flavor. Because flavor is super important!
This Apple Pie Smoothie is a good example of a healthy spin on an apple pie. In the smoothie, you get the oats to mimic the crust, plus the honey and greek yogurt give it a rich, sweet flavor. Then, you get the punch of the tart and crisp granny smith apple and the yummy, warm cinnamon. It's so good and totally guilt free.
I make at least one protein smoothie every morning for breakfast and often have another either for an evening snack or a meal replacement. I have put my KitchenAid blender through a lot of work, but it has stayed strong for almost two years now of daily use. I love how it blends the ice perfectly, making the smoothie the perfect consistency. I've tried other blenders and they just don't compare.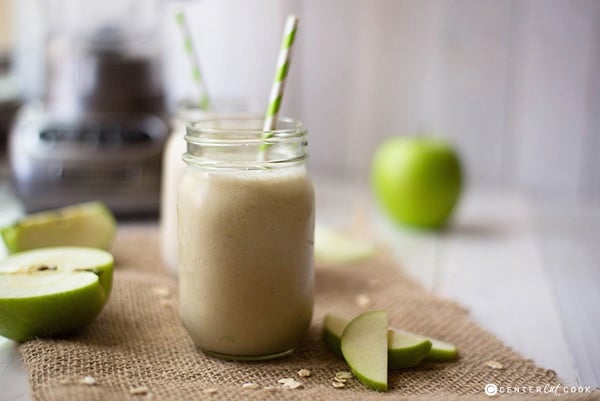 I challenge you to enter the #KitchenAidContest and to share your own apple recipe! To enter the challenge, it's very simple. Using any of kind of apple, create a unique dish, sweet or savory, with the goal of thinking outside the box. Submissions can be uploaded through Twitter or Instagram, FoodNetwork.com/applechallenge or food.com/applechallenge.
Food Network Kitchens will select the top 4 recipe submissions and the 4 finalists will win a trip for 2 to NYC to push their limits in a live cook-off to cook their dish to be judged by FN chef Geoffrey Zakarian. And, even cooler, one lucky winner will receive the grand prize of a suite of KitchenAid Black Stainless Steel Appliances and a private cooking lesson with Geoffrey Zakarian. Make sure you enter soon since the contest dates are 8/17 – 9/14.
What recipe will you be making for the #KitchenAidContest? Best of luck!
This is a sponsored conversation written by me on behalf of KitchenAid Elite Bloggers. The opinions and text are all mine.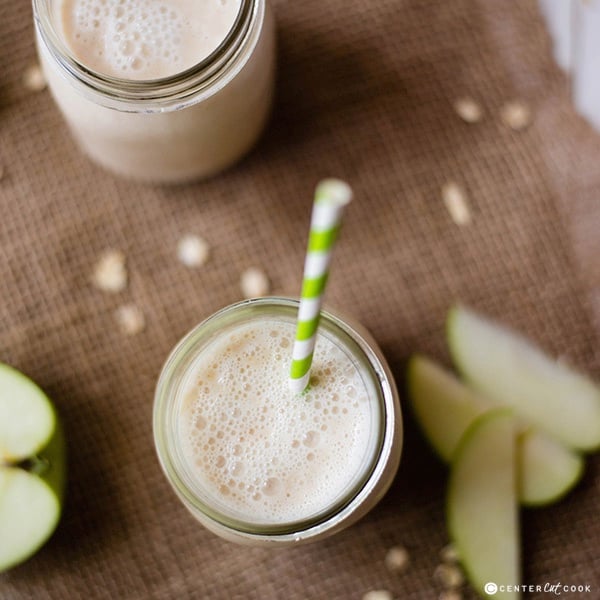 INGREDIENTS
1 cup original almond milk
1 granny smith apple, cored, peeled & sliced
1/2 cup vanilla Greek yogurt
1/4 cup old fashioned oats
1 tbsp. honey
3/4 tsp. ground cinnamon
5-6 ice cubes
DIRECTIONS
Combine the almond milk, sliced apple, greek yogurt, oats, honey, and ground cinnamon in a KitchenAid blender and purée until smooth. Make sure the oats have been completely pureed.
Add the ice and purée again until smooth. Depending on how thick you want the smoothie, you can add more or less ice accordingly.
From the first-ever black stainless steel to the first-ever five-door refrigerator, KitchenAid pushes the limits with our appliances, so our home cooks can do the same with their cooking. Visit the Kitchenthusiast™ blog for recipes, tips and more.