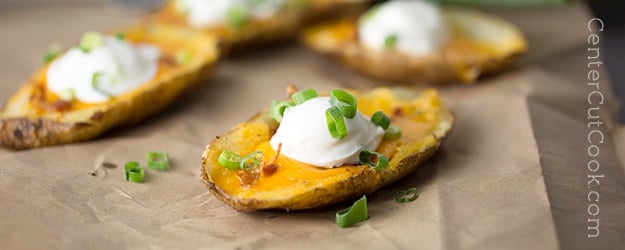 Raise your hand if comfort food for you is defined as something involving potatoes, cheese, and bacon? I have both hands raised, in case you are wondering. I. Love. Potatoes. I don't know what it is, but comfort food for me typically involves potatoes, or pasta, but mostly potatoes with cheese and bacon. Fries? Love 'em. Baked potatoes? Adore. Loaded Potato Skins? Holy moly, I've gone to heaven and back with these guys!
This is one of the very first recipes I ever posted here on CenterCutCook.com about a year ago. I finally decided I owed these guys an update. My photography has come a long way over the year, and hopefully the updated photos get your mouth a-waterin'.
Years ago, I dedicated an afternoon to figuring out how to make restaurant style loaded potato skins at home. It was a tough job, but someone has got to do it! The method is simple…. here's how!
Start by baking four potatoes. Oven or microwave, doesn't really matter. Use the oven if you've planned ahead and have an hour to dedicate to the slow baking process. Use the microwave if you're in a hurry. Let the potatoes cool a bit before you handle them. We don't want you to burn your hands, now do we?
Slice the baked, slightly cooled potato into three pieces, lengthwise. You'll see this picture above. You'll want to discard the middle section (Pictured right behind the two halves in the front). If the potato skins are too thick, they won't crisp up which is why you will cut the potato in thirds and discard the middle portion.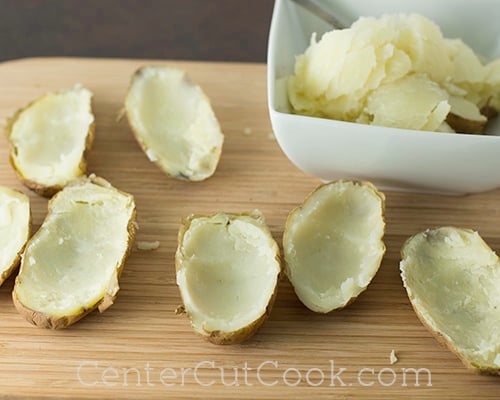 Take a spoon and carefully remove some of the potato, so that you're left with just a shell. Again, we want these guys to crisp up like they do in the restaurants. You also do this so that you have a nice little nest for all of the cheese and bacon! At this point you'll melt a couple of tablespoons of butter and brush both sides of the potato with it. Sprinkle with a little salt and pepper, and pop them in the broiler for about 8 minutes, flipping halfway through so that both sides have an opportunity to crisp up.
Next comes the cheese and cooked bacon! Sprinkle shredded cheese over each potato skin, along with a healthy dose of crispy crumbled bacon. Pop 'em back in the broiler for another 2-4 minutes, or until the cheese has melted.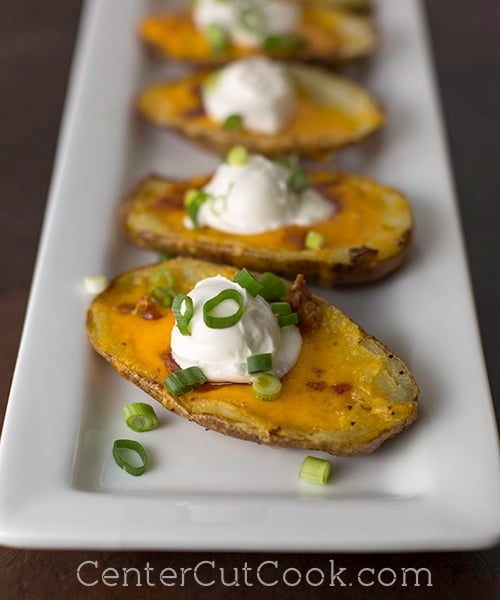 Top with a dollop of sour cream and chopped chives, and promptly eat at least one when no one is looking. Then, arrange the remaining potato skins on a plate for serving.
Seriously, does comfort food get much better than this?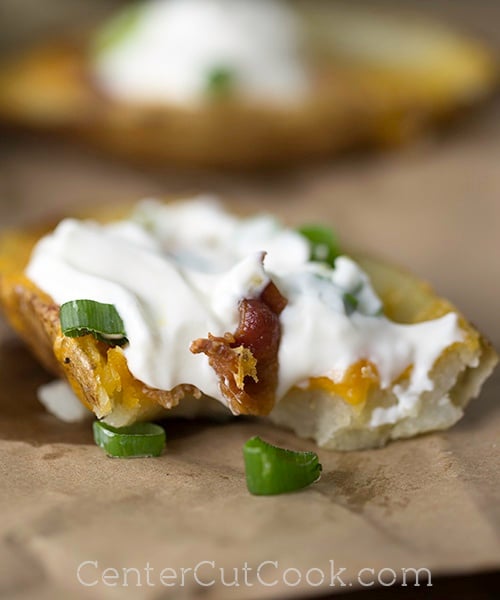 Love at first sight. I have made these for numerous parties and family gatherings and they are ALWAYS a hit. Always.
Speaking of potatoes that I adore, have you tried this Hash Brown Casserole yet? No? Add it to the list of recipes to make this weekend. It too, defines comfort food!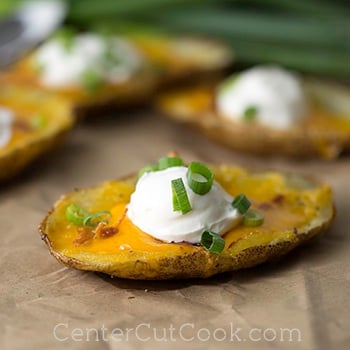 INGREDIENTS
4 medium russet potatoes
2 tablespoons butter
A dash each of salt and pepper
4 bacon strips cooked and crumbled
8 ounces shredded cheddar (medium or sharp)
Sour cream
4 green onions sliced
DIRECTIONS
Start with 4 medium sized potatoes and prepare them for baking. Make sure to scrub the potatoes really well before popping them in the oven and poke a couple of holes using a fork. If you'd like to take a shortcut, you can always microwave the potatoes (time varies quite a bit from one microwave to another).
Once cool, make two cuts down the potato lengthwise so that you are left with three pieces. Discard the middle slice of the potato (or save for other use) so that you are left with just the ends of each potato. Using a spoon, lightly scrape some of the pulp out of each potato skin so that you have only about 1/4 inch of the potato left.
Heat your broiler to high.
In the microwave, melt 2 tablespoons of butter and brush both sides of the potato skin. Lightly salt and pepper the potato skin and place in the broiler for 8 minutes, flipping the potatoes once after four minutes so that each side of the potato is able to crisp up.
Take the potato skins out of the broiler and top with shredded cheddar and crumbled bacon.
Place the potato skins back in the broiler for another 2-4 minutes, or until the cheese has melted.
Top with fresh cut chives and sour cream.
Recipe from:
CenterCutCook