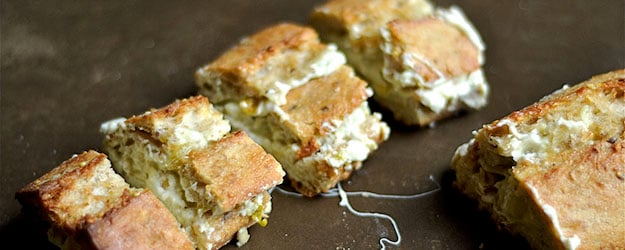 If ooey gooey cheese and garlic is your thing, you've come to the right recipe. We're taking artichoke dip to the next level with this stuffed garlic bread! Forget the dip with crackers or chips, instead let your dip be slathered inside yummy and warm garlic bread. This simple appetizer is elegant enough to serve to guests, perfect for a night of munchies, or could make an appearance while watching your favorite TV show. Basically, you'll want this in your life ASAP!!
To start, get a large baguette and cut it in half. Once in half, slice it down the middle so the baguette is open and ready to be stuffed. Hallow the inside of the bread.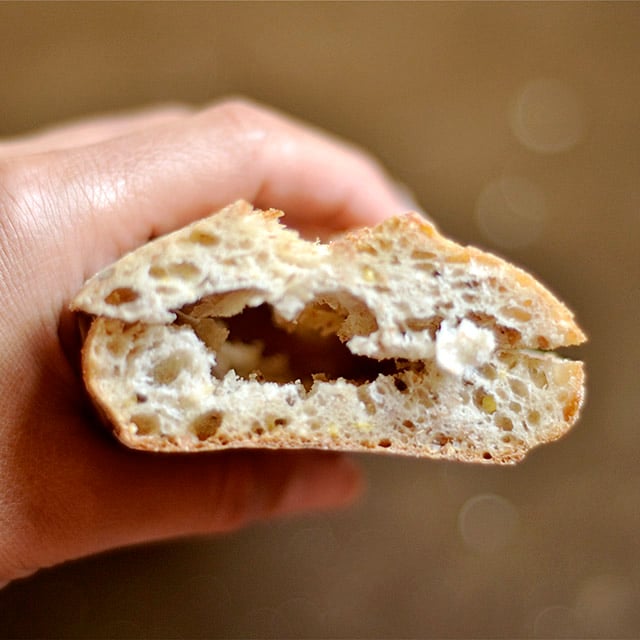 Make the dip with cream cheese, artichokes, green chiles, garlic powder, parmesan cheese and mozzarella. The three cheeses in this recipe really give the bread that cheesy taste! You could also easily swap out spinach for the green chiles, and make a spinach artichoke dip. But I must say, I love the tangy smoky taste of the green chiles! Once you've stuffed the bread, seal the bread back together. You'll brush with butter and garlic. Bake for 20 minutes in foil, and 5 minutes without the foil. Cut into small pieces and serve hot.
I made this the other night for girl's night, and it was a huge hit! If this is an appetizer you would like to transport, bake it in the foil for 20 minutes and then take it with you. Right before serving, bake again without the foil for another 5 minutes.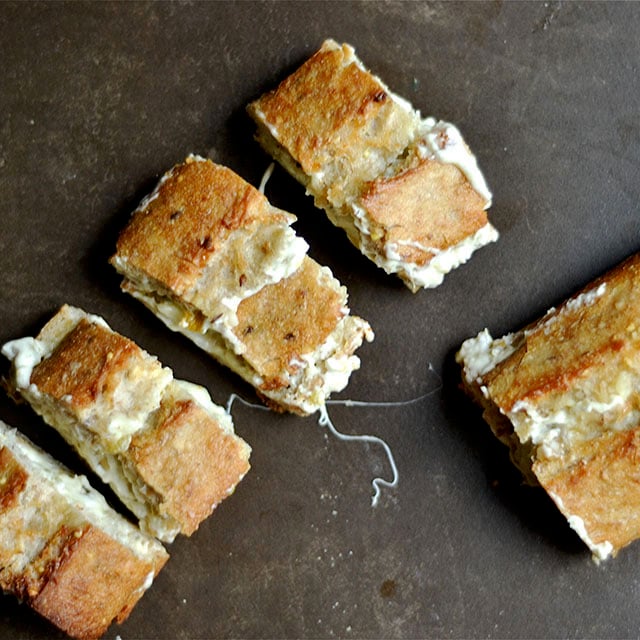 INGREDIENTS
1 large baguette
8 oz cream cheese, room temperature or softened
4 oz can diced green chiles
8 oz can marinated artichoke hearts, drained and cut into chunks
1 tsp garlic powder
1/3 cup Mozzarella cheese
1/4 cup shredded parmesan cheese
2 tbsp salted butter
2 cloves garlic, crushed
DIRECTIONS
Preheat your oven to 400 degrees.
Cut the baguette in half so you have two big pieces. Cut both pieces of the baguette again down the middle lengthwise so it opens up. Hallow out the bread by scooping out some of the inside of the slices.
Make the artichoke dip: Mix together cream cheese, chiles, artichoke hearts, garlic powder. Fold in remaining cheeses. Spoon the mixture into the inside of the hallowed out bread, evenly spreading across the bread. Bring the halves together.
Melt the butter and add garlic. Brush the garlic and butter mixture over the top of the baguette. Wrap in foil.
Bake for 20 minutes covered in foil. Remove the foil, and bake an additional 5 minutes.
Remove from the oven, cut the bread into small slices. Serve warm!
Servings: 12