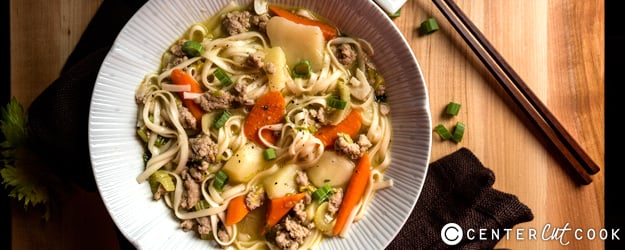 A bowl of hearty chicken soup has great healing power. Whenever I'm feeling under the weather, craving some comfort food, or just want to finish up a quick and delicious dinner, I will chop up some fresh herbs and cook a big pot of Asian style noodle soup.
You don't need to buy a whole chicken or brown a large batch of chicken bones to make great chicken soup. The truth is, you can take a shortcut and create a great soup with cheaper ingredients in less time. The recipe I'm introducing today is seasoned with Asian style spices. However, you can apply this method with other recipes too, such as this classic chicken soup (https://www.centercutcook.com/chicken-noodle-soup/).
The secret to creating a rich chicken soup in less time is to use ground turkey or chicken to create the soup base.
Ground meat provides a lot of surface area and can release great flavor when cooked with herbs and spices. It also cooks very quickly, so cooking time is kept to a minimum. You will need to season the ground meat with salt first, so it will be flavorful after boiling. This way, it will also release its saltiness and rich flavor to the soup after the chicken broth is added.
I used store-bought chicken broth in this recipe. At the end of cooking, the soup had turned a bright yellow color with an almost creamy texture. It had a great flavor – comparable to that of a slow-cooked soup made with a whole chicken.
To cook the soup really quickly, make sure you cut the potato and carrot into smaller sized pieces (slightly smaller than bite size).
I didn't add chicken breast in this recipe because ground turkey is rich enough to create a satisfying meal. However, if you want to add more protein, you can halve a chicken breast crosswise and add it in step 6, after bringing the chicken broth to a boil. Or, you could add some leftover meat onto the noodle soup after cooking (I LOVE the $5 rotisserie chicken from Costco – it works great here!).
INGREDIENTS
2 tablespoons vegetable oil
1 teaspoon grated ginger
2 teaspoons grated garlic
2 stalks green onion, chopped (or 1/4 onion, minced)
1 1/2 cup ground turkey (or chicken)
(Optional) 1 tablespoon Japanese sake (rice wine)
1 teaspoon salt
2 carrot, chopped
1 potato, chopped
1 stalk celery, chopped
6 cups chicken broth
2 cups water
2 servings (6 oz.) Asian noodles (wheat flour) (To measure long noodles, form a 1-1/2 inch diameter bunch of dried noodles with your hand. This equals about 6 oz. of dry noodles)
DIRECTIONS
Heat oil in a 5-quart pot (or dutch oven) over medium heat. Add ginger, garlic and green onion.
When the herbs start to sizzle, stir a few times until you smell a nice fragrance.
Add ground turkey. Chop and stir for 1 minute. Add Japanese sake (if using any) and salt. Continue chopping and cooking until the ground turkey is separated into small chunks.
Add carrot, potato, and celery. Stir for another 2 to 3 minutes.
Sprinkle with black pepper. Stir to mix well.
Add chicken broth and water. Turn to high heat. Cook until it reaches a boil. Turn to medium heat and cook until the potato and carrot turn soft, 10 to 15 minutes. If the soup level is running too low to cook noodles, add 1 to 2 cups hot water and bring to boiling again.
Turn to medium high heat again and add dried noodles. Cook noodles by following the instructions on the package or cook until tender. Stir the noodles constantly, to keep them from sticking to the bottom. It usually takes 4 to 5 minutes if using flat wheat noodles.
Serve hot.