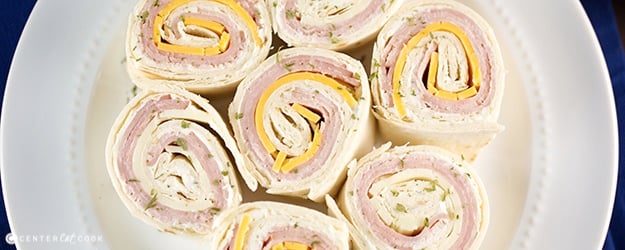 These Ham and Cheese Pinwheels are made with seasoned cream cheese spread, fresh slices of deli ham and cheese and rolled up on tortillas and cut into pieces. The result is a fun appetizer or snack great for any occasion. This is the perfect quick and easy appetizer!
I am always looking for easy appetizer and snack ideas that come together quick and don't take much effort. Is there anything better than a quick and easy appetizer? Finger foods always tend to go over well for most types of parties which is why I love these little ham and cheese pinwheels. This isn't much of a "recipe," but rather a method. You can swap out meats and cheeses however you'd like, and use all kinds of tortillas. I used sun-dried tomato and garden herb tortillas this time around, but there are so many more options these days.
The "secret" (okay, it's really not much of a secret) with pinwheels is in how you roll them, AND the cream cheese spread that is used. The spread is seasoned with a little dill weed, some onion powder and garlic powder and it compliments these wraps perfectly!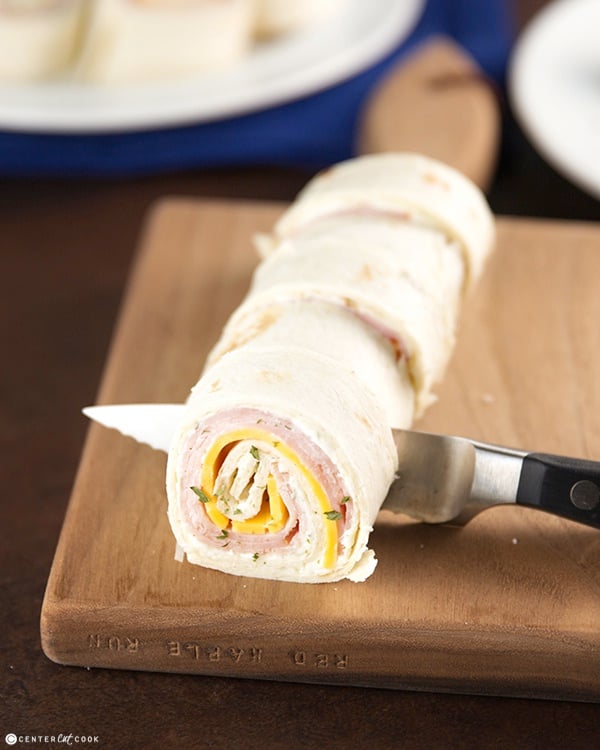 The great thing with these babies is that they are pretty cheap to make and go a long way. Have you seen pinwheel trays already prepared at the grocery store? I have and let me tell you, they aren't cheap. I saw one tray that looked nearly identical to the pinwheels pictured here, for $35.00! Really? $35.00 for some ham and cheese rolled up in a tortilla? You can make a bunch with this recipe for probably about $10.00. Now we're talkin'!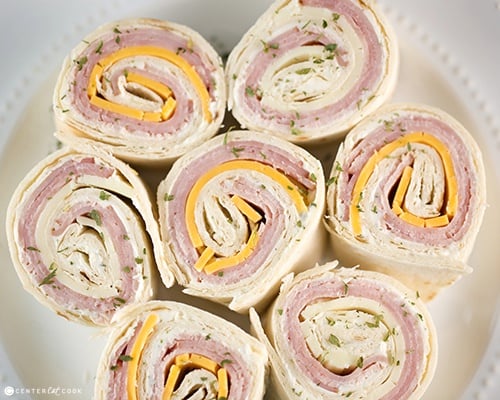 Each tortilla yields about 8 pinwheels. If you use four tortillas, you've already got 32 of these guys! Not bad.
INGREDIENTS
Deli sliced ham or other meats of your choice
Cheese (I used white and yellow American)
Large tortillas of your choice (I used garden herb and sun-dried tomato)
1- 8oz package cream cheese – softened
1/4 cup mayonaise
1/2 tsp dill weed
1/2 tsp garlic powder
1/2 tsp onion powder
DIRECTIONS
In a medium sized bowl, combine cream cheese, mayonnaise, dill weed, garlic powder, and onion powder. Mix until blended well.
Spread a thin layer of cream cheese mixture on your tortilla. Spread it out well so that the whole tortilla has a thin layer.
Down the middle of the tortilla, place a few slices of deli ham to cover the width of the tortilla. On top of the ham, place a layer of cheese to cover the width of the tortilla. This ensures that each pinwheel has meat and cheese.
Roll up the tortilla tightly. Cut off a small portion of each end and discard, then cut the remaining rolled tortilla into 6-8 slices, about 1 inch thick.
Enjoy!
*I didn't specify amounts of meats or cheeses because it all depends on your taste. I used one layer of meat and two different cheeses, but if you like more meat, you can add more. It all depends on what you like your meat to cheese ratio to be like.