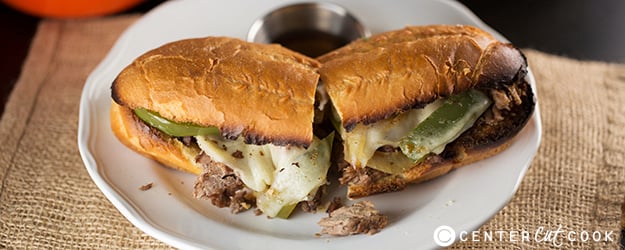 If you are looking for a quick and easy dinner idea that your whole family will love, look no further than these Slow Cooker French dip Sandwiches. These sandwiches are so versatile and can be made to include just tender beef and cheese, or you can make them with caramelized onions and peppers which is my favorite way to enjoy them.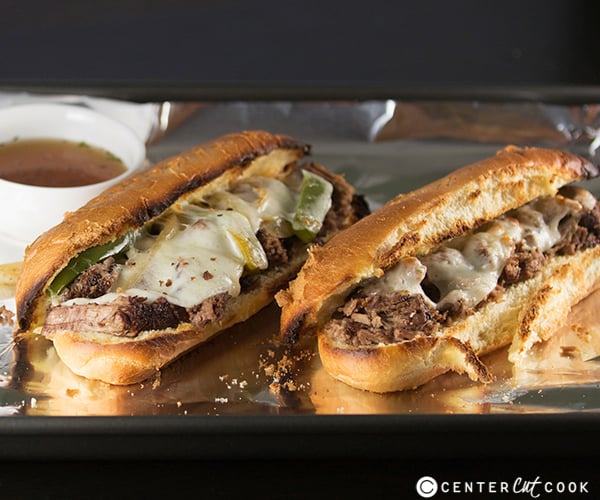 The best part about this recipe, aside from the fact that these French Dip Sandwiches are mouth-watering and delicious? They are SO easy to make because the beef cooks in your slow cooker all day long so that it's tender and delicious come dinner time when you're ready to assemble them.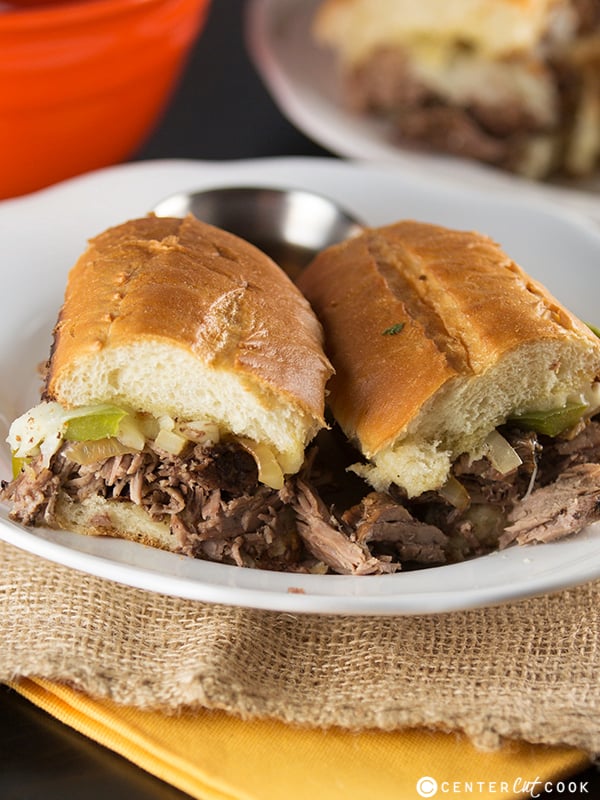 My sandwich is not complete without the caramelized onions and peppers, but my hubby prefers his with just meat and cheese. You can customize each sandwich according to how each person likes it. These sandwiches wouldn't be complete without the au jus on the side for dipping.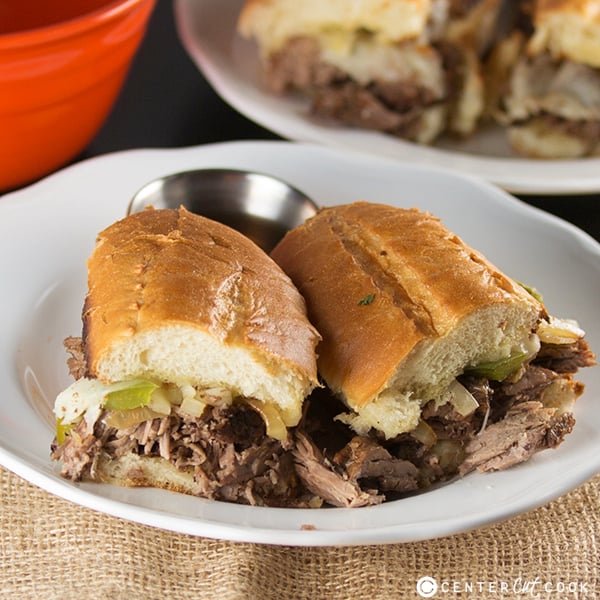 I served these sandwiches with carrots and celery with dip, and some apple slices to keep it a super simple supper that is perfect for hectic weeknights. You could also serve them with another favorite, Crispy Baked Onion Rings.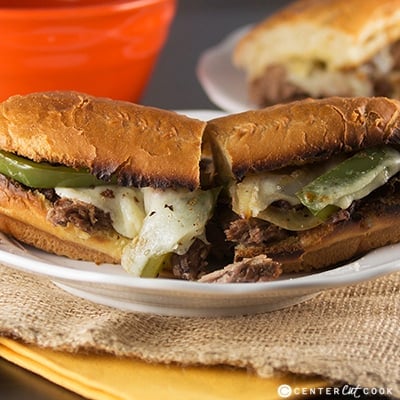 BEEF INGREDIENTS
4 pounds boneless beef roast (remove any excess fat)
1 tablespoon minced garlic
1 tablespoon minced fresh rosemary (*I didn't have any on hand so I left it out)
1 tablespoons minced fresh thyme or 1 teaspoon dried (I used dried)
1 teaspoon kosher salt
1/2 teaspoon black pepper
29 ounces low-sodium beef broth
1 teaspoon Worcestershire sauce
10 whole peppercorns
1 bay leaf
1/2 large onion cut into chunks
CARAMELIZED ONION AND PEPPERS INGREDIENTS
2 tablespoons olive oil
2 large yellow onions, thinly sliced
1 teaspoon kosher salt
2 large bell peppers (red or green or one of each), seeded, ribs removed and cut into strips
SANDWICH INGREDIENTS
8 crusty sandwich rolls
4 tablespoons butter, softened
8 slices provolone cheese
DIRECTIONS
In a small bowl, combine garlic, rosemary, thyme, salt and black pepper.
Sprinkle this mixture over the roast, then place the roast in your slow cooker.
Add in the beef broth. If there's not enough broth to cover the roast, add a little water until it's covered.
Add in the bay leaf, Worcestershire sauce and the peppercorns, then arrange the sliced onion over the roast. Cover and cook on low for 8-10 hours or until the beef is tender and will easily fall apart.
Shortly before you're ready to eat, prepare the caramelized onions and peppers. In a large skillet over medium heat, heat the olive oil. Add in the onions and season them with 1 teaspoon kosher salt. The process of caramelizing the onions will take time, about 30 minutes, so be sure to keep an eye on them as they are browning. If needed, add in a little water if the pan becomes too dry.
When the onions are golden brown and tender, remove them from the pan.
To the pan add in the peppers and sauté until tender, about 7 minutes. Remove them from the pan.
Remove the roast from the slow cooker and use two forks to shred it. You can also cut it into slices against the grain, but I prefer shredded beef.
Pre-heat your broiler to high.
Poor the broth from the slow cooker through a fine mesh strainer. Allow the broth to stand at room temperature to allow the fat to separate and rise to the top. Use a spoon to remove any fat. Pour the broth into small bowls for dipping the sandwiches.
Split the rolls, then spread about 1/2 tablespoon of butter on each roll. Place the rolls open faced on a rimmed baking sheet and broil for two to three minutes.
Remove the rolls from the oven and place meat and caramelized onions and peppers on each sandwich. Top with a slice of provolone cheese. Broil for an additional 1-2 minutes, or until the cheese has melted.
Serve each sandwich with some of the broth (au jus) on the side.
Enjoy!
Recipe from:
The Recipe Girl Cookbook