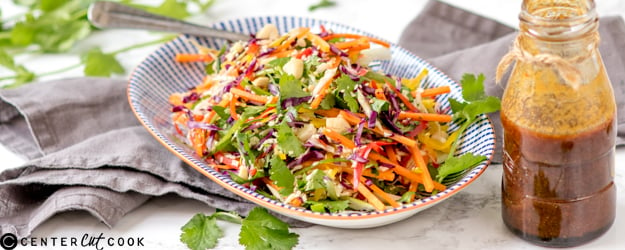 Despite the fact that this salad is pretty much all vegetables (with a few nuts thrown in there) it makes a really satisfying lunch – without the need for meat/cheese/noodles to bulk it out.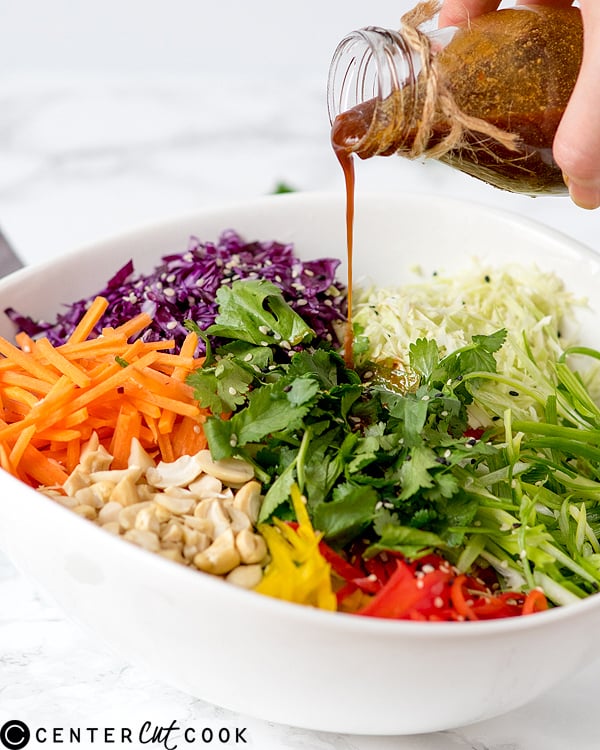 Full of crunchy vegetables and drizzled with the most amazing Thai-inspired dressing, this is the dish that's guaranteed to be gone in a flash at your next BBQ.
I love the dressing, it goes so well with everything, and you can even use it as a marinade for meat and fish. Pour it on your salad, serve it as a dip with a big plate of grilled shrimp or spoon it on salmon fillets before cooking in the oven!
If you are looking to serve this as part of a larger meal, I find it goes really well with barbecued chicken skewers, or baked fish.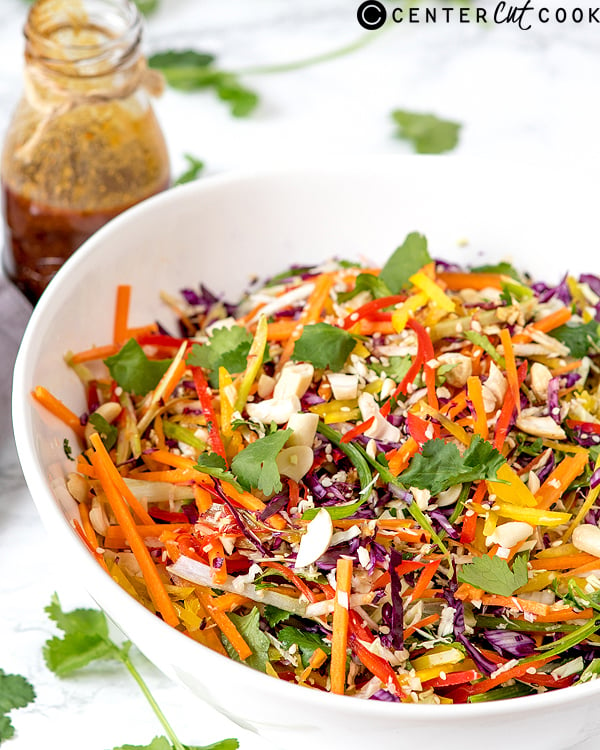 It's a great idea to double up and save some for lunch the next day (if you do this, it's best to add the dressing right before you eat it).
The perfect alternative to those heavy, creamy coleslaws. This version has twice the flavor whilst being so much healthier!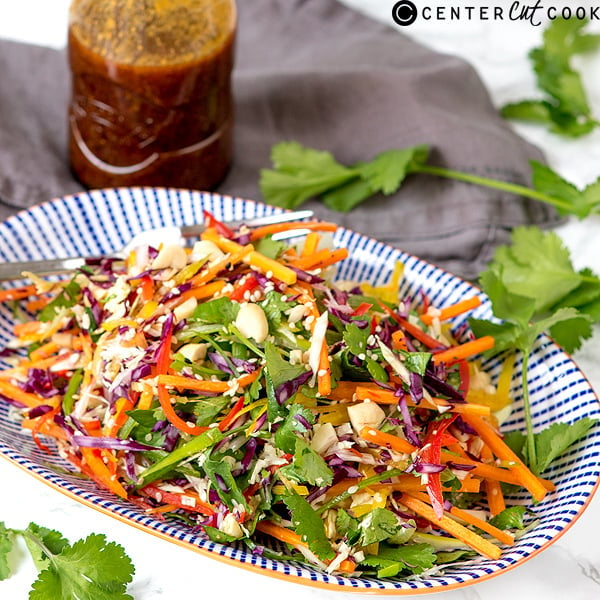 ASIAN COLESLAW INGREDIENTS
2 cups shredded white cabbage
1 cup shredded purple cabbage
1 cup julienned or shredded carrots
Small bunch scallions, thinly sliced
1/2 red bell pepper, thinly sliced
1/2 yellow bell pepper, thinly sliced
1/4 cup mixed cashews and peanuts, roughly chopped
Small bunch cilantro, roughly chopped
1 tsp mixed black and white sesame seeds (optional)
DRESSING INGREDIENTS
DIRECTIONS
Place the two types of shredded cabbage, the carrots, scallions, sliced bell peppers and nuts in a large serving bowl.
In a separate small bowl, whisk together all of the dressing ingredients.
Pour half of the dressing over the salad and toss everything together.
Sprinkle the salad with cilantro and sesame seeds, then serve with the rest of the dressing.
Servings: 4