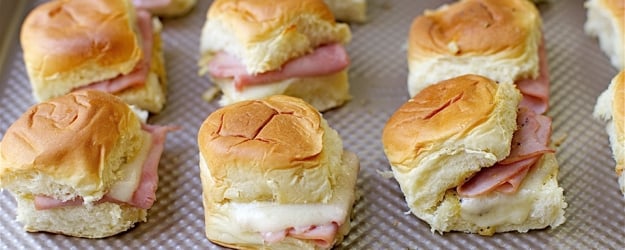 If you have any reason to entertain in the spring, you'll love these Baked Ham and Cheese Mini Sandwiches! I'll never forget the first time I devoured one of these at my friend's baby shower. They had the most addicting sauce with poppy seeds, butter, mustard, Worcestershire sauce, and onion that I couldn't stop eating them! Something about the melted swiss cheese, toasty potato bread, and honey baked ham slices with that sauce made the perfect salty/sweet/tangy combo. I knew I needed the recipe to make them at home!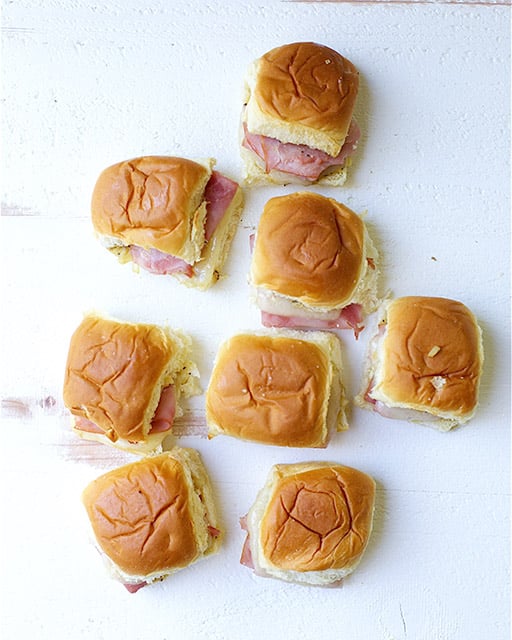 So these fun little sandwiches are my "go-to" if I'm hosting a brunch or kids party. Both kids and adults can't get enough! Especially during the spring when bridal showers, baby showers, Mother's day or Easter brunches are in full swing, these sandwiches make the perfect addition to your table. These finger food sandwiches are easy to eat without making a mess, and they also look really nice on a platter to serve. I usually host a kids' Easter party each year and always make sure to put these on the menu!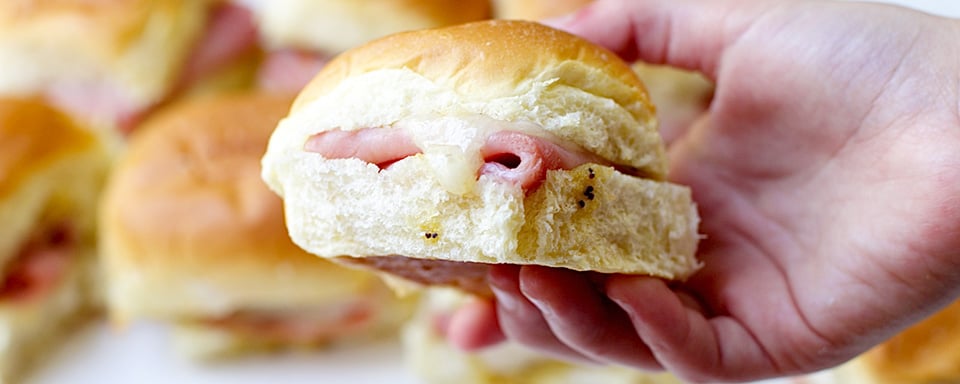 As I have mentioned these are simple to make. I use potato roll sliders, or the Hawaiian roll sliders. Both taste delicious, although I prefer potato roll consistency when cutting into them. You will melt butter and add mustard, poppy seeds, Worcestershire sauce, and finely diced onion. This is the sauce that is generously applied to each roll! Stuff each roll with sliced ham and swiss, and bake in the oven for 12-15 minutes. That's it! Although these are better served warm, if they cool down to room temperature, they are still super tasty! Another reason why using making these sandwiches to entertain is such a great idea.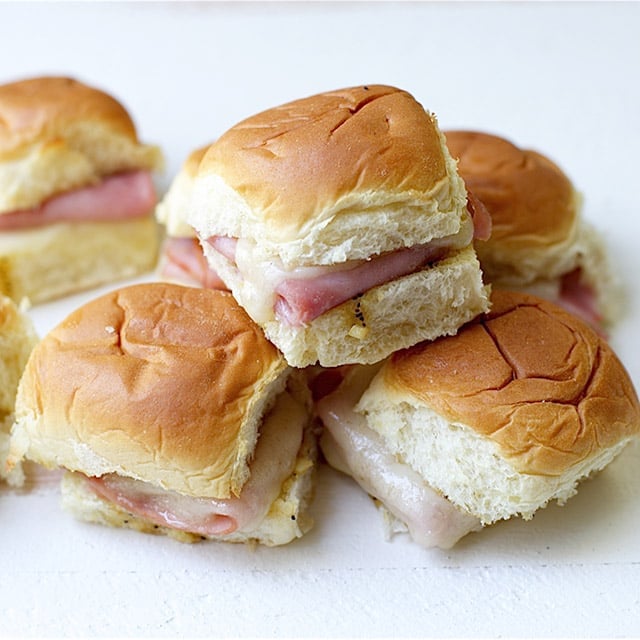 INGREDIENTS
1 stick butter
2 tbsp poppy seeds
1 small onion, diced finely (1/3 cup)
1 tbsp Worcestershire sauce
2 tbsp dijon mustard
24 packages potato roll sliders
1/2 lb deli sliced honey baked ham
5 oz swiss cheese slices
DIRECTIONS
Preheat your oven to 350. Lightly grease a cookie sheet or baking sheet and set aside.
Mix together your sauce by melting the butter, add remaining ingredients.
Spread 1-2 tbsp of mixture on each roll. Add ham and swiss.
Bake 12-15 minutes or until cheese is melted and rolls are golden.
Servings: 12