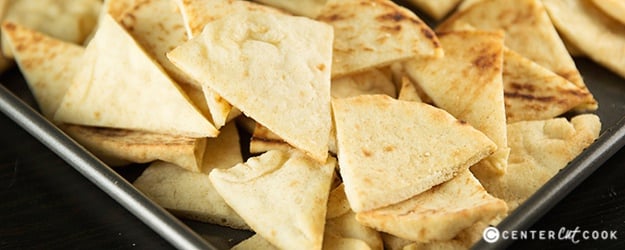 Homemade Pita Chips are the perfect dipper for so many dips like hummus or the creamy Vidalia onion dip I shared earlier this week. And to boot, they are so easy to make and a little more healthy than some of the other dipper options you might use. You can have these toasty crispy pita chips ready in less than 10 minutes with very minimal effort!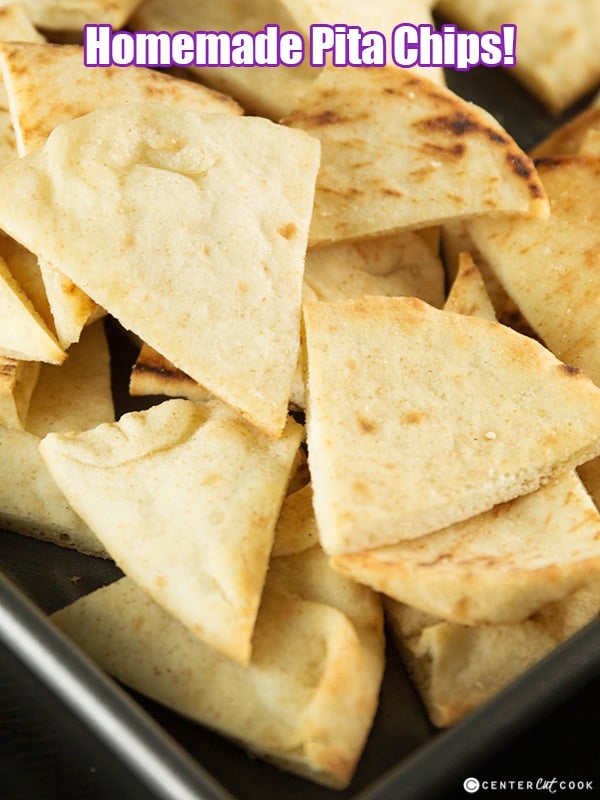 Certainly you can make your own homemade pitas to use for this recipe, or you can just buy them from the grocery store. If you can't find pitas in the bread aisle, check by the deli which is where I was able to find pita pockets at my grocery store. You'll cut them into 8 pieces. I just used a pizza cutter to do this, and cut it exactly like I would a pizza to get those nice even pieces.
I almost feel silly sharing this recipe with you because it is SO easy. All you'll do is toss the pita chips with a little olive oil. To add a little more flavor you can toss them with minced garlic and a bit of sea salt. Both of those are optional though.
These baked pita chips will only need to bake for about 8-10 minutes, or until they're nice and crispy and baked according to your preference. I love to eat them with Hummus, but there are so many other dips that they would be perfect for. Enjoy!
INGREDIENTS
10 pita bread pockets, cut into 8 triangles (cut them like you are cutting a pizza)
1/3 cup olive oil
Sprinkle of sea salt – optional
2 cloves of garlic, minced – optional
DIRECTIONS
Pre-heat your oven to 400 degrees.
Cut the pita bread pockets into 8 pieces. Cut them like you are cutting a pizza.
Toss the pita triangles with the olive oil.
Arrange them on a baking sheet. Sprinkle the pita bread with a bit of sea salt and garlic if you wish.
Bake for about 8-9 minutes or until the pita chips are golden brown and crispy.
Serve with your favorite dips like hummus!
Recipe from
CenterCutCook