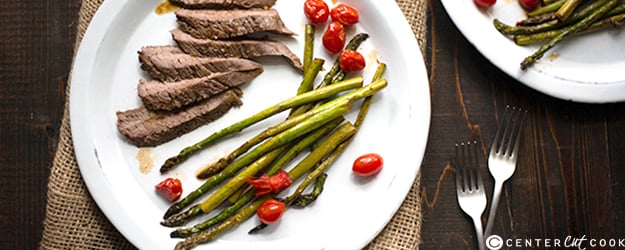 As a food blogger, meal planner, and professional recipe developer, you can imagine I make a lot of recipes.
That means I test out a lot of recipes, make a lot of mistakes, fix them, and move on. Cooking is an iterative process and there's always more to learn and improve.
This also means I eat a lot of food, but that's another story.
Every so often, though, I just nail a recipe on the first try. I love those times.
This Roasted Flank Steak is one of those recipes. It was love at first bite.
Not only is this delicious weeknight meal perfect for any occasion or night of the week, it's amazingly easy to prepare. You just need one pan and 28 minutes and you're good to go.
If you're anything like me on those busy weeknights, this is gonna be a life saver. You'll know you're feeding your family delicious, fresh vegetables along with lean protein – plus it's super tasty and full of vibrant flavors. Not much to complain with that!
While you could easily switch the flank steak out with another protein, like chicken breast, ribeye steaks, or even fish (adjusting for cooking and pan-roasting times), I really like the flank steak with this recipe because of the added flavor it brings.
If you're able, the tenderized flank steak is the best option because it will be more tender. Since we're not marinading the flank steak before cooking, the tenderization helps break down the fibers quickly and makes for a more tender meat. That being said, non-tenderized flank steak will also work well (or you can tenderize it on your own using a mallet or tenderizer, if you'd like).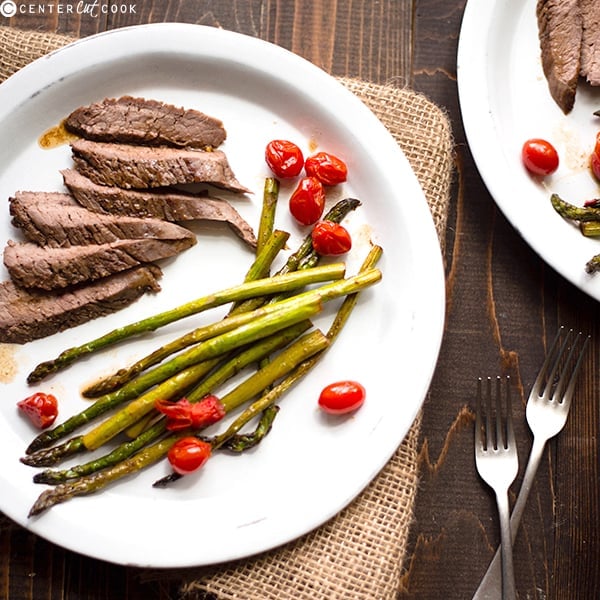 INGREDIENTS
DIRECTIONS
Preheat oven to 400 degrees.
Heat the oil in a large, oven-proof skillet over high heat.
In a shallow dish, add the balsamic vinegar to the asparagus and toss to coat. Set aside.
Season both sides of the steak with the salt and pepper.
Sear the steak in the hot oil until for one minute on each side.
Add the asparagus, including the left-over balsamic vinegar from the shallow dish, to the hot pan and then place into the oven.
Roast in the oven until the meat is cooked through, about 10 minutes. Carefully remove the steak from the pan and allow to rest on a cutting board.
Add the tomatoes to the hot pan; toss with the asparagus, and roast for 5-8 minutes, until the tomatoes start to pop and the asparagus is tender.
Carefully remove the pan from the oven.
Slice the rested steak across the grain and serve.
Servings: 6