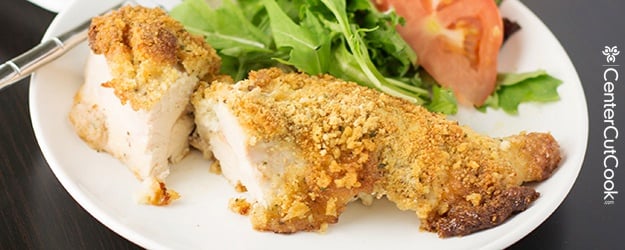 It's been almost exactly two years since I made the crazy difficult decision to resign from my teaching job, right before the school year started. You guys, I was SO nervous because I adored working with the kiddos, and I worked alongside some pretty amazing people. Ryan reassured me that it was the right decision to make, so I closed my eyes and took the plunge! Guess what? It wasn't as scary as I thought. He was right, resigning from teaching has turned out to be one of the best decisions I've ever made, right alongside my decision to incorporate Biscoff into my life. ;)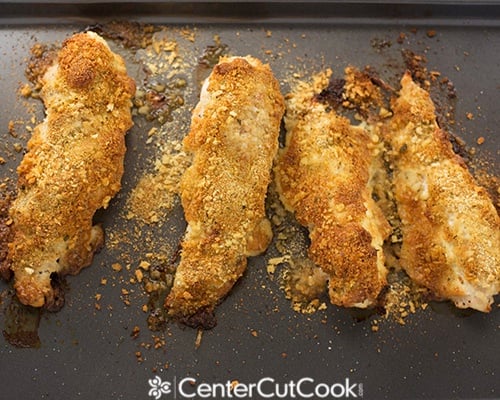 There are some days that I really do miss teaching, and *most* of the kids, especially this time of year when everyone is headed back to school. I think one of my favorite parts about the start of the school year was getting organized. Not just my classroom, although that was always fun, but numerous other areas of my life. I always started the school year with a clean house, organized closets, and meal plans ready to go. Kidding. Let's be real here. What I just said about all that organization? That was always the goal but it rarely happened exactly as I planned. You know what it's like, right?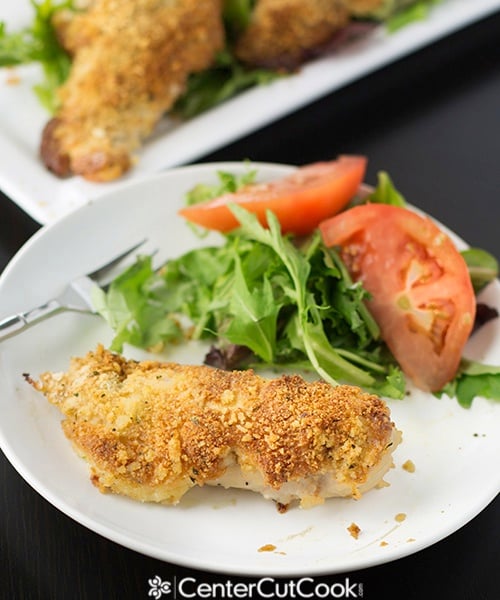 Most the time, I was still flying by the seat of my pants when it came to dinner. We've always tried to eat out as little as possible, so when I was teaching and regularly had long days at school, I'd have a set of "go-to" meals that could be made quickly with minimum effort and planning. This Parmesan Crusted Chicken is one of those meals that I have adored because I am always looking for easy recipes for chicken. My freezer is usually pretty well stocked with boneless skinless chicken breasts because they are so versatile.
I've had a few emails lately from some of you asking for simple, easy dinner recipes that are kid-friendly too! Take note everyone, this is one of them!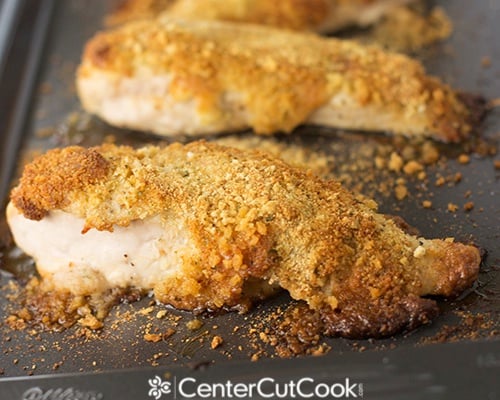 If you take a look at the ingredients list, you'll quickly spot mayo. It does sound a little bit odd, to top the chicken with mayo, doesn't it? The first time I ever made a chicken recipe with mayo I thought the same thing. But, it works wonders! The mayo keeps the chicken juicy, and sometimes, juicy chicken is a difficult thing to accomplish when you're baking it.
With around 10 minutes of prep time, and 20 minutes in the oven, this Parmesan Crusted Chicken will be ready in 30 minutes! It is just perfect for those extra hectic evenings, right at the beginning of the school year when you're trying to get your routine established, or for any night where you need to get dinner put together in a snap. Enjoy!
*Tips: Some of you have asked the best way to determine if chicken is fully cooked. I highly recommend this instant read digital thermometer. Chicken is fully cooked at 165 degrees.
Also, I like to use finely grated parmesan cheese for this recipe. The best way to do that is with a microplane grater.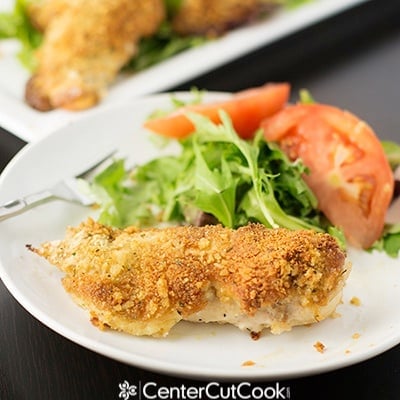 INGREDIENTS
4 medium sized boneless skinless chicken breast halves (about 4-5 ounces each)
1/2 cup mayo
1/2 cup finely grated parmesan cheese (I use a Microplane grater)
1/4 cup Italian seasoned bread crumbs
3 tablespoons panko bread crumbs
DIRECTIONS
Pre-heat your oven to 425 degrees.
In a small bowl combine mayo, and parmesan cheese.
In another small bowl toss together Italian seasoned bread crumbs with panko bread crumbs.
Arrange each piece of chicken on a rimmed baking sheet. Divide the mayo mixture evenly among the chicken, just spreading it across the top of each piece.
Sprinkle bread crumbs on each piece of chicken.
Bake for 20 minutes, or until each piece of chicken is cooked to 165 degrees.
Recipe from
CenterCutCook