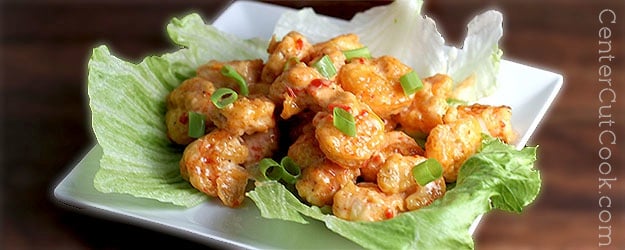 And she bangs, she bangs….
Oh baby
When she moves, she moves…..
The entire time I was taking photos of this yummy thing called Bang Bang Shrimp, I consistently had the lyrics of She Bangs by Ricky Martin running through my head. It'd be one thing if I actually had his version on repeat, however, it was actually William Hung (American Idol, remember?) I endlessly heard singing which is not exactly a moment I want to relive.
What I would like to relive, however, is devouring this recipe for Bang Bang Shrimp. My inspiration for recipes comes from just about anywhere, and for this recipe, I got the idea after my aunt mentioned Bonefish Grill and how their Bang Bang Shrimp is SOOOOOO good. I've never been to Bonefish Grill, but I decided to Google it to see what it was all about. I love shrimp, and I love spicy, and that's what Bang Bang Shrimp is all about, so I knew I'd have to give it a try.
Oh my, there is a little piece of heaven on Earth and it's called Bang Bang Shrimp! I found a copycat recipe that I decided to tweak with and the result was fabulous, and delicious, and a-d-d-i-c-t-i-n-g. Addicting!!! I said addicting twice simply for the emphasis. We devoured the whole batch for dinner last night in probably under 10 minutes flat. No joke (thankfully I took pictures first, otherwise I probably wouldn't be sharing this recipe with you right now).
Bang Bang Shrimp is all about the spice! Tender, crispy shrimp get tossed in a light creamy, but spicy sauce. You can adjust the heat a bit with the amount of Sriracha Hot Sauce you add. We like things spicy so I probably put in a good 8 drops of the stuff. The result was simply amazing. As I type this, I am now, once again, craving Bang Bang Shrimp… and unfortunately, singing She Bangs She Bangs….. win some, lose some!
Disclosure: I have not actually tried Bonefish Grill's Bang Bang Shrimp so I do not know how closely this resembles their version. However, this one is so utterly tasty that I have no plans of finding the nearest Bonefish Grill to try their version.
Notes: This recipe calls for Thai Sweet Chili sauce and Sriracha Hot Sauce. It's important to note that Thai Sweet Chili sauce is NOT the same thing as Heinz's Chili Sauce. Please, do not use it! I bought Mae Ploy's Sweet Chili Sauce in the Asian section of my grocery store, along with the Sriracha Hot Sauce. These two items are easily found in your average grocery store. Lastly, the sauce calls for mayo. In all my tests with mayo lately, the brand DOES make a difference when you're looking for a creamy consistency. I found Hellman's mayo worked far better in recipes than the giant tub of Costco mayo I had on hand.
Lastly, Bonefish Grill deep fat fries their shrimp. I really hate fussing with a big pot of oil (which is why I love these Baked Onion Rings) and avoid deep fat frying as often as I can. For this recipe I decided to try simply pan frying the shrimp in a few tablespoons of oil. The result was just perfect- crispy, tender, delicious.
Edit 2/22/13: I just wanted to update this to say that I finally made it to Bonefish Grill for the first time to actually try their version of Bang Bang Shrimp. It was delicious! This recipe is not exactly like theirs, but very similar. I noticed my version is a bit more "saucy" so if you're looking for something that is closer to their version, I'd reduce the sauce by half. We like things saucy, however, so I'll keep it as is. :)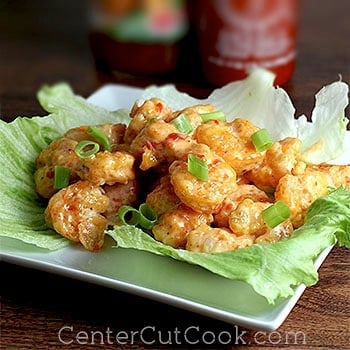 INGREDIENTS
1 pound raw shrimp, peeled and deveined, tails removed (I used 31-40 count shrimp) This video will help you learn how to devein shrimp if you haven't done it before. The bag of shrimp I bought at Costco was already peeled, but I still had to devein them and remove the tails.
1/2 cup mayo, I recommend Hellman's
1/4 cup Thai Sweet Chili Sauce
4-8 drops Sriracha Hot Sauce
1 teaspoon peanut butter
1/8 teaspoon garlic powder
1/4 teaspoon salt
1/8 teaspoon black pepper
1 cup corn starch
2 eggs
6 tablespoons canola or vegetable oil
1/2 of a green onion, diced and lettuce for garnish, if desired
DIRECTIONS
In a large bowl, toss the shrimp with salt, black pepper, and garlic powder.
Place corn starch in a shallow dish like a cake pan.
In another cake pan, lightly whisk two eggs together to create an egg wash.
Dip each piece of shrimp in corn starch to coat, then dip in the egg wash to coat.
When all the shrimp have been coated in corn starch and dipped in egg, heat 6-8 tablespoons of oil in a large skillet on high heat. When the oil is nice and hot, CAREFULLY add the shrimp to the pan. You may need to cook the shrimp in two batches so that you don't overcrowd the pan.
The shrimp cook fast! When the bottoms of the shrimp are crispy, flip the shrimp so that the other side can cook. This should only take about 30 seconds-1 minute per side if the oil is nice and hot.
Remove the cooked shrimp to a paper towel lined plate.
In a small bowl, whisk together the Thai Sweet Chili Sauce, Sriracha Sauce, Mayo, and Peanut Butter. When the mixture is smooth, carefully toss the shrimp in it. You may not need all of the sauce, it just depends on how "saucy" you want the shrimp.
To present it, place one large leaf of iceberg lettuce on a plate. Place the shrimp on top, then sprinkle chopped green onion on top. Enjoy!
Recipe adapted from
CDKitchen