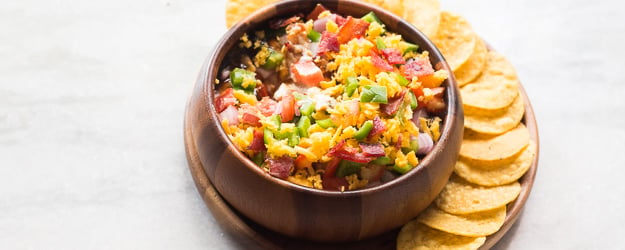 Summer's coming and I know we all need to start arming ourselves with recipes, which is why I'm sharing my Barbecue Bacon Ranch Dip here today! This dip is the most delicious, creamy dip that you will be passing around. It's quite loaded to be honest but that's why it's so amazing, and usually disappears in minutes. How can it not be when it's layered with cream cheese, sour cream, ranch mix, barbecue sauce, onions, tomatoes, peppers, shredded cheese and BACON!
They are all the right ingredients for a super dip recipe. My mouths already watering when I'm thinking about our next barbecue party and all the wings, chips, nachos, potato salad and dips that we are going to be eating!
I recommend making this in a deep dish or even a pie dish so that it's easier for people to scoop up. I like to do two layers so that you get a little more of everything because this dip will make you reach out for more! And the best part, this dip requires that its made ahead so that you don't have to put it together at the last minute!
INGREDIENTS
10 Bacon strips, cooked and crumbled
8 oz. Sour Cream
8 oz. Cream Cheese
1 (1 oz.) packet dry Ranch Mix
1/2 cup Barbecue Sauce
1 large Onion, chopped
1 large Tomato, deseeded and chopped
1 Bell Pepper, chopped
1 cup Shredded Cheese
DIRECTIONS
Mix together 3/4th of the bacon, sour cream, cream cheese and dry ranch mix in a large bowl.
In your serving dish, add half the cream cheese mixture and spread it in an even layer. Top with half the barbecue sauce and spread it evenly.
Add another layer of the remaining cream cheese mixture and top with the rest of the barbecue sauce.
Sprinkle onions, tomatoes, bell peppers, remaining bacon and shredded cheese on top. Serve with your favorite chips. Refrigerate for at least 2-3 hours before serving.