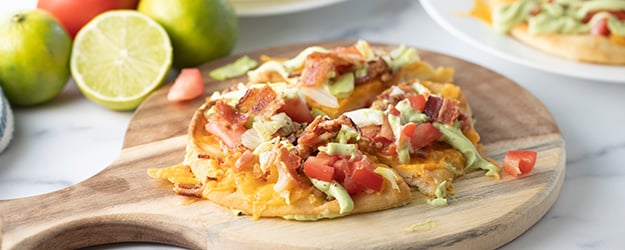 You are lookin' at the delicious outcome of combining a classic BLT sandwich with a flatbread pizza situation. Drizzled with homemade avocado spread? Yum. If it sounds a bit fancy, don't worry, it's really not. It's easy and basic and truly everything you could want for a quick weeknight dinner idea. And what's not to love about that classic trio of ingredients — BLT. Bacon, Lettuce and Tomato pair together so perfectly. This flatbread is what happens when the BLT sandwich meets the Flatbread Pizza. I think you'll be pleased with the result.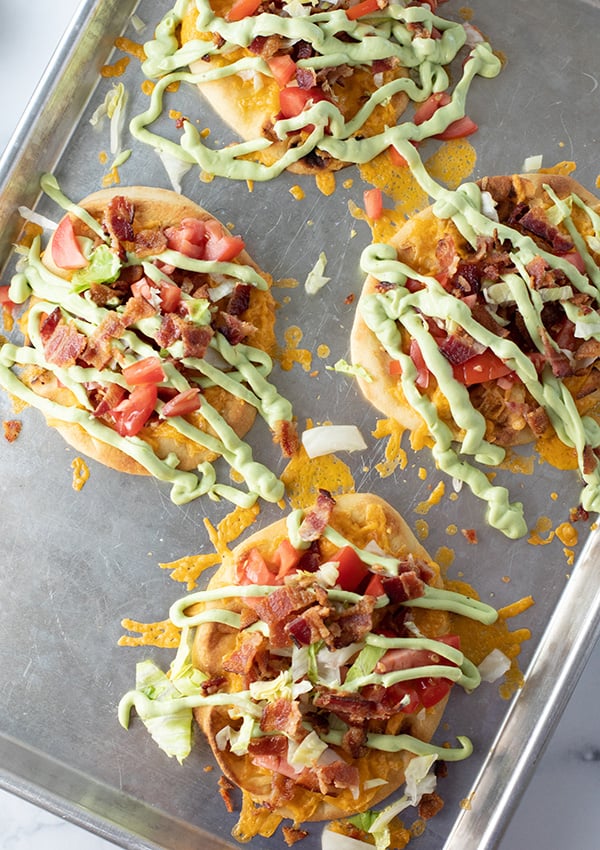 BLT Flatbread Ingredients
There's not much that you need to make this awesomeness happen.
Avocado spread – more on that in a minute…
Bacon or turkey bacon — about 8 slices for 4 flatbread pizzas
Tomato – whatever tomato you have on hand – Roma, cherry, grape, beefsteak
Lettuce – I use iceberg on my BLT sandwiches and shredded some up for this recipe. You could also use romaine, spinach, or even arugula
Cheese – cheddar or mozzarella, your choice
Flatbread – I like to buy mini Naan from Costco, but you can use whatever flatbread or pita that you enjoy. If you can't find flatbread or pita in the bread aisle of your grocery store, try the bakery or deli
The Avocado Spread/Drizzle is a Must-Make
If you like avocado, you absolutely need to try this Avocado spread on these yummy BLT Flatbread Pizzas. Once you try it, you'll be wondering why it hasn't been a BLTA all along!
To make the Avocado sauce/drizzle/spread or whatever you'd like to call it, you'll need:
Avocado – 1 large ripe avocado, pitted and skin removed
Lime juice – 1 tablespoon
Sour cream – 1/4 cup
Milk – 2 tablespoons
Salt + Pepper – just a pinch of each
Combine the Avocado drizzle ingredients with a food processor or a hand mixer until combined and smooth. I like to spoon the drizzle into a ziplock bag, then zip the top off and drizzle the flatbreads with it after they are assembled. It is SO good!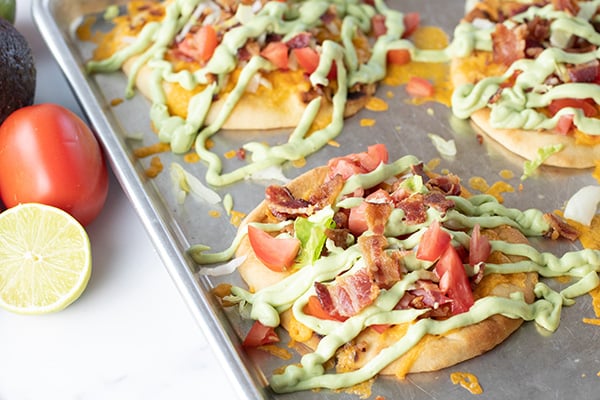 Make it a Chicken BLT Flatbread!
When I saw Chicken BLT Flatbread, what comes to mind? If you say Subway's Chicken BLT Flatbread, we think alike! If you'd like to add chicken to this BLT Flatbread Pizza, go for it! Leftover rotisserie chicken would be a great option! It ads a little more protein making it quite the combo of ingredients.
BLT Flatbread Pizza Tips and Tricks
Bake your bacon: We recommend baking your bacon in the oven for a quick and easy option. Bacon baked in the oven is crispy and delicious every time. Here is our guide on how to bake bacon.
Choosing an avocado: You want an avocado that has a bit of give to it but is not mushy.
Cheese: Whether you choose cheddar, mozzarella, or a different variety, I recommend shredding your own cheese. It tastes better and melts better.
More BLT Recipes
If you've gotten this far, I imagine you're like me and love the classic trio of BLT. It's hard to go wrong with Bacon, Lettuce and Tomato! If you love BLT sandwiches you need to try out BLT Pasta Salad or these BLT Wraps.
We hope you enjoy this recipe for BLT Flatbread Pizzas with Avocado Drizzle. It's a simple, easy weeknight meal. Serve with a side of fruit and you're go to go.
Enjoy!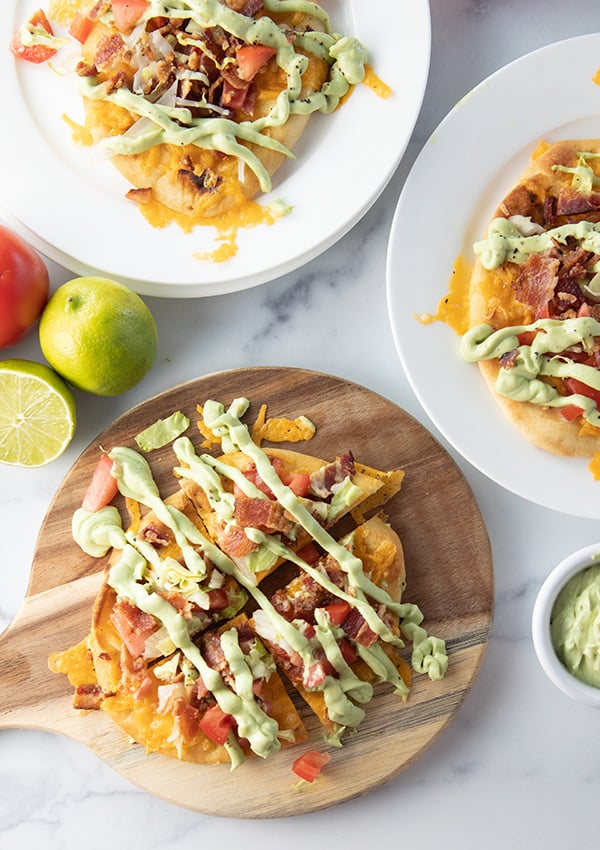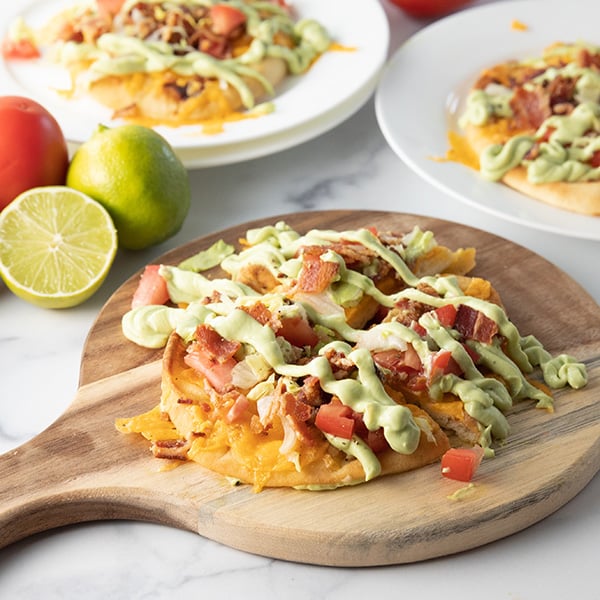 AVOCADO DRIZZLE INGREDIENTS
1 large ripe avocado, pitted
1 tablespoon lime juice (I needed 2 small limes)
1/4 cup sour cream
2 tablespoons milk
pinch of salt and pepper
FLATBREAD INGREDIENTS
8 slices of bacon or turkey bacon, cooked and crumbled (2 per flatbread
4 flatbreads (found in the bread aisle at your grocery store)
1 tomato- diced
Shredded lettuce
Mozzarella or Cheddar Cheese, shredded
Dash of ground oregano
DIRECTIONS
Pre-heat your oven to 425 degrees F.
On a large cookie sheet, arrange flatbreads so that they are not overlapping. Sprinkle mozzarella or cheddar cheese on top, and bake for about 5-10 minutes, or until flatbreads are heated through and cheese is melted.
While the flatbreads are warming up, make the Avocado drizzle by scooping the flesh of one avocado in your blender or food processor. Alternatively, you could use a hand mixer. Add in lime juice, sour cream, milk, salt and black pepper. Mix until all ingredients are incorporated and you have a smooth creamy consistency.
When the flatbreads are heated and the cheese has melted, top each with lettuce, tomato, crumbled bacon and a dash of dried oregano.
Top each BLT flatbread pizza with Avocado drizzle.
Serve immediately, and enjoy!
Serves 4