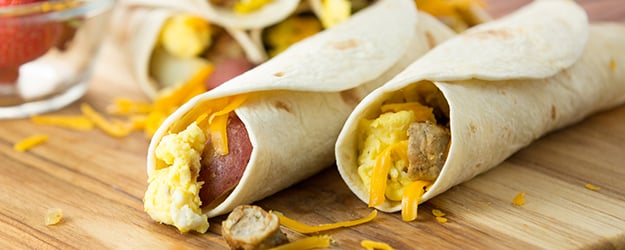 These Simple Breakfast Burritos with basic ingredients are great for enjoying right away or freezing for later. Because they include very basic ingredients including eggs, sausage (sub bacon or ham if you wish), potatoes, and cheese, they come together quickly. All you'll need is a package of fajita sized tortillas (the burrito sized tortillas seem way to BIG for a breakfast burrito, but feel free to use them if you'd like), some shredded cheddar cheese, 12 eggs that you've scrambled, and about a pound of breakfast sausage that you've cooked and crumbled or cut into bite sized pieces.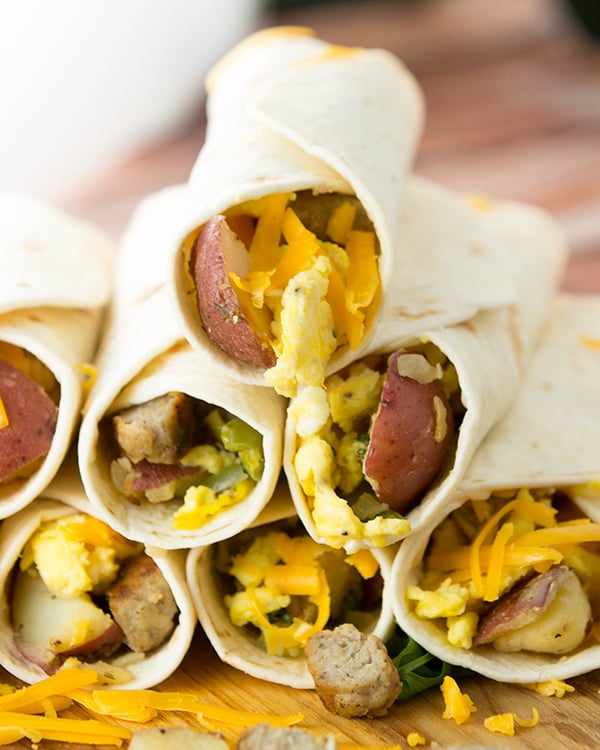 I like to create a big assembly line by arranging all of the tortillas on a clean work surface. Then it is super easy to just go one by one and add of the ingredients. If you'll be eating them right away, heat the tortillas first. If you plan to just freeze the whole batch or make them ahead, you won't need to do that.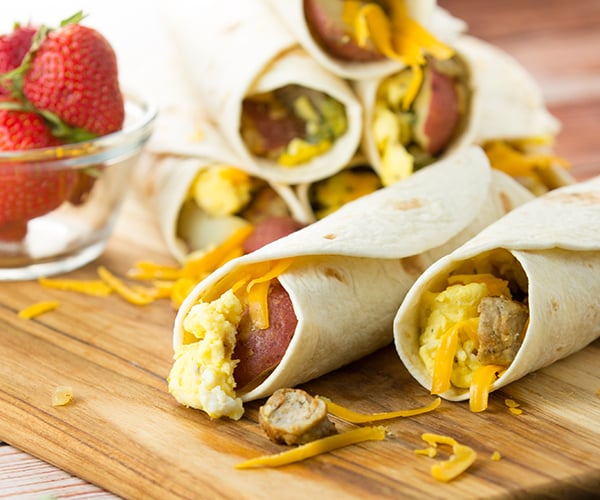 Speaking of freezing, these breakfast burritos freeze beautifully! Just wrap each breakfast burrito individually with tinfoil and place in the freezer. To reheat you'll just need to heat it in the microwave for one to two minutes. This makes it super easy to enjoy a warm breakfast on hectic weekday mornings.
Feel free to swap out the sausage in place of bacon or ham. You could even add in some veggies if you'd like – spinach or tomatoes. And of course, use whatever cheese is your favorite. I always have sharp cheddar on hand which is what I used.
Enjoy!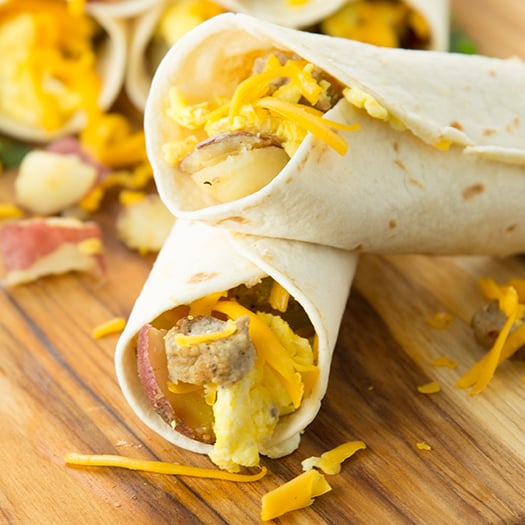 INGREDIENTS
16 fajita sized tortillas
8 ounces cheddar cheese, shredded
1 batch Perfect Breakfast Potatoes
1 pound breakfast sausage, cooked and crumbled or cut into bite-sized pieces
12 eggs, scrambled
DIRECTIONS
Create an assembly line with all of the ingredients: tortillas (heat tortillas first if you plan to eat them immediately), a bowl of shredded cheese, 1 batch of my perfect breakfast potatoes, 1 pound breakfast sausage, and 12 eggs that you have already scrambled.
Divide all of the ingredients evenly among approximately 16 fajita sized tortillas and roll them up.
Eat immediately or freeze.
To freeze: Wrap each burrito in tinfoil and freeze. To reheat, unwrap the burrito and discard the tinfoil. Wrap the burrito in a paper towel and microwave for 1 and 1/2 – 2 minutes, or until the burritos are heated through.
*Tips: Sub bacon or ham for sausage if you wish and use any cheese that you'd like.
Recipe adapted from
CenterCutCook