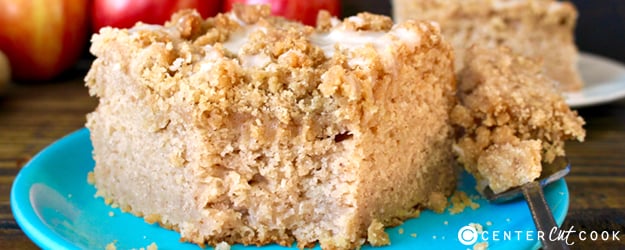 Coffee cakes are one of my favorite things to bake. I consider them easy even though they dirty a couple bowls- it is totally worth it! They don't require a frosting, they are acceptable to be served at breakfast, and they have a crumb topping! Really, that's the best part of the cake!!
Baking with apples can be tricky! They can fall to the bottom and not be evenly distributed and they can give off a lot of moisture leaving the cake kind of soggy. So instead of chopped apples, I use grated. I peeled and cored 2 apples and grated them on the large side of a box grater- a lot like zucchini. Then mixed them in at the end. The result is a cake that is full of apple flavor, with even distribution that is perfectly moist. I will definitely be making more recipes using grated apples!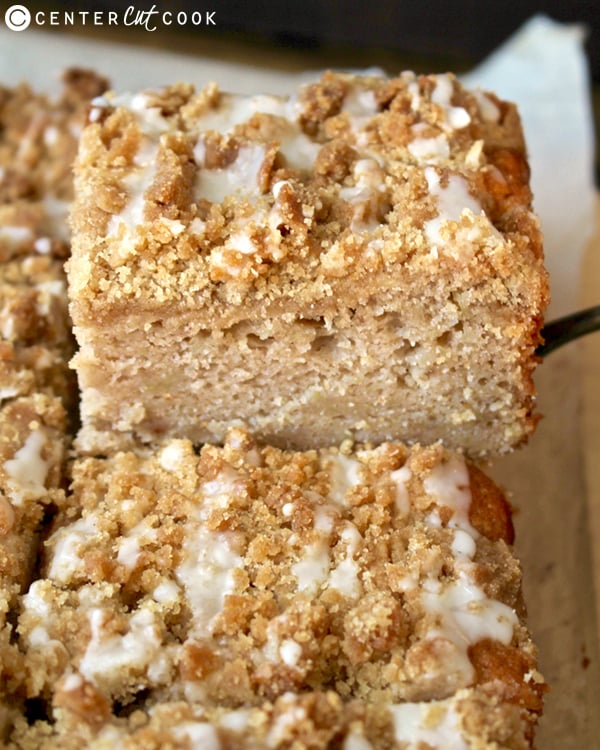 I use apple pie spice in this cake which I found in the bulk section at a local grocery store. It's a combination of cinnamon, nutmeg, ginger, cloves, and lemon peel and I just love it! If you don't have it, don't want to make it, and don't want to buy it- feel free to just use all cinnamon. It will still work great! Apples and cinnamon are made for each other! The crumb topping is simple and so delicious! Once the cake is cooled I top it with a simple glaze of powdered sugar and apple cider which brings it all together and truly makes this cake amazing!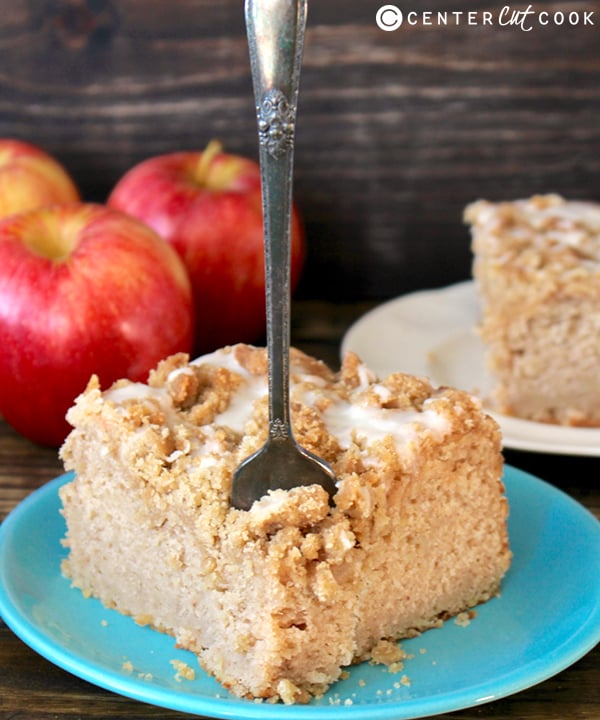 Another thing I love about coffee cakes is that they taste better 1-2 days after baking so they are the perfect make-ahead treat. The flavors blend together more and it makes it so irresistible! I should also mention that there is no coffee in the cake- it's cake that is meant to served with coffee. Maybe you knew that- maybe not.
You will love this fall time cake that is great served for breakfast or dessert. It is the perfect use for all the apples that are in season and everyone will love it!!
INGREDIENTS
1 cup butter, room temperature
2 cup granulated sugar
3 eggs
3 cups flour
3 teaspoons baking powder
1/2 teaspoon salt
1 tablespoon apple pie spice (or cinnamon)
1 teaspoon vanilla
2 cups buttermilk
2 cups peeled and shredded apples (2-3 small-medium apples)
Crumb Topping
1/2 cup butter
1 cup brown sugar
1 1/2 cups flour
1/2 teaspoon salt
1/2 teaspoon cinnamon
DIRECTIONS
Preheat the oven to 350° and line a 13×9 with parchment paper. Spray with non-tick spray and set aside.
Make the crumb first: In a medium bowl, combine butter, brown sugar, flour, salt, and cinnamon. Mix until all ingredients are every combined- the mixture should resemble coarse sand. Set aside.
Make the cake: In a large bowl, cream the butter and sugar together. Add eggs, one at a time until all are incorporated. Stir in vanilla.
In a small bowl, combine flour, baking powder, salt, and apple pie spice. Add the dry mixture to the wet mixture in halves, alternating with the buttermilk until all ingredients are mixed. Fold in shredded apples and pour into pan. Top evenly with crumb mixture and bake 55-60 minutes or until a toothpick inserted in the center comes out clean.
Once fully cool, mix powdered sugar and apple cider together and stir until smooth. Drizzle over the cake and serve.
Servings: 20