It's probably better to call this brunch rather than breakfast – as there's no way anyone could manage lunch after eating this giant grilled cheese in the morning!
Packed with bacon, sausage, egg and cheese – to name a few – this sandwich is going to satisfy the heartiest appetite.
I made this one at the weekend, and the jaws of both my kids dropped when they saw it. It took all three of us to finish the whole thing though!
My version contains most of what you'd expect with a fried breakfast. I've also done versions with hash brown (store-bought, or simply fry up shredded potato with salt, pepper and vegetable oil), fried onions, and occasionally with spicy guacamole for a Mexican twist.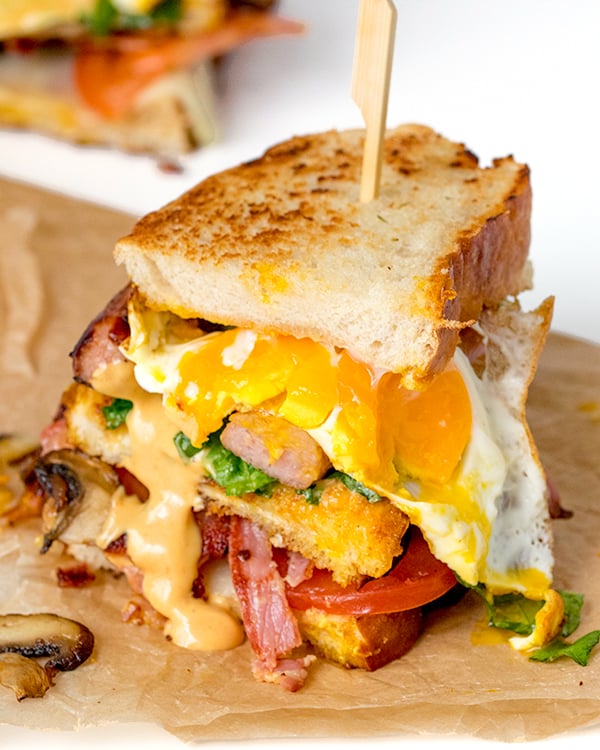 I love the drippy fried egg in the middle, but you could also scramble the egg it if you prefer. Did you notice I got a two-yolked egg on this one? Almost as good as finding money in your back pocket!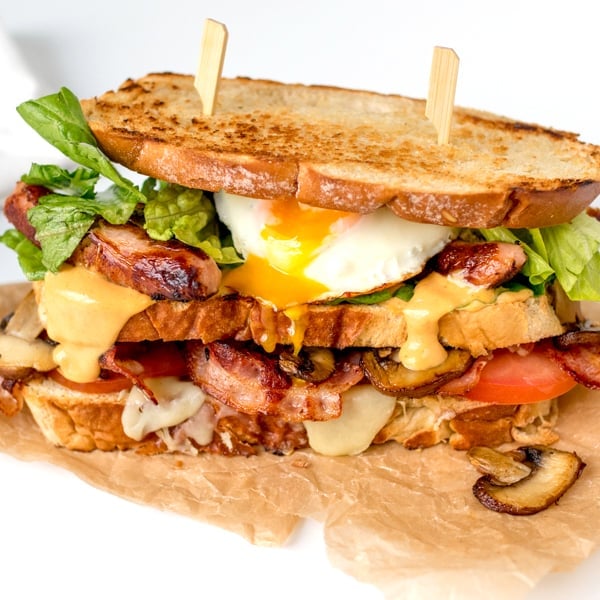 INGREDIENTS
3 Tablespoons vegetable oil (or other flavorless oil)
3 slices bread
2 sausages, sliced in half, lengthways
5 slices bacon
1/4 cup shredded gruyere cheese
2 mushrooms, sliced
1 egg
1/2 large tomato, sliced
3 pieces lettuce, torn
SMOKY SPECIAL SAUCE INGREDIENTS
DIRECTIONS
Preheat the oven to 375f.
Make the sauce by mixing all of the sauce ingredients together.
Heat a griddle plate on a high heat. Brush both side of the bread with half of the oil. Place on the griddle and cook both sides until golden brown (about 2-3 minutes). Remove from the griddle.
Place the sausages and bacon on the griddle and cook each side until well browned (about 4-5 minutes). Remove from the griddle.
Place one of the pieces of toasted bread on a small tray and sprinkle on the cheese. Place in the oven for 2 minutes to melt the cheese (you can add the other two pieces of toast for the last minute to warm through again if you like).
Meanwhile, pour the rest of the oil on the griddle and add the egg and the mushrooms. Fry for 2-3 minutes until cooked. You can turn the egg over, or alternatively you can place a small saucepan lid on the egg to help it cook on top. Turn off the heat when cooked.
Take the toast with the cheese out of the oven and place on a plate. Top with the sliced tomato, bacon and mushrooms, then place a piece of toasted bread on top.
Spread on two tablespoons of the sauce, then add the lettuce, sausages and finally the fried egg. Top with the final slice of toasted bread before serving with the rest of the sauce.
Servings: 1