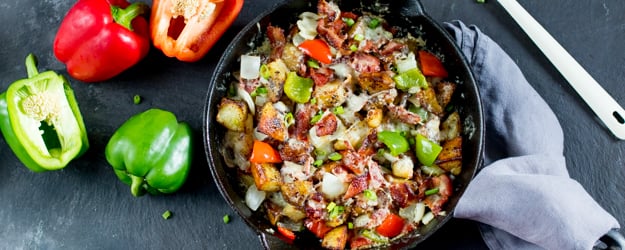 Breakfast potatoes with eggs are an essential weekend breakfast in my house. What's fantastic about this recipe for Breakfast Potatoes is that they are cooked entirely in one pan – so less dishes to wash (always a bonus).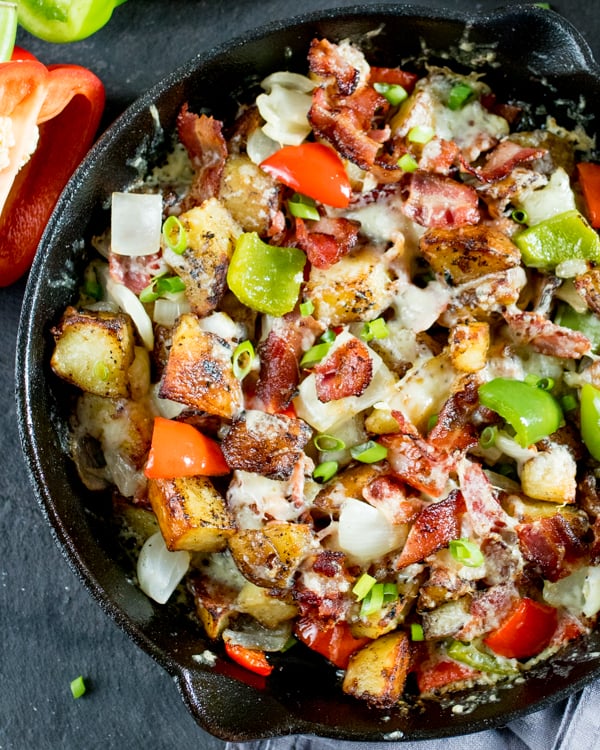 Serve up these breakfast potatoes right from the pan and let everyone dig in! I like to use a cast iron skillet, but if you don't have one, go ahead and use any skillet you have that's also oven-safe because you will be transferring these potatoes to the oven to finish cooking.
If you're making breakfast for a crowd, these potatoes are such a good option. Serve with sausage and eggs and everyone will finish with happy faces and full bellies!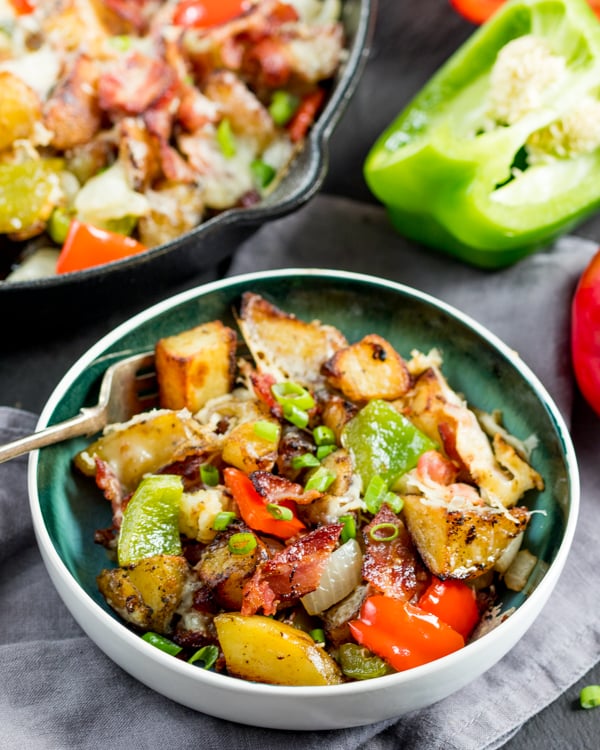 My little guy really loves this breakfast with lots of ketchup.
For the adults, try a drizzle of sweet chili sauce, hot sauce or even the addition of some chopped jalapenos – just throw them into the pan with the cheese and bacon for the last couple of minutes cooking.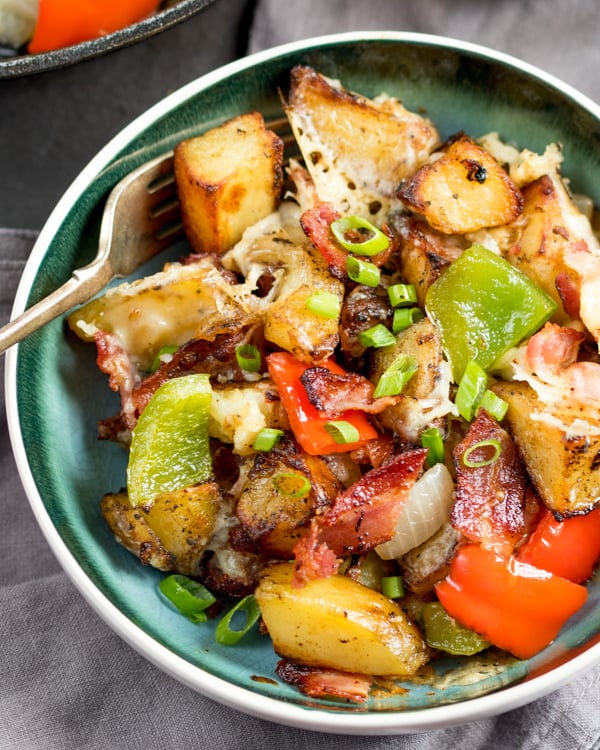 Whether you're making breakfast for breakfast or breakfast for dinner (our fave!), you need this recipe in your life. Enjoy!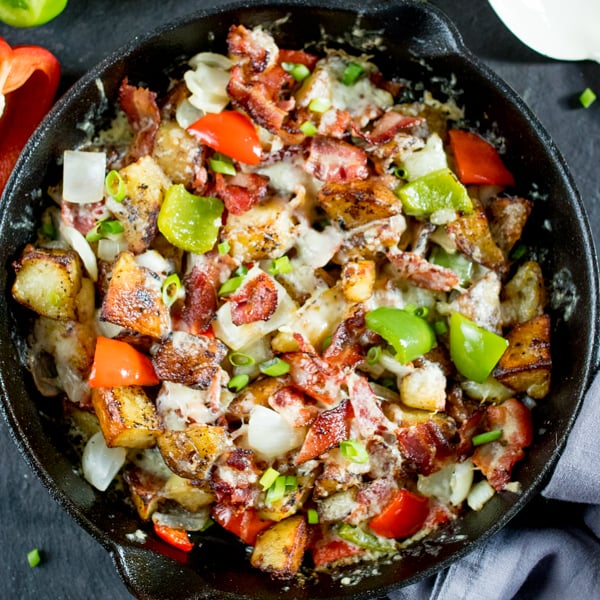 INGREDIENTS
4 tbsp vegetable oil
6 slices bacon
3 medium red-skinned potatoes, peeled and chopped into bite-size chunks.
1/4 tsp salt
1/4 tsp pepper
1 medium white onion, peeled and chopped
1/2 red bell pepper, deseeded and chopped
1/2 green bell pepper, deseeded and chopped
1 cup shredded mature cheddar
3 tbsp chopped scallions
DIRECTIONS
Preheat the oven to 400F.
Heat half of the oil until very hot in a large cast iron skillet (or other ovenproof skillet). Add the bacon and cook for 5-6 minutes, turning once, until crisp. Remove from the pan and set aside to cool slightly, then chop into small pieces.
Add the rest of the oil to the pan. Heat until very hot again, and add the potato chunks. Sprinkle with the salt and pepper and mix together so that the potatoes are covered in the oil. Try to loosen any bits left in the bottom of the pan after cooking the bacon.
Place in the oven and cook for 15 – 20 minutes, then turn the potatoes over and cook for a further 5 minutes.
Add the onions and peppers to the pan. Toss to combine everything and place back in the oven for 5-10 minutes until the onion and potatoes are tender.
Sprinkle on the bacon and cheddar and place back in the oven for 2 more minutes to melt the cheese.
Remove from the oven and sprinkle with the chopped scallions before serving.
Servings: 2-4