These Blueberry Muffins with crumb topping are soft, full of juicy blueberries, and have the most delicious crumb topping. Easy to make and just as good as the bakery, you are going to love these homemade blueberry crumb muffins!
A good blueberry muffin recipe is something everyone should have on hand. A warm muffin goes perfect with a cup of coffee for breakfast and they make a great mid-afternoon snack. These are always a favorite because they also include a crumb topping that make them even more irresistible. Bakery style Blueberry Muffins with Crumb Topping are best fresh from the oven while they are still warm.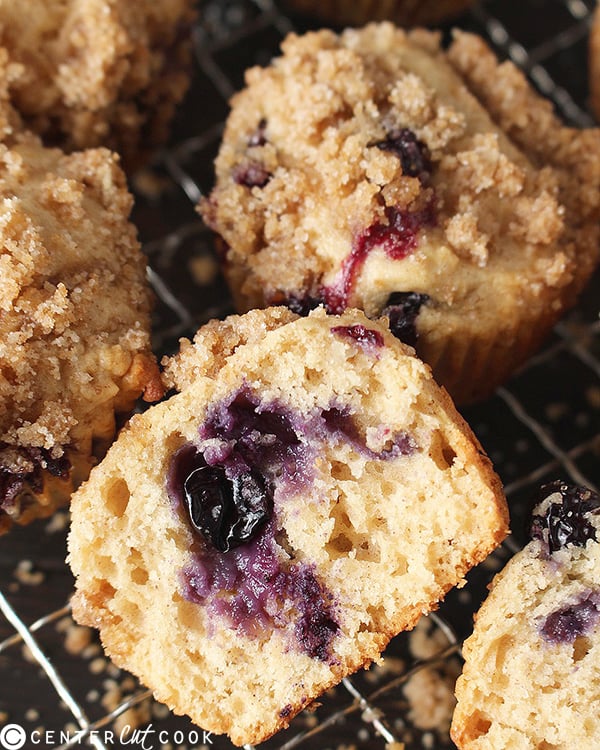 Crumb Topping
The star of these blueberry muffins is undeniably the crumb topping! A crumb topping always includes a few essential ingredients including:
When making a crumb topping, you can either use yours fingers to combine the ingredients, or two forks also work well to incorporate the butter with the flour, sugar and cinnamon.
How to make Blueberry Muffins with Crumb Topping
Here is a brief overview of how these blueberry muffins with crumb topping come together. For the full recipe, including ingredients and measurements, scroll to the bottom for the printable recipe card.
Begin by prepping your muffin trays and preheating the oven. This recipe makes a total of 24 muffins
In a large bowl, combine the dry ingredients together including flour, baking powder, salt and cinnamon.
Cream together the butter with sugar and brown sugar using a mixer.
Add in eggs and vanilla, then buttermilk.
Combine the wet ingredients into the dry, then fold in the blueberries.
Make the crumb topping by combining together flour, sugar, butter and cinnamon in a small bowl.
Scoop the muffin mix into muffin tins, then divide the crumb topping evenly among all of the muffins.
Bake!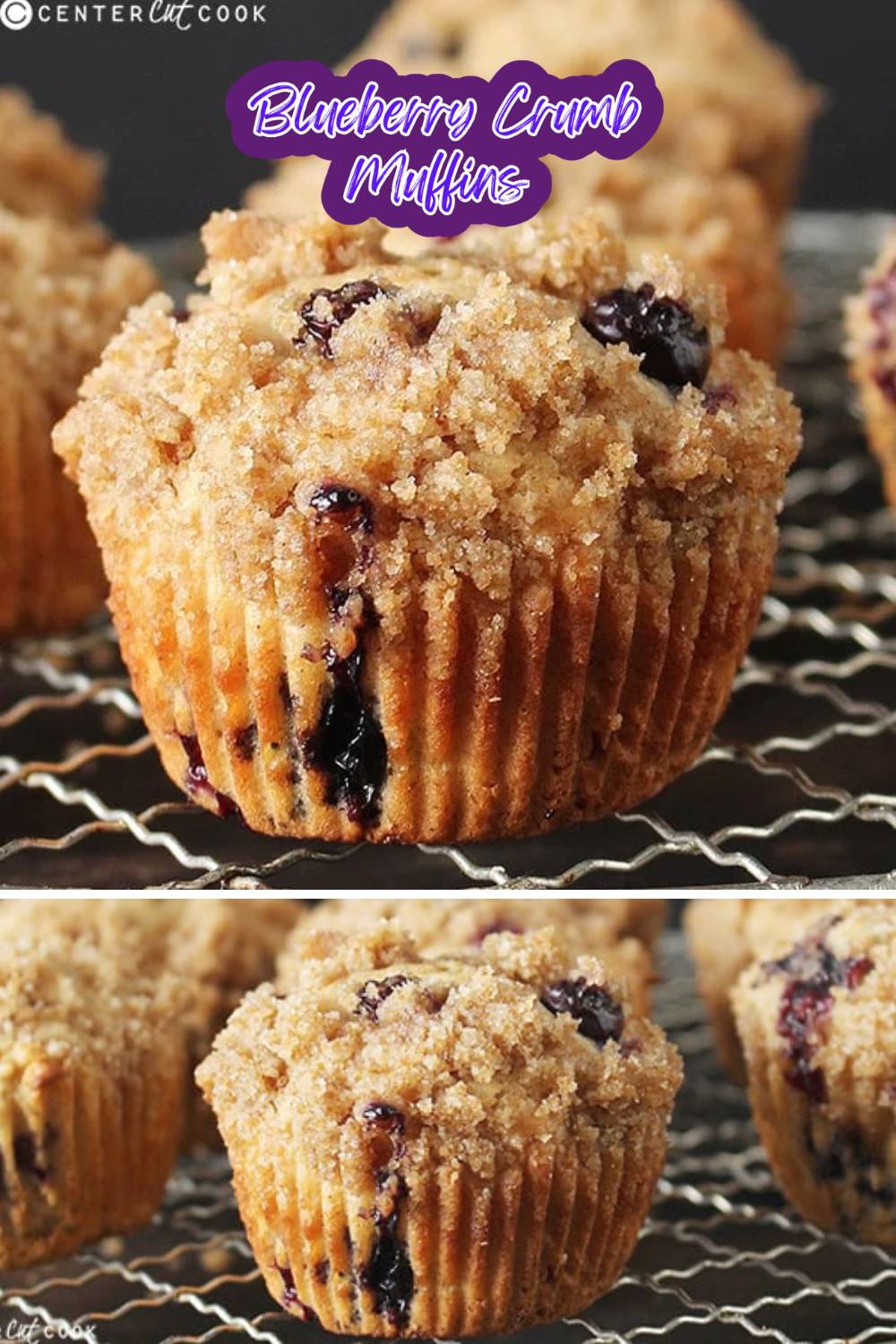 Tips for The Best Blueberry Muffins
Homemade blueberry muffins are truly the best, especially when served warm. Here are a few tips to help you get The Best Blueberry Muffins at home!
Use buttermilk: buttermilk makes these muffins tender and moist!
Don't over-mix!
Use fresh blueberries (but frozen can be used in place of fresh if needed)
Use muffin liners – this helps ensure the muffins hold their shape and release easily from the muffin tin.
Don't forget the crumb topping – Blueberry Muffins with the crumb topping are simply the best!
Scoop the muffin batter into the muffins tins with a large cookie scoop or an ice cream scoop.
Allow them to cool for 5-10 minutes before transferring them to a wire rack or the counter to finish cooling.
Don't over-bake – you will know the muffins are done when you insert a toothpick into the center of the muffins and it comes out clean with just a few crumbs attached.
Bake them at a high temperature first allows them to rise high like you'd expect with a bakery muffin. Then lower the temperature allows the muffin to finish baking through. The process of starting at a higher temp and finishing at a lower temp results in the perfect muffin!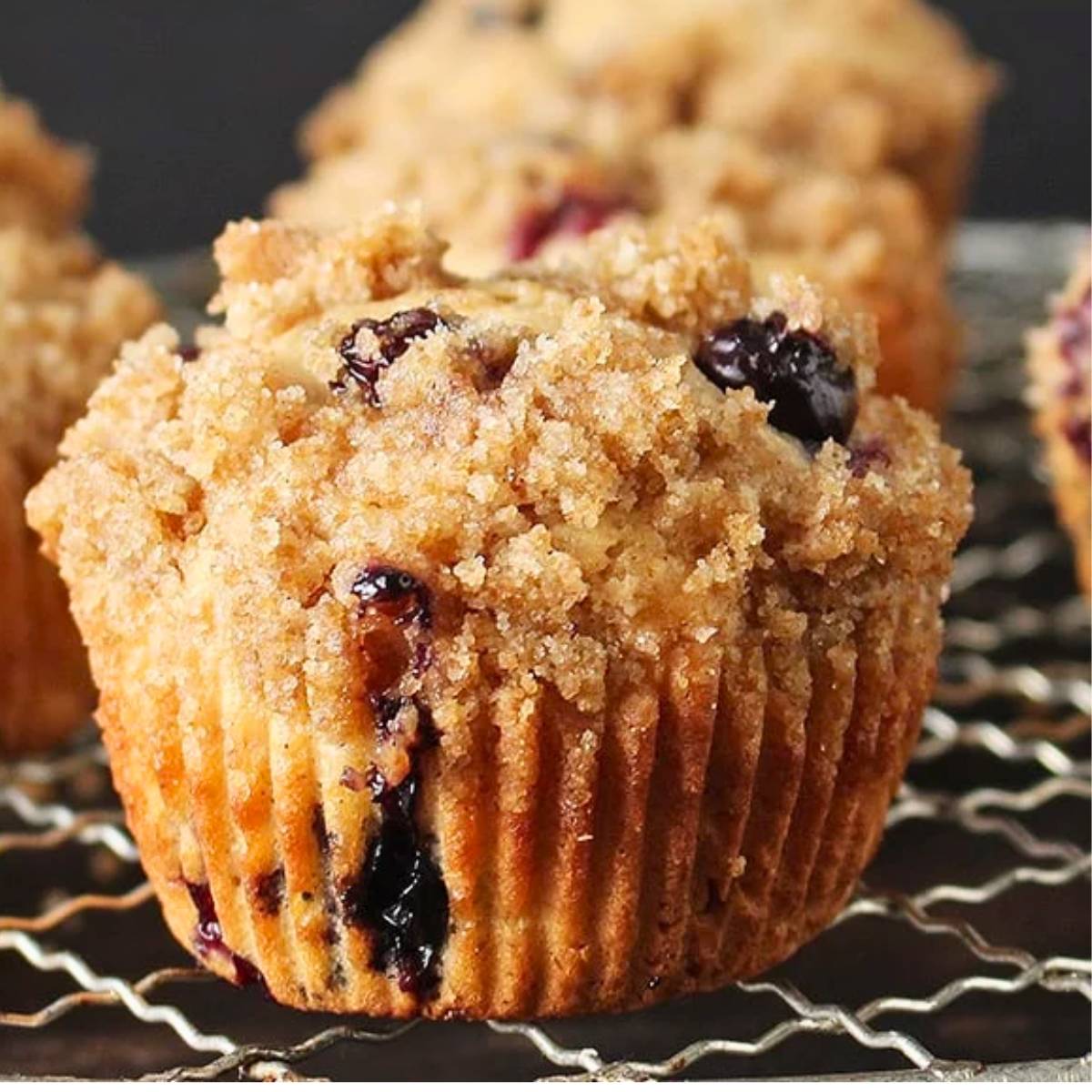 Can I use frozen blueberries?
This recipe calls for fresh blueberries, however frozen blueberries can be used. If using frozen blueberries, do not thaw them ahead of time.
Storing leftover blueberry muffins
After muffins have cooled to room temperature, place the muffins in an air-tight container. Line the container with a paper towel to help absorb any excess moisture. Muffins are best stored at room temperature but if they need to be stored longer than a couple of days, you can store them in the refrigerator for up to a week.
Muffin Making Necessities:
More Muffin Recipes
A warm homemade muffin is such a delicious way to get your day started. Here are some of our favorite muffin recipes:
Pumpkin Banana Muffins – these are perfect during the fall or any time of the year!
Banana Chocolate Chip Crumb Muffins
Apple Cinnamon Streusel Muffins
You will love these blueberry crumb muffins because they are easy to make and taste amazing! The combination of juicy berries, buttery muffins, and sweet crumbly top is the best! Enjoy!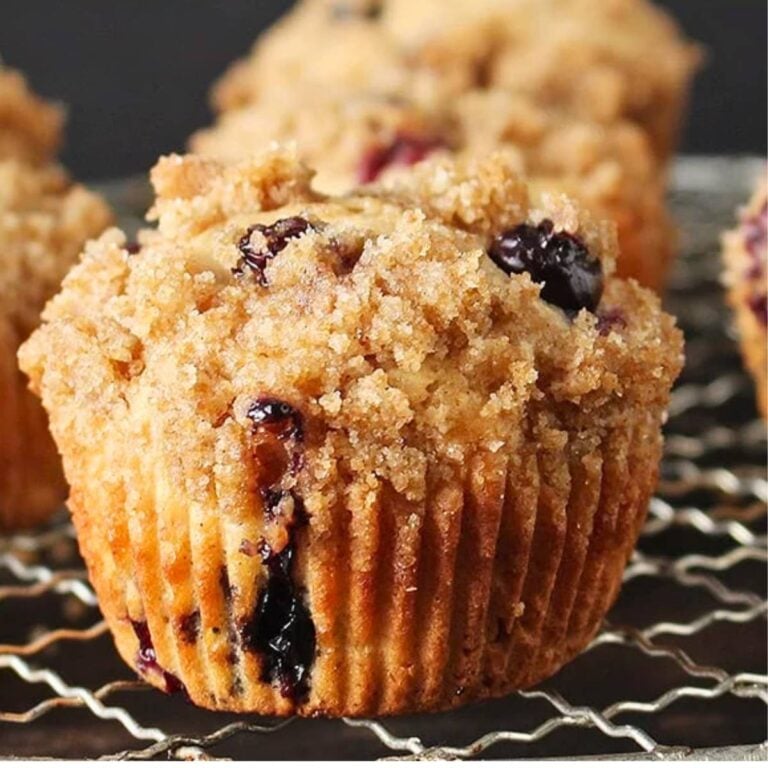 Ingredients
Muffin Ingredients
3

cups

flour

4

tsp

baking powder

1

tsp

salt

1

tsp

cinnamon

½

cup

butter, melted

½

cup

granulated sugar

½

cup

brown sugar

2

eggs, room temperature

2

tsp

vanilla

1

cup

buttermilk

1 ½

cups

blueberries (if using frozen, do not thaw)
Crumb Ingredients
½

cup

granulated sugar

½

cup

brown sugar

½

cup

flour

¼

cup

butter, room temperature

½

tsp

cinnamon
Instructions
Muffin Directions
Preheat the oven to 425° and line 2 muffin trays with liners (24 muffins total)

In a small bowl combine flour, baking powder, salt, and cinnamon. Mix together and set aside.

In a large bowl,  mix the butter, granulated sugar, and brown sugar together.Add the eggs and vanilla and stir to combine.

Stir in the buttermilk gently until fully mixed.

Add the dry ingredients to the wet ingredients and stir until just combined. Don't over-mix it.

Fold in the blueberries and scoop into prepared muffin tins.

Bake for 5 minutes at 425° then reduce the heat to 375° (keeping the muffins in the oven) and bake for 10-12 more minutes or until a toothpick inserted in the center comes out clean.
Crumb Directions
In a small bowl, combine granulated sugar, brown sugar, flour, butter, and cinnamon. Mix together until crumbly. A fork or your hand work best for this. Set aside.