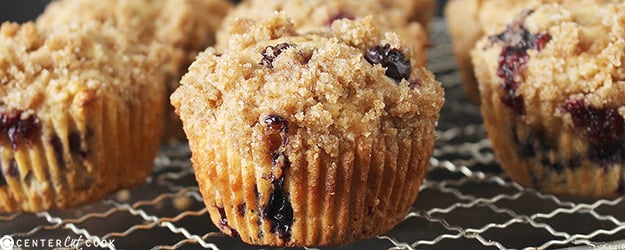 A good blueberry muffin recipe is something everyone should have on hand. They go perfect with a cup of coffee for breakfast and make a great mid-afternoon snack. These are my favorite because they also include a crumb topping that makes them even more irresistible. I like them best fresh from the oven while they are still warm.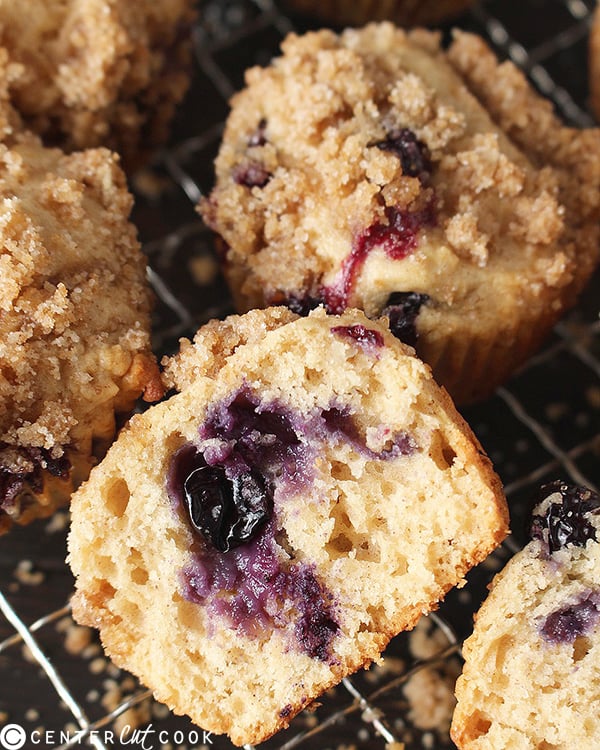 Here are a few reasons that make these the best blueberry muffins:
-the buttermilk that is used makes them tender and moist.
-the melted butter makes them buttery and full of flavor. I prefer it over oil and I think you will too!
-these are so full of blueberries that every bite is guaranteed one. That's the way it should be, but I have definitely had my share of muffins with hardly any berries.
-the crumb topping takes them over the top. Everything is better with crumb topping and these muffins are no exception. It's sweet, buttery, with just a touch of cinnamon- so delicious!
-baking them at a high temperature at first makes them rise high- just like a good bakery muffin. The temperature is then lowered so they can finish baking through without being raw in the middle. It's an easy trick that gives them a fancy look.
You will love these blueberry crumb muffins because they are easy to make and taste amazing! The combination of juicy berries, buttery muffin, and sweet crumbly top is the best!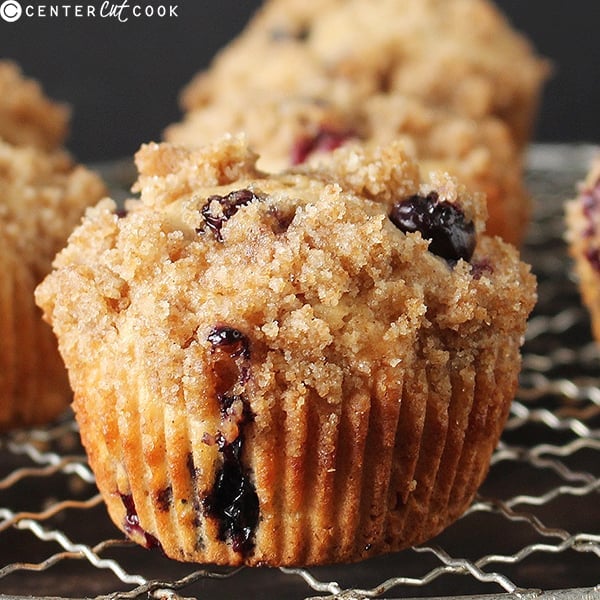 CRUMB INGREDIENTS
1/2 cup granulated sigar
1/2 cup brown sugar
1/2 cup flour
1/4 cup butter, room temperature
1/2 teaspoon cinnamon
MUFFIN INGREDIENTS
3 cups flour
4 teaspoons baking powder
1 teaspoon salt
1 teaspoon cinnamon
1/2 cup butter, melted
1/2 cup granulated sugar
1/2 cup brown sugar
2 eggs, room temperature
2 teaspoons vanilla
1 cup buttermilk
1 1/2 cups blueberries (if using frozen, do not thaw)
CRUMB DIRECTIONS
In a small bowl, combine granulated sugar, brown sugar, flour, butter, and cinnamon. Mix together until crumbly. A fork or your hand work best for this. Set aside.
MUFFIN DIRECTIONS
Preheat the oven to 425° and line 2 muffin trays with liners (24 muffins total)
In a small bowl combine flour, baking powder, salt, and cinnamon. Mix together and set aside.
In a large bowl, mix the butter, granulated sugar, and brown sugar together.
Add the eggs and vanilla and stir to combine.
Stir in the buttermilk gently until fully mixed.
Add the dry ingredients to the wet ingredients and stir until just combined. Don't over mix it.
Fold in the blueberries and scoop into prepared muffin tins.
Top with crumb topping.
Bake for 5 minutes at 425° then reduce the heat to 375° (keeping the muffins in the oven) and bake for 10-12 more minutes or util a toothpick inserted in the center comes out clean.
Servings: 22-24