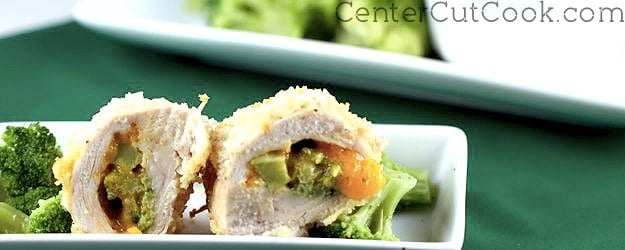 When I was in college taking a full load of classes while working full-time, we ended up eating a lot of frozen foods. Chicken patties, burgers, lasagna, taquitos, and the list goes on and on. Pretty much anything you can find in the freezer cases at Sam's Club ended up in our freezer at one point or another. The thought of that sort of grosses me out now, especially knowing how much sodium we probably consumed (yikes!).
One of our favorite frozen dinners gave me the inspiration for this Broccoli and Cheese Stuffed Chicken. Sam's Club at the time, sold individually wrapped stuffed chicken with broccoli and cheese. They were fast and easy, but who knows what was in them. My version of this is baked in the oven and while it does take a bit of preparation, the result is much, much better than the frozen version.
I made a homemade broccoli cheese sauce to dip (or pour over) the chicken and that added even more deliciousness to an already delicious meal, but you could certainly leave that part out if you're counting calories. To go with the chicken, I served brown rice (we're trying to get in the habit of eating brown rice instead of white), and the leftover broccoli I had steamed for the chicken and the cheese sauce.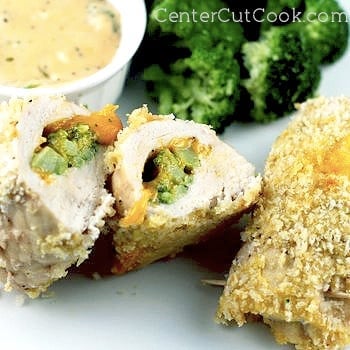 CHEESE SAUCE INGREDIENTS
3 tablespoons butter
3 tablespoons flour
1 1/2 cups milk
1 cup cheddar cheese (I used sharp)
2 tablespoons cream cheese
1/4 teaspoon salt
1/4 teaspoon pepper
1/4 teaspoon garlic powder
1/4 cup steamed broccoli chopped
CHICKEN INGREDIENTS
4 boneless skinless chicken breasts butterflied and pounded (if needed) to about 1/4-1/2 inch thick
4 tablespoons cheddar cheese
4 tablespoons chopped steamed broccoli
Salt, pepper, and garlic powder
1 egg
1 tablespoon water
1/2-3/4 cup flour
1/2-3/4 cup panko bread crumbs
DIRECTIONS
Pre-heat your oven to 375 degrees.
Steam one bag of broccoli (I like buying the bags of frozen broccoli that you can just pop in the microwave and steam). Whatever you don't use for the sauce and the chicken, you can serve on the side.
Butterfly the chicken by making a cut across the chicken horizontally almost to the other side (but not all the way through) using a very sharp knife. Then open the chicken like a book. You should end up with a larger, thinner piece of chicken. Pound the chicken if necessary so that it's about 1/4-1/2 inch thick.
In three separate shallow dishes (I use cake pans), place flour in one, egg beaten with water in another, and panko bread crumbs in the last dish.
Take one piece of chicken at a time and lightly season each side with salt, pepper, and garlic powder. Place one tablespoon each of cheese and broccoli in the middle. Fold the sides of the chicken towards the middle and secure with toothpicks. I used three toothpicks for each piece of chicken – one for each end, and one for the middle.
Dredge the chicken in flour, then egg, then panko bread crumbs.
Place each piece of chicken on a lightly greased baking sheet.
Bake in a 375 degree oven for 30-35 minutes or until temperature of chicken reaches 160 degrees.
While chicken is baking, prepare cheese sauce by melting 3 tablespoons of butter in a saucepan on medium heat. When butter has melted, whisk in 3 tablespoons of flour. Let it cook for about a minute, then slowly pour in 1 1/2 cups milk. Stir consistently until milk has thickened. Add in shredded cheddar cheese, cream cheese, salt, pepper, garlic powder and chopped broccoli. Stir well and let cook for 3-5 minutes on low. Remove from heat and set aside.
When chicken has reached a temperature of 160 degrees, remove from oven, and spoon some of the broccoli cheese sauce on the top, or serve on the side for dipping.
Enjoy!
Recipe adapted from Food.com